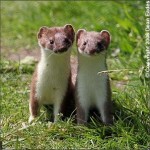 So, as I mentioned in the previous story, the kakapo parrot of New Zealand got into a little trouble as as species when predators were introduced to its formerly pristine environment.  The kakapo had more than just the loss of ability to fly working against them, they also had three critical evolutionary habits that did not bode well for survival.  For one, when danger would arrive, the birds would freeze, which may have helped them hide from the Maori people, but not from pouncing feral cats.  Also, they emitted a rather sweet fragrance, something like a honey tinted floral smell, which may blend into the smells of the island to people, but makes them an easy target for predators such as dogs.  Also, because in their evolutionary past, one of the only dangers they faced was from a giant (now extinct) eagle, they had developed a habit of building their nests and laying eggs on the ground, which made their young easy targets for the stoats.
The kakapo were almost completely wiped out fairly quickly, and faced with growing public concern , the New Zealand government realized they were going to have to do something.  They designated Resolution Island as a habitat, and appointed Richard Henry as chief curator and caretaker.  Over the next six years, Henry would move scores of kakapo and kiwi, another flightless bird, over to Resolution Island, hoping they would be safe there.  The stoats, however, after these six years, swam across the water and reached Resolution Island, and the fragile birds' eggs.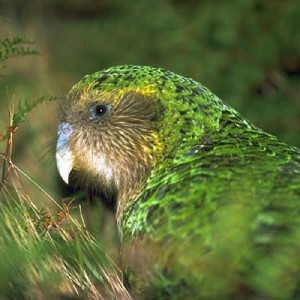 From there, the kakapo almost met its fate on the extinction map.  Within six years, the stoats had effectively wiped out the population on Resolution Island.  A few birds here and there had been ferreted away to other islands; some of which were populated with feral cats, unfortunately.  Reports of seeing kakapo in the wild dwindled.  In the 1950s, the New Zealand Wildlife Service would go looking for them regularly, but eight years went by before even one was found.  In 1961, a handful were found, but all the birds caught and brought into captivity would die off.  I'll tell the rest of their survival story later.
When I first heard the story of this bird, the details were not as interesting to me as the main idea – the idea that sometimes life comes at you fast, and without means to adapt quickly, we fail to thrive.  As I learn more about the bird, though, it is the little details that fascinate me.  There is so much more to this story I want to tell you, so you will just have to stick around for the next installment.