We've been anticipating this year's Texas Challenge for a long time now.  Last year was my brother's first time to participate in this type of format for geocaching, and it fed right into his competitive nature.  His local region did not have a team of their own last year, so he played for our team, SouthEast Texas.  Since then, the cachers in the Corpus Christi area united under the banner of the South Texas team and made it their mission to come back this year and be a serious contendor in the field against North and Central Texas, as well as our team and possibly West Texas, if they decided to show up this year.
Our team was still wound up over our victory in San Angelo last year, and we also wanted to win, although we had sort of gotten used to losing.  Plus, we were the hosts this year, which meant a lot of planning from those who normally would be involved in the hunting process.  You can't do both.  This time, it was on our home turf so to speak, and hosted in the town of my brother's alma mater, so he was excited about the logistics.  Several text messages and emails were exchanged making plans, which curiously did no good because we weren't organized until up to the last month, even with a year to prepare.
During the midst of all this planning, my father's probably-terminal illness had been getting progressively worse.  The medication does not have the same effects that it used to. With my mother's prodding I am sure, he had begun to take the steps to having an operation on his brain that has a good chance of slowing down the progression of symptoms.  Somewhere along the way in discussions, he was invited to camp with us for the evening, and attend the Challenge with us.  The original plan was for him to join my brother in the competition on their bikes.  In the last minute strategy meetings before the event, though, on both the South and SE region sides, the terrain was discussed, and how it would play out in biking.  My brother and I both thought at this point the biking portion sounded too tough for my father, whose primary symptom is a loss of muscle coordination, so in a series of texts to follow, it was determined that my dad would hike with me, and this would free my brother up to bike more rugged terrain.So it was that Friday night, the company around our campsite included my brother, my dad, my children, my handsome darling boyfriend,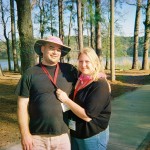 another couple we have been spending some time geocaching with lately (Chris and Shelley), their teenage daughter, and this friend of my brother's that helped us last year and then helped him form their own team, David.  We brought some wood – the origin of the firewood is a story for another day, really- and made a fire this evening, and we all roasted some marshmellows, made smores, and stayed up too late talking, some with beers to keep them company as well.
My brother and J had actually gotten up here the night before, as well as David.  We had made the camping reservation, and yet when J left to go pick up the kids and I from another fellow geocacher's house who  graciously allowed us to park our extra car at her house close to the park, my brother and David had hung up their South Texas banner across our picnic shelter, claiming our camp as belonging to their team.  Things got a little more interesting when our hunt team leader asked if we could use our camping shelter as home base to prepare our team and act as headquarters during the competition.  Turns out South Texas had the same idea.  So, we decided to share.  And that is how in the morning of the competition, we had about one hundred and fifty cachers, give or take, wandering in, most wearing pink bandanas to signify they were with the SouthEast team, and a smaller number wearing yellow banners advertising their allegiance to the South region.
If the Texas Challenge is foreign to you, this is how it works.  Numerous temporary geocaches have been hidden all over the designated park, and the different teams have four hours to find as many as they can.  Each one holds a certain point value, based on the difficulty of the find and the terrain it is located in.  Each cache has a corresponding number on a paper scorecard which is punched with a hole punch that you find in the cache itself, each one bearing a different design for verification purposes.  The cards HAVE to be turned in before the event officially ends, at which point the scores are tallied, and then averaged among the number of cachers competing to determine the winning region.  There are three ammo boxes given to the top three teams, each being painted either gold, silver, or bronze.  The team that wins the coveted golden ammo can gets bragging rights for the next year.  This contest is in its ninth year of existence, and this is my fourth time to attend.
Because my dad was potentially going to slow down the hiking, and because J wanted to get out there and try to score as much as possible, we had decided to split up and for him to go by bike.  Also, we had my dad's canoe with us, which was a competitive advantage, but only two adults could ride in the canoe at once.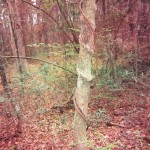 When the contest begins, the team leader is given the thumb drive with the file on it that has the locations of the caches and the first aid stations.  Then there is the tedious process of loading those waypoints on to everyone's GPS units.  J always gets roped into being actively involved in this process, being that he is like the technology expert.  This day, my dad and I left on our canoe when the contest started, right after getting our waypoints, but J was held up for almost the whole first hour of the competition dealing with a particularly tricky GPS unit that no one had software for.
My dad and I's strategy of taking the canoe originally panned out for us very well, because we were able to get a cache find on the water, which was a high terrain and therefore high scored cache.  However, once we beached the canoe and got out on land, my plans for us to excel this day began to unravel.  We wasted about 45 minutes of the first hour looking for three caches we could not find (granted one of them is what they call an "evil hide" and the other was a 4/5 on Difficulty/Terrain, which may as well be called an evil hide).  We also had to cross the spillway that I show in this first picture.  After that, we began hiking down the Chinquapin trail, we started actually making some finds, getting about a dozen in about two hours or so of hiking around.  The last hour, regettably, we wasted a lot of time just trying to get back to the lodge from where we were, and walking along the road, find just a couple of caches in that time.  I think we could have gotten more if I had thought to call home base and have someone come get us and take us to another trailhead to get to another cluster, but I was not thinking too well at this point about where we could go next to maximize our finds.  We were really tired and wore out by that point.
After the scorecards are turned in, there is typically a bbq lunch and then later on a casual party.  We had decided to skip the bbq and bring our own lunch, and our afternoon was spent kind of traipsing back and forth from our campsite to the lodge to make appearances at the events, let the kids play on the playground, and visit with our friends. We were there at the lodge for the official announcement of the winners.  South Tx claimed the golden ammo can in a triumph of victory, having a small but dedicated team desirous of winning this year.  North got the silver, Cen-Tex the bronze, and our team got nothing this year but pats on the back for hosting.  Next year we'll have to make a comeback.
The highlights of my weekend were some of the casual moments spent in this day, before and after the competition:  laughing over breakfast with J over some conversation we have been having since the origin of our relationship over a year ago, some musings I had while the kids were playing on the playground as I looked out over Lake Raven and watched the wind make the tops of the trees dance, and of course the revealing of Texas DreamWeaver's ingenious stunt during the evening event, which involved a Bingo game where everyone was a winner.  Later there was another campfire, more smores and marshmellows, roasting weenies, and then snuggling into our double sleeping bag that I got J for Christmas (so we could sleep together in the same bag when we go camping, something we have done four times already this year and hopefully many more to come).
The morning after the Challenge typically begins with a pancake breakfast and ends with a CITO event.  If you aren't familiar, a CITO event is where we gather to pick up trash and make sure we leave a place better than how we found it.  I had decided to do our CITO much like we did the Challenge, but substitute the company of my boys for that of my dad.  This idea was born from K's requests for a canoe ride, and because I highly suspected my father had chunked a plastic bottle into the woods during the Challenge the day before.  So we rowed the canoe across the water, beached it, hiked the Chinquapin trail, then rowed back.  We could not find the bottle of my dad's that had mysteriously disappeared from his hands, but we did find several other plastic bottles and about half a bag of trash or less by the time we were done, including the stuff we found along the way in the parking lot.
Now, we made it all the way across the water and back,  a one mile round trip, without capsizing the canoe, so I was pretty happy about that.  However, as we pulled up to the boat launch, I realized my camera was missing.  It was a cheap disposable camera that I had, but I wanted the pictures I had been taking off of it all weekend.  I had just had it in my hands before we prepared to beach the canoe, and so it had fallen out of my pocket not too far out.  I looked around, and then saw it not six feet out in the water, resting on some swampy lilypad area.  I gave my cellphone to my son and took off my shoes, preparing to wade to it, but the water was too deep for wading.  So I took the canoe out by myself, and as soon as I reached for the camera, I realized it was off balance and, poof!, I was in the water.
So, I got my camera back, but I was soaking wet now. The boys were on the shore laughing hysterically as I swam back, pulling the canoe with me.  This explains why my pictures look psychedelic – they did turn out, luckily, but the film had gotten wet and warped.
Then I had to change clothes.  I had one clean shirt but I had to wear two day old dirty jeans, and no underwear, for the rest of our journey.  We cached our way out of the park, then did a little bit of caching around the Sam Houston statue, running into fellow geocachers at every stop.  After a misguided lunch in Huntsville, we set out for home, with stops for dogs along the way back.  We were pretty tired and it took us a while to get back in gear after this, but luckily I had taken the next day off work to help with that.
Next year my oldest boy says he wants to do the Challenge with us, and not stay back at the Camp Lil Cacher program they put on every year to watch the children while their parents participate in the event.   Last year was J and I's first challenge together, but we were just starting out together and were somewhat distracted by infatuation.  I am hoping next year the two of us will get a chance to work together and score up some high points, so AJ might be in for a tougher ride than he thinks, but we will just have to see!