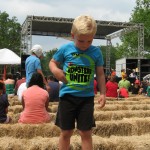 Yesterday we attending a great annual Nature Fest that I recommend anyone in the area who reads this to check out next year.  It is completely free, which will blow your mind when you witness all they have to offer, particularly for children, and yet through t shirt sales and donations, they are raising money for one of our favorite causes, the Katy Conservancy.  In the past few years, they have raised over $17,000 for this organization.
The event is in Cypress, Texas, and you can get more information here: http://www.bridgeland.com/events/nature-fest.  I found out about it from reading one of the local magazines, and we had anticipated going for about a month prior.By the time we got there, since we were held up due to soccer games and school band semi-commitments, we were all starving.  I had read about these food trucks that would be there, and was interested in one I had see mention of around town: Bernie's Burger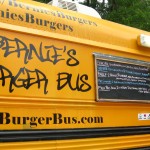 Bus. http://www.berniesburgerbus.com/.  I am a burger aficionado, and Bernie's did not disappoint, although it was terribly expensive compared to fast food ($39 something to feed the four of us, without drinks).
After that, we mosied along, checking out the nature exhibits by Texas Wildlife Rehabilitation Coalition (http://www.twrc-houston.org/), local grown honey and plant suppliers before stopping to talk to an ambassador for the Houston Canine Frisbee Disc Club http://www.houstonfrisbeedogs.com/webportal/About.aspx.  We got there a little late to see the demo but did watch them goof around with their dogs and talk to that one fella who gave us some good information.  Mostly we were interested in where he got his dog mini-pool.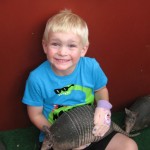 Afterwards, we watched the duck races, which was interesting, although the kids got bored about halfway through.  The kids got to ride a mini-train, race through inflatables, and play a game of laser tag, all which was free.  There were also pony rides, a camel ride, and a Living History Treasure Tour, which we did not do.  There was something called Armadillo races, although when we stopped by, the armadillos were not racing and were a little stressed.  Kaleb got to hold one and get a picture, though.
We had brought our kites because the map showed a kite flying area and we have been enjoying these kites this past week.  When the Birds of Prey demo came on in the afternoon, the boys were too excited and not interested to sit through it, so I set them up with their kites meanwhile in this area, which was right behind and to the side of the stage.  I didn't catch who put on this demonstration, and I was a little disappointed that between the kids and my being thirsty, and the lines being somewhat cumbersome to get a drink, I probably missed at least a quarter to a half of the show.  The birds this man had brought included a red tailed hawk, an eagle owl like the one we saw from Earthquest, and three different kids of vultures, including the (rarely seen in these types of demos) king vulture.
After this, we were all ready to go.  On the way out, we saw this "ent", or a man wearing a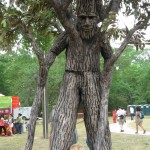 tree costume, which delighted everyone.  We also found a geocache in the area before walking back to our cars.  As we were leaving, J and I both remembered we really wanted to buy one of the t shirts to support KPC, so he dropped me by the corner to run back to the booth, buy the shirts, and come back, and then we found a few more geocaches on our way  home.
If you love the outdoors, or mostly if you love family festivals, I highly recommend watching for this festival next year and checking it out.  You cant beat the value – some of the activities were just as fun and educational as what you would see at the livestock show portion of HLSR, only at no cost.  I think it is awesome they had such good support base that they were able to charge nothing for all that we participated in.  We would definitely attend this again.