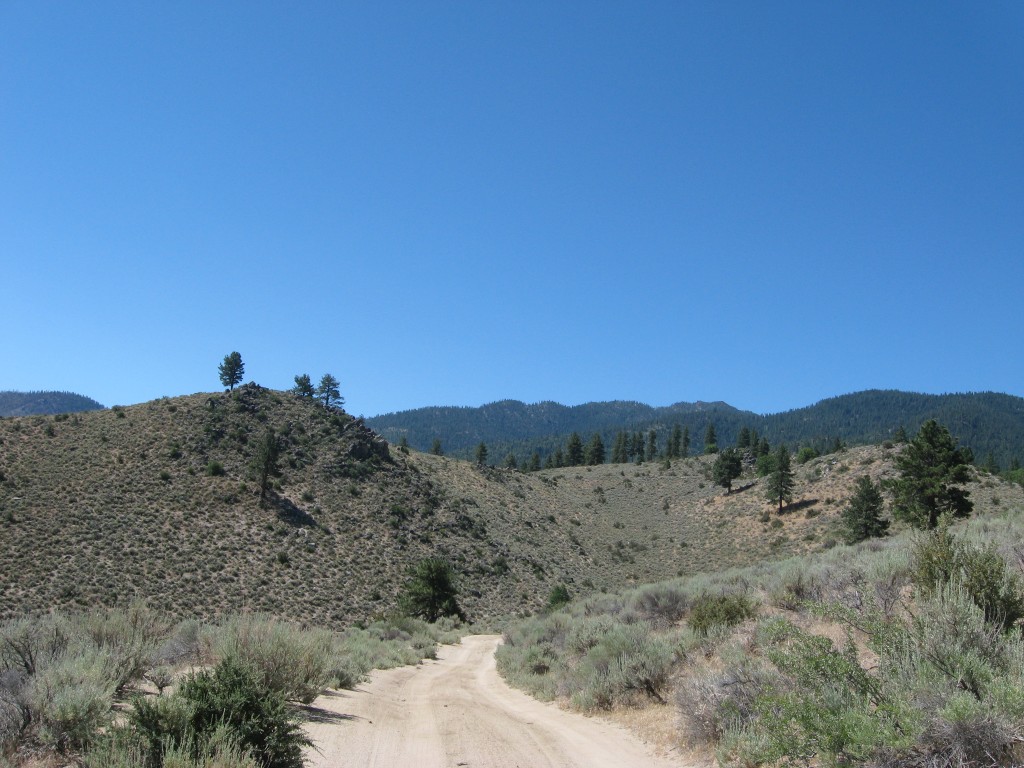 Departure
After a couple of hours at my former in-laws – visiting, packing up things the kids had forgotten, and repairing the small dent we put in the front bumper of the rental SUV, we were ready to leave for our next adventure.
The Call to Adventure
This one had us traveling south on US-395, all day long.  We were in high desert country now.  We were also chasing daylight to our next camping spot, so we couldn't stop at every geocache along the way in the interest of time.  We couldn't resist this one, though (above picture), that almost turned out to be more than we bargained for.  The SUV was not four wheel drive and the road weaved up a small mountain before we were forced to stop driving – so the youngest one and I made the hike the rest of the way in the hot high desert sun to find an ammo can on the top of a ridge overlooking the valley – it was actually pretty awesome.  We limited ourselves to only five caches in about five hours, though, before we made it to the area we planned to spend the night.
So, we finally made it down into the Mono Valley and we need to find a place to bed down for the night.  I had kept this night free of reservations, partially because I wasn't sure how far down the road we would make it that night.
Oh…wait…back up…see, this is why I write this stuff down in here- because I forget the details and sometimes, the details ARE important.  No, we didn't actually make it to Mono Valley that night.  Camping plans were derailed in favor of a Best Western in Susanville, California.  We were too tired to make it all the way – and to tell you the truth, it was really nice to spread our things out and reorganize, to order pizza and watch TV and relax, to take the boys down to the little pool which was a little too chilly still on this mid-summer night for comfortable swimming, but it was fun to shiver together, to play water games, catch up on their stories of the past week, and whisper about the teenage girls on the other side of the pool from us.
And this is the thing about Susanville: I never went there with my ex-husband, even though it was close to where we used to live, and a place we drove through sometimes AND where he spent a year going to college.  He only ever pointed out the women's penitentiary to me.  But I kind of liked this town, and I really want to go back now, after spending some time there in the hotel room reading about what Lassen National Park has to offer.  Guided horseback rides that offer opportunities for viewing wild horses was most intriguing activity I saw advertised.  Maybe someday when I am healed and back to riding horses we can look into that.
Anyways so we finally got out of town the next morning and were NOW headed to Mono County, with a few stops along the way (like an irritating search for DVD player chargers in Reno, Nevada, and a random sampling of meatball panini sandwiches at a pizza place somewhere north of Carson City).  So after all that, and not much geocaching, it took us almost to the end of day before we were fiddling around trying to decide on a campsite for the night.
(tune in for Episode 2 later, after we try out our new Blu-Ray system and get some sleep)