This past weekend, we attended a bird banding workshop at the Gulf Coast Bird Observatory location in Lake Jackson.  These bird bandings are held every third Saturday from 8 am to noon and are open to the public.  I personally was interested in being able to identify more birds.  We were also interested in using his new binoculars to sight more birds, and hoping there might be a raptor or bird of prey being banded.
We showed up for the bird banding fairly late – ten am as opposed to eight, because we were having trouble getting up, but we still got to see quite a few birds.  This time of the year, there were primarily cardinals.  The cardinal is such a handsome bird, but apparently they are very fiesty.  The male volunteer who does the bird banding, Robert Lookingbill, was getting nipped several times by their beaks.  He also had a bit of bird magic about it, seeming to "hyptonize" the birds with a wag of his finger, to the delight of the onlookers who were trying to get pictures.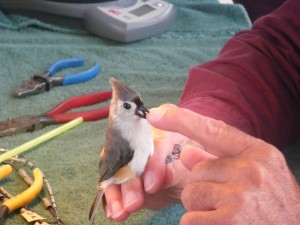 During the bird banding, this man would gently remove the birds from the sacks they were hanging in and check to see if they already had a band.  If they did, he read the number off to his "scribe", his wife Kay.  They are both licensed bird banders and research associates at GCBO.  If the bird was not banded, he placed one on them.  I admire his dexterity because this is harder than it sounds.  Then he performed an examination of the animal, during which he verbalized his findings to Kay, who was logging them in a tablet.  They looked at the condition of the wings, measured them, blew a straw across the bird's chest to get a visual assessment of body fat, and weighed the birds.  This gives them good data to look at migration patterns of birds relative to their body condition.  Bird banding has been going on at this location for five years now, so Kay and Robert have amassed a good deal of data for the US Fish and Wildlife Service that this workshop both supports and is supported by.
In the two hours we were there observing, we saw about ten different species of birds being banded.  Most of them were cardinals, but there were also several species of very small birds, some of which the crowd ooh-ed and ahh-ed over, such as this Golden Crowned Kinglet.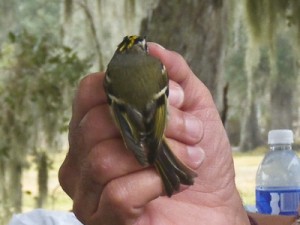 J an dI both got to hold a bird before setting it free after the banding, and I got to hold a tiny hummingbird in my hand before it took off.  We all took a walk over to see the mist screens they use to catch the birds before bagging them and bringing them over.
Towards the end of our visit, we ran into a very friendly volunteer, Claudia I think her name was, who showed us how to get to the observatory overlook by walking with us.  She taught us a lot about the history of this site, the work they do there, their conservation and fundraising efforts, and other great places to view birds.  She also told us about native plant species that you could plant in your yard to attract hummingbirds and butterflies.  She walked us over to a location where some of these were planted and put some seed pods in my hand, as well as pointing out the different species, such as Katy Ruellia, Turks hat, yellow bells, and shrimp plants.  We walked a little further down a trail by the office headquarters and observed the screen nets.
I had packed a picnic lunch for after, and loaded waypoints for nearby geocaches into the GPS unit.  We met his parents beforehand and they followed us down here to watch the bird banding as well, and they were still game for enjoying some time outdoors when the workshop was over, so we all went next door to the Wilderness Park.  This is 300 acres of pristine woodlands located on the other side of the Brazos River.  We went for about a three mile round trip hike there and picked up ten new geocache finds.  His parents were with us for about half of the caches before turning back; after they left, we picked more rugged routes and faster tempos, although we still were strolling leisurely enough to enjoy the vistas and take photos of our favorite views.  I highly recommend this place as a good location to escape into nature, although as with most natural adventures, use your sense of caution – we saw a huge snake entering our path as we were on our way out of the path.  We didn't see other wild animals but we saw plenty of sign of them, animal prints in the mud and scat indicating the presence of feral hogs, deer, raccoon, possum, and possibly bobcat and alligator.
Later, I will go into more detail about the conservation efforts of GCBO and the different birds we learned about.  Mostly I wanted to share our experience of this area in hopes it might inspire you to take a trip out there and experience it as well.  This is a place where nature reigns supreme in the midst of an urban environment, and I hope to find more places like this to share with you.