(Note:  originally I meant to write about our road trip adventures in blog form back in last summer, right after we got home from them.  About six months later, J finally got around to creating this website for me, and now almost a year later, I am finally getting around to writing about them, so we don't forget.  Because we already are.  I couldn't remember the name of this town for a week when we were relating a story about it and I had to look it up!  So, without further ado and for the prospect of prosterity, here is the first chapter in last year's adventures, which actually happened in the middle.  This year, if we can make a road trip happen, hopefully I can write as we go).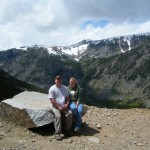 We originally came into Silver Gate, Montana, on the hunt for bear claws.  This was halfway through a road trip from Texas to Montana that had involved a lot of camping, in which we  were doing very little eating, and we especially had not had a lot of sweets.  We had spent the whole day driving from Billings, Montana, through Bear Tooth Pass, and now, in the early afternoon, were finding ourselves in this little town nearing the north eastern gate of Yellowstone and were a mite bit famished.
There was a geocache we were looking for in this town, and it was near a bakery, and had talked about bear claws on the cache page. We had been thinking about this for nearly on an hour before we came into town.  I think we had not eaten lunch and this is why we were so hungry; the last thing I remember us eating was breakfast at the hotel in Billings.  We had spent the morning geocaching and doing some mild hiking in Red Lodge, and then had driven through snowy, icy conditions up on Bear Tooth, then had spend the afternoon hiking and geocaching through some incredibly scenic off road areas in Wyoming, and here we were, travelers with wet boots and low blood sugar….and the bakery was closed!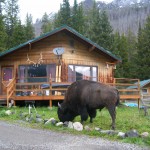 Words cannot express our disappointment.  Of course, it was like three or four in the afternoon, so I don't know why we thought a donut shop, essentially, would still be open, but we had to settle for some overpriced convenience store donuts, which were pretty crappy.  Then we drove to the northeast gate of Yellowstone, thinking we would be able to get a camping spot for the night.  Denied again!  All the camping spots were already full.  The lady at the gate recommended we turn back around and drive the mile or so back into town and find a place at a hotel or lodge there.
We rented a cabin for the night at Silver Gate Cabins, after some negotiation to find one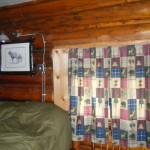 within our price range.  Our cabin was called the Schoolhouse.  It was very cute, and the two of us still occasionally send the pic of the inside of it to each other and talk about how we miss it.  We were so cold and wet and miserable when we checked in, so the thought of staying in a comfy bed instead of camping one more misty night made us so happy.  We ended up changing out of our wet boots, then driving back out towards that Yellowstone gate, and spent a couple hours driving around looking at wildlife with the scope, taking pics, and answering questions for earthcaches.
When we came back that evening, we had looked over our provisions, which I think at the time included a half eaten loaf of jalapeno cheese bread and two lipton cup of soups, plus maybe some yogurt pretzels, and then looked over at the cafe across the street, its neon light still blinking on, and decided to forego another night of lipton soup and walk across the street instead.
I'll never forget that night.  At least I hope I never do.  This Log Cabin Cafe (http://www.thelogcabincafe.com/about), the one across the street, looked simple but was actually really nice on the inside.  The room sort of curved around in a circle, so it had an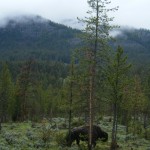 intimate feel, and it had a very romantic ambiance.  We both ordered buffalo burgers, which was sort of ironic since we had spent the last two hours watching them cavort and being happy there was a place where they were protected like this.  We had a great conversation in which I learned a lot about how he came to be who he is, which I still think about sometimes.  And when we walked back across the street, there was that sharp crispness to the air that you only feel in mountain towns, and the stars littered the skies, and I looked at him and felt more in love than I ever had, so happy to be arm and arm with him on this moment, so full and warm and content and joyful.
And I think that is the feeling we miss when we reminisce about that night, even though that feeling never left us.  It is just that sometimes it has so much more clarity, when there is nothing else but us and the sky and our wild adventures, that the feeling is that much sharper.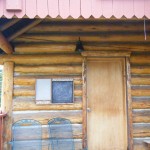 There was a journal inside the School House where people left stories of their time there, and I did the same, writing one whole page worth of where we had come from, where we were going, and what we had seen and done along the way.  As I wrote it, I had the sense that we were at the beginning of an amazing journey together, kind of like a honeymoon.  It was not the beginning of our relationship, but at the same time our road trip that year was a celebration of freedom, of some of the "fences" that had kept us from each other being torn down, and the start of a new life where we could see each other more, be together more.  And now we are together all the time and hopefully for all time, and I think, I hope that at the end of our days we'll still be reminiscing about that night, but we will also have many more behind us that are just that special.
Hopefully ones where we actually get bear claws.