In planning the great western road trip starting in Houston, there are a few choices on how to reach the scenic vistas of the west.  One way out is to head through Amarillo.  We weren't on a quest to see cities, though, we were on a quest to experience state and national parks, and to camp everywhere.  I had heard from a friend years ago that Palo Duro State Park was one of the prettiest places she had ever seen, so we set our overnight sights on this.
But then we had to get there.  And we have a real talent for turning road trip drive times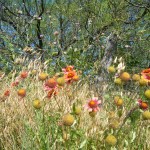 into easily twice as long as they should be taking.  Mostly this is because of geocaching, but at the same time, it is kind of the point of our journey, and it helps us to get out and really experience the places we are driving by, plus the dogs have to go to the bathroom sometime, right?  We only stopped for eight or nine geocaches, but somehow that put us in Amarillo around dinnertime.  The most memorable was GC242PKL, "Lonestar, Where Are You Out Tonight?".  This one was named after a Norah Jones song, which just happened to come on our music player in the car as we were driving away from it, eery, huh?  This picture is from one of the caches along the way, perhaps that one.
After stopping for Subway sandwiches in Amarillo, we started trying to find our way to Palo Duro.  Now, I should explain that there was some difficulty planning this trip because we didn't know when we would be able to leave town, due to some exhusband and childcare issues.   Anyways, the point is, we did not have camping reservations, but I had called at one point and they said the office would be open until ten pm and it was first come first serve on the camping and there would most likely be spots available.
What we DIDN'T know was 1) that we just happened to be going to Palo Duro when they were having a big bike race and 2) when they said there would be spots available, they didn't specify they would not be camp sites, but in the overflow parking lot, tent to tent with strangers, and 3) that when they had you pay for this parking spot, they also did not specify that the bathrooms would be locked from 11 pm to 7 am.  So no bathrooms, no privacy, very little nature.  There were raucous, interesting people having wild times in that parking lot tonight, when we, on our "honeymoon" camping trip first night together, just wanted to get naked and close.
Which we did anyway, because my attraction for him is shameless.  However, I should also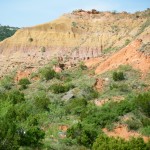 mention that this was our first time camping in the same tent together, and he set up the two person tent, and we had 120 pounds of dog with us.  I looked at the tent and just laughed, not seeing how all four of us were going to fit in that tent together.  And he was right, we did, but his dogs were awful close during our delicious closeness.  Ever since this trip, I joke about how his dogs and I have quite an intimate relationship.
Anyways I digress.  Point is that night had an element of weirdness to it.  But in the morning, we let it all go in pursuit of trying to get a good time lapse video of the sunrise.  We walked and walked down this road in the park trying to find a good spot, which really in a way chafed us because normally we would have been able to drive down the road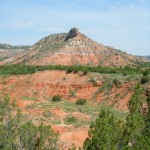 looking, but the gate into the park from where we were camping was locked until the park officially opened.  We ended up losing time to the walk, but finally we found a spot to set up the camera.  Then we went down a path behind the camera, silent with the sunrise, and surprised a herd of bighorn sheep, who took off along a ledge with amazing balance and beauty.
After our sunrise video was complete, we walked back to our camping spot and had some peanut butter and jelly sandwiches, spread with his pocket knife in leiu of more proper equipment and slices of jalapeno cheese bread that I had bought at Buccees on the way up and was with us for way too long on this road trip. Then we took off to go exploring and geocaching in the park, which had officially opened.
We had to keep weaving around bikers, and there was some frustration about not knowing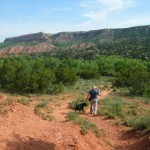 which trail we needed to get on as well.  After this experience, I recommend loading custom maps of the park trails overlayed on top of the loaded geocaches on the GPS unit, so one can know for sure which trail they need to be on.  We spent two hours driving around and made aborted attempts on trails before we finally got on the Sunflower Trail, which took us most of the way to the cache we had been focused on: GCHCGB, "Turkey Roost".
After finding this cache, we were done with the park and this part of our journey.  We left a lot more to explore out there, but we were on our way to Colorado at this point. The rest of the story will have to come later.