On the second day of our epic journey last summer, we spent half the day exploring Palo Duro State Park, in the places and ways I described below.  We left around lunch time, heading first to Rudy's Barbeque, then to Cadillac Ranch.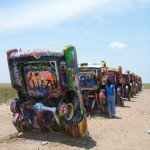 Neither of us were too interested in being a typical tourist, but both of us had grown up in Texas and never seen this place, so out of curiosity and some kind of state obligation, we walked the dogs from the parking area up the hot, dusty path to the graffitti-covered cars half buried in the Texas Prairie.  It helped that by going there and answering a question about one of the cars, we fulfilled a requirement for a virtual geocache.
There were one or two other caches over this way, one of them being a "travel bug hotel" that we wasted too much time DNFing (not finding), and we were a little frustrated when we got back on the road.
New Mexico solved that frustration for us, though.  Man, was that a pretty part of the drive.  We took this back road instead of the main highway, which was closer to the Cadillac Ranch exit, and I am so glad we did, because if we hadn't, we would have missed this cache:
GC1DMZF Valley of Gold
I think this cache was awesome.  I can't believe it has so few finds (only 16 finds in the past 3 years).  Sure, it is on private property (some people ignore those ones), but it says right there on the cache page they are the owners, and give permission.  This is how this cache went for us:
We were winding around this little dirt road in the middle of nowhere.  He really had to go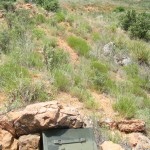 to the bathroom, and was looking for a "wilderness privy".  We finally stopped on this little deserted road somewhere, and he took care of his business while I started walking towards the cache site.  Arriving, I took a deep breath and looked around me, seemed like I could see for miles.  The cache was a big ammo can, which I love, and was not hard to find, which are also my favorites.  He came on over, too, took some pictures, and we checked out the natural foliage of the area.  Seemed like we had the place to ourselves this day, and we were rich with experience, closeness, and experience.  Caching gold.
After this, we drove up the road a little ways, heading towards Colorado.  It had been hot and dusty in Texas, but now skies started to darken with distant storms, and the wind began to pick up.  Just before the storm broke, though, we were lucky enough to sneak up to the Capuchin Volcano area just before closing.  The temperature was dropping, it was getting close to the gates being closed, and between those things and the intensity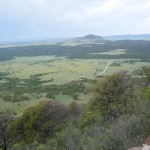 of the wind, there was a strong sense of urgency to our mission.  We really wanted to make it to the top, though, and to be able to log the caches that we needed to get some answers from up there to fulfill the requirements of.  We were rewarded with a great view from the top once we got there, and the finds we were looking for.
After that, it started to drizzle a little.  Clouds begin to make their way across the sky in interesting and unusual shapes.  We stopped for a cache at the Colorado state line, and I took a picture with my hair blowing in the wind that he has been using as his background picture on his phone this whole year since.  We ended up getting to Colorado Springs late at night.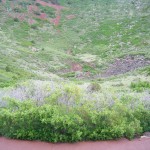 I wasn't really expecting such an emotional reaction from entering that town.  I thought I was taking him to a place that holds a lot of residual emotion to me, but I forgot how much of that emotion was connected to the courtship and eventual marriage to the man I met here.  Most of my time in this town was spent goofing off with this guy, who my divorce had just become final from just a few days before this trip, after twelve difficult years together.  There was always a lot of regret about leaving this place, but on this trip, I wanted to show my new love the reasons I would have wanted to stay.