Now time for a more recent adventure…
We had one weekend left until the children came back from vacation with their father, and we had opted to sneak out of town for one last romantic adventure until we were a family of four, and not just the two of us.  The weekend was wide open – I was cruising getaway airfares, contemplating different destinations – but we were also considering making a geocaching event south of San Antonio, so we had concentrated some attempts in that general direction.  We also had some ideas about returning to Lost Maples State Park.  We had been there last summer during this great road trip I have slowly been writing about, and promised ourselves we would go back.  We were also very interested in finding a dog-friendly destination, as the dogs had been cooped up a lot lately.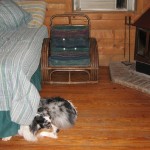 He asked me if I had "that list of cabins near Lost Maples" that he had sent me at some undetermined time last year, even though he was unsure if he sent it via email or during a chat session.  I had no idea what he was talking about, but was obsessively googling pet-friendly cabins near San Antonio and Lost Maples, and I found the website of something that sounded just like what we were interested in.  I sent it to him over chat, and he says, "oh, you found it!".  Coincidence?  Or some kind of hidden meaning…whatever it was, I decided to go with it, and that is how we ended up at FoxFire Cabins for the weekend.
After a long drive the night before after work, in which we saw at least two dozen whitetail deer along the backroads, we ate our breakfast, then hurried out for a morning hike in Lost Maples State Park.  FoxFire is just one mile down the road from the park , so it was a short drive, but we had to do it almost twice because I forgot our Texas Parks and Wildlife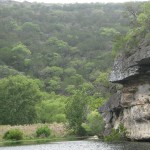 Department passport.  See, we've been working on this little geocaching challenge they got going on, where if you find the special cache hidden in each of the state parks, and prove it by marking your card with the special marker in each cache, and answer a question about an indigenous animal from the parks by using a clue card in each one, and then send the passport in when you have found ten of the twelve in each region, you can get a nifty coin and bragging rights.  We finished the Houston region a few weeks back, and didn't want to miss the chance to work on the Hill Country region.
The hike to this particular cache in Lost Maples was about two miles round trip.  Along the way, we had to cross several streams, which we remembered last year as being much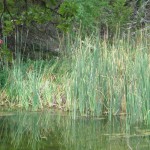 higher.  This area of Texas has been hit very hard with this year's drought.  We saw evidence of this all over the region.  This park had more water than any of the other parks we saw, though.  When we got to the "ponds" section, there was enough water in the pond to go swimming in, if you didn't mind a marshy entrance.  We saw little trickles of water along the creek banks.
After we found the cache, we sat for a while on a bench near the ponds and watched the birds with the binoculars.  There were several very large cardinals, males and females, flitting about.  Two birds lingered in the branches above us, and were very curious and unafraid, even with our three dogs near our sides.  They came within a few feet of us,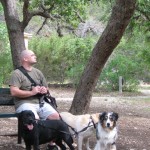 watching us quizzically from the ground or branches right above us.  After much discussion and comparison later, we determined that these were olive-sided flycatchers.
After this pause for reflection, we walked back to the truck, then drove back to the cabin for lunch and brief lounging before getting back in the vehicle for more exploring.  I will have to write about those adventures later, though.  I have the cold nose of a dog nudging me to go for a walk, and my baby to snuggle, before my kids get home in a couple of hours.  I hope to post more regularly soon about not only this trip, but the ones that came before it, and the ones that will come after.