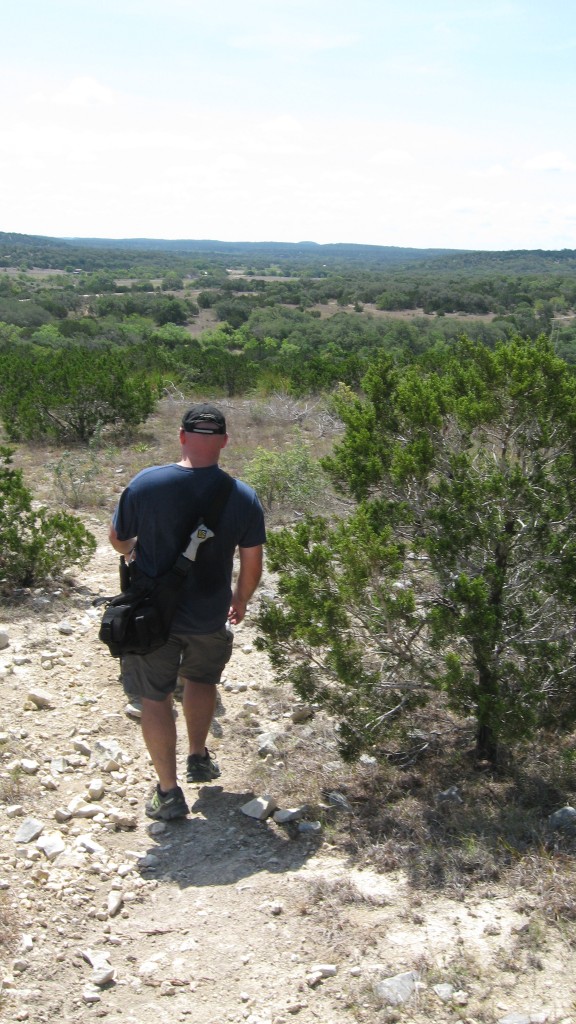 After the high terrain hike we took in Garner State Park, the dogs and Jason were all wore out.  I wanted to go find one of the great swimming holes of the Frio River, but the river was just about dry this year due to the drought and they were just too tired.  We headed back to the cabin, made some dinner, and then took a brief late night walk.
We were hoping to see some wildlife along our walk, as it was around dusk and we were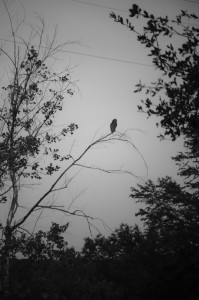 near the "swimming hole" – a part of the Sabinal River near Foxfire that is used for this purpose – but nothing was stirring.  J was taking some pictures of this part of the river when something swooped over it…must be an owl.  I didn't see where it went after but I saw an oddly shaped something on the ground between two trees, and starting creeping towards it to investigate, thinking it was probably a tree stump, but maybe it was the owl. As I got closer, the something lifted into the air, and landed on a pole for the volleyball net.  Definitely owl.  I called J to come over to get a picture, and at that point, the great bird flew to a tree, then another.  We got a few shots before it flew off for good; not terribly great ones, but at least enough to identify that it was a Great Horned Owl.
The next morning, I was really tempted to go hiking again in Lost Maples SP.  The problem with that was, the only trails, and geocaches, we have left to explore in that park are the high terrain ones, and we had two hikes already scheduled for today, plus we were sore from the day before.  Also, J wanted to get home sooner rather than later.  So instead, we made an odd breakfast involving potatoes, and then checked out of the cabins, heading to Hill Country State Natural Area instead.
We were still working on our Texas Parks and Wildlife Geocaching Challenge – Hill Country Passport, where we have to find the specific geocache in ten of the eleven state parks in this particular region.  It's not like you can choose which trail or geocache you want to find, based on how you feel that day or how hard the difficulty or terrain is.  Like preschool children are taught, "you get what you get and you don't throw a fit".
This particular one was a little daunting, in terms of terrain (rated a 3.5 out of 5), and at eleven am in August in Texas, it was HOT when we got out of the truck.  Still, this is what we came for, and so we set off.
This park had a lot of equestrian action.  Of course, it didn't help that the trail to the cache was, in fact, an equestrian trail.  As we set off on foot with the dogs, we were soon tailed by three horses and riders. The whole hike we spent trying to make sure we were walking fast enough to stay out of their way, or dodging them once we got to the rough hilly spot and cedar thicket where the cache was hidden.  I want to say it was about a mile or two round trip hike.  Great views, hot sun, little shade, lots of rocks.  See for yourself: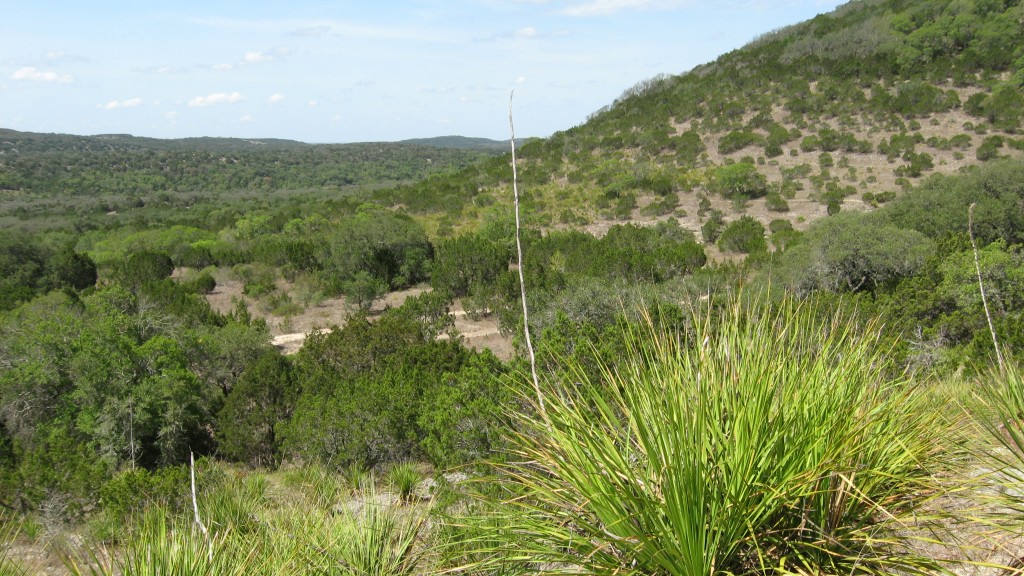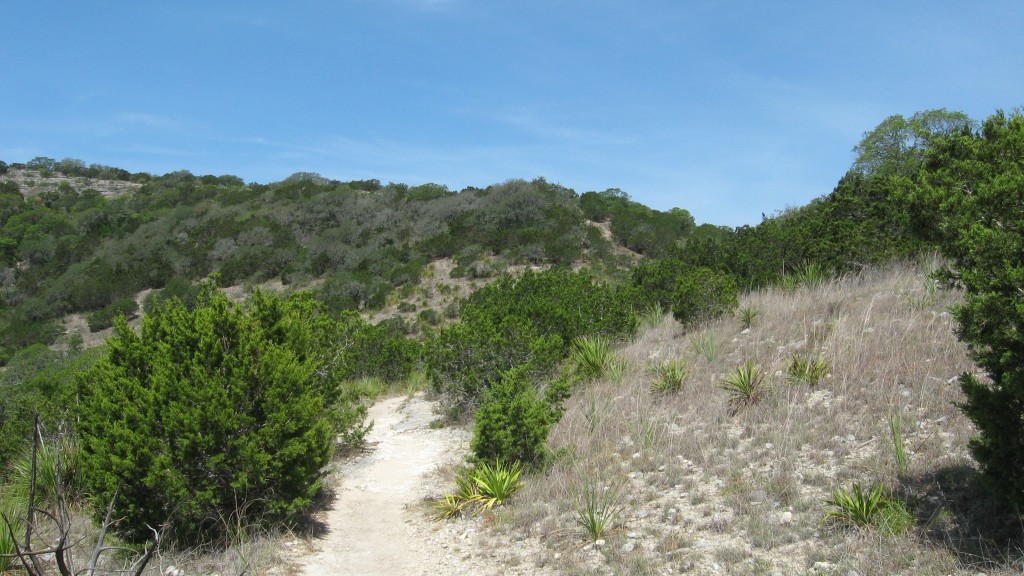 After this, we drove to Government Canyon SP, and got the TPWD cache there.  Well, I got the cache there, Jason sat in the truck and waited for me, he was worn out, and the hike was not far…although it was frigging hot out there at 1:30 pm.  I felt like I was melting.  We also found ten other caches along the way between the cabin, the two parks, and home.  The coolest one was the last one.  I had been eyeing this cache for a long time but I never could figure out how to get to it.  J figured it out with his mapping software, backroads style.  The cache was an ammo can about 500 feet down the top of an outcropping, about 50 feet away from a fence around an exotic animal ranch.  I scored this picture of one of the zebras I saw: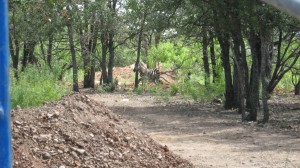 How's that for Texas?  Also, when we were driving around the hill country, I snapped this not-that-great snapshot of some exotic undulates, which, after much researching later, I discovered were scimator horned oryxs, which are extinct in their home country of Africa at this point due to overhunting, but are thriving in Texas, where they often end up at the losing end of a gun at an exotic animal hunting area.  This is sad to me.  Here is the picture: