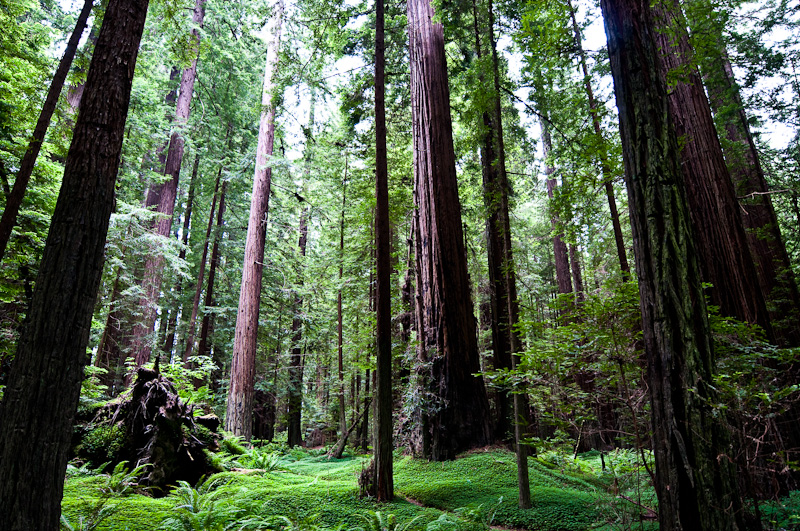 Albino Redwoods are so very rare that only fifty of them are known to be in existence. Six of those are located inside Humboldt Redwoods State Park.  Others have locations kept secret to keep foot traffic down near the trees.
I thought I was going to take everyone to see one.  I had the coordinates for a location for one, and all we had to do was park the car, and hike a little ways into the forest to get there.
Only, the hike got really annoying.  The kids had a lot of energy, being cooped up in a car the past two days, and they wanted to play this game that involving hiding from the photographer.  Their game involved shrieking every time they saw J behind us, and then running off ahead and looking for places to hide.  I was torn between trying to catch up to them, so I would not lose them, and staying close to J so he knew where we were.  Of course, the shrieking was kind of giving away our location, but also was ruining the sanctity of the hike.  I kept trying to explain this to the kids but they were like…on a mission to be bratty and not listening to me.
We finally got to the alleged coordinates.  J found us a few minutes later, but he was completely annoyed with all of us because he felt like we were ruining his enjoyment of the forest.  Also, there were several twists and turns to the trail and he felt like he did not know where we were going, except that he could follow the sounds the kids were making.  He did find us, so it worked, I guess.
Once again, though, I failed to understand something about the GPS.  Plus I was distracted by the actual finding of a geocache, and not a tree.  I asked the others to find the tree, and they kept asking me, is this the tree we are looking for?  Is this one it?
We didn't see anything that was exactly standing out to us as an albino tree.  Later, I realized that the GPS had two sets of coordinates in it – one I didn't know about, a "child waypoint" – that had the tree marked at 200 ft away.  SO we could't see it from where we were.  And, because I did not research this ahead of time, I am not sure I would even have recognized it if  I saw it, because an albino redwood does not even look like a tree to me.
The hike was really nice, though.  This was actually one of the most beautiful places I think we found on our journey – a rare treet even if we did not get to see the rarer one.  So it's a good thing that we did not miss this forest for a tree.
Witness: