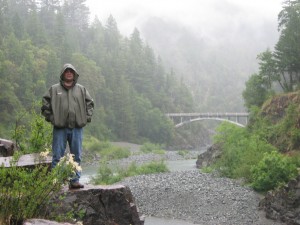 One of the other highlights of this day of our trip, besides the Eight Dollar Mountain Road and subsequent mud issues, was an exploration of a section of trail in the Smith River National Recreation Area that lead to the confluence of the Middle and South forks of the Smith River.
The hike we took was not a long one, but was scenic. A wet, dripping dark green laced trail led to an area where you had to go down a little rock ledge to this overlook.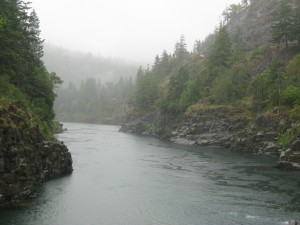 This area is part of the Six Rivers National Forest that forms the east and northern boundary of the Redwood Forest, stretching from Northern California to just past the Oregon border. The area is composed of 957,590 National Forest acres and 133,410 acres of other ownership.  Of this space, 450 acres were designated as part of the Smith River National Recreation Area by Congress in 1990 for protection of wild and scenic rivers, ecological diversity, recreation opportunities, and sustained productivity of natural resources.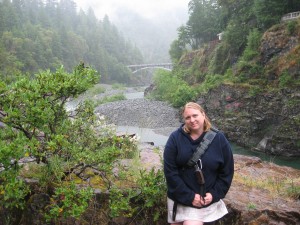 The Smith River is unique in that it is the only river system without any dam in California. This means that the entire river system is accessible for any length of trip by rafters and kayakers.  Due to the lack of a dam, though, and also to the rocky watershed that contains little soil to hold moisture, the river only runs well during a rain or within a few days after.  February is said to be the best month to kayak or raft the river, with the season running from November to April.
Some of the best fishing in the US is said to be offered by the Smith, including trophy sized steelhead trout, chinook salmon and other game fish species.  Besides rafting and fishing, camping is a popular activity. There are four campgrounds in the area. Some hikes lead to popular swimming holes, and there is always opportunity for bird watching or plant/wildflower walks.  The summer weather is allegedly dry and in the 80-100 degree range, so of course it figures that the day we were there, it was like 50 degrees and raining.


We were there for, you guessed it, geocaching along the trail. Since I really enjoyed the location and this cache find, I left two travel bugs in the cache that I brought from Texas for the next finder. This is another place I would like to spend more time in next time we are ever in this area of the country, and a place I would recommend to others traveling this way.