That was going to be my Facebook status regarding our stay in Forks, WA.
It would have been true…we had picked up some food along the way, and a knife, but I looked all about our cabin we were staying in and not a single utensil. So whatever food we had in our little fridge stayed there, and we went out to eat.
And to go geocaching. And to explore the town.
Let me tell you a little something about Forks, in case you aren't familiar with it. If you are a Twilight fan, you will absolutely love visiting this town, where the movie was filmed. They are all about it here. If you aren't a Twilight fan, it will probably drive you crazy. We were among the latter.
All around town, signs were advertising Twilight Tours, Twilight packages, Twilight firewood – really? The pizza place we went to was even offering a Twilight Menu. I never did see what that was, exactly, maybe you had to request it. They did have a big scrapbook album dedicated to the movie in the lobby where obsessed teenage fans wrote inscriptions about "when your boyfriend sparkles in the sun" and this kind of hoky business.
We did find this really fun geocache though so I was excited about that.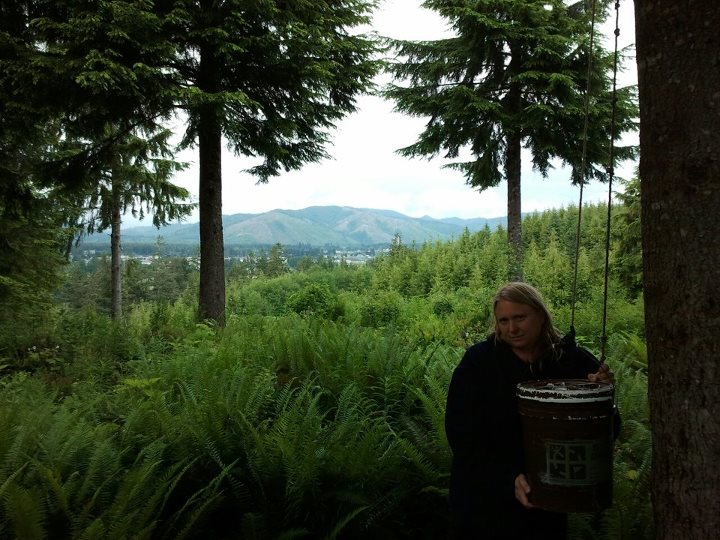 It was off this trail near the University of Washington Olympic Natural Resources Center (ONRC). The trail was really nice, and it really wasn't very far down it and yet was a little challenging of a hide, if you aren't use to this style of hiding. The view was terrific.
We also really liked our cabin, although, typical for us, we didn't spend a lot of time in it. I would recommend this place to anyone renting in the area, though – Huckleberry Lodge Cabins. It was really affordable, especially considering the spacious room and a location that seemed to be remote and in the middle of nowhere, but really was just right off the main drag.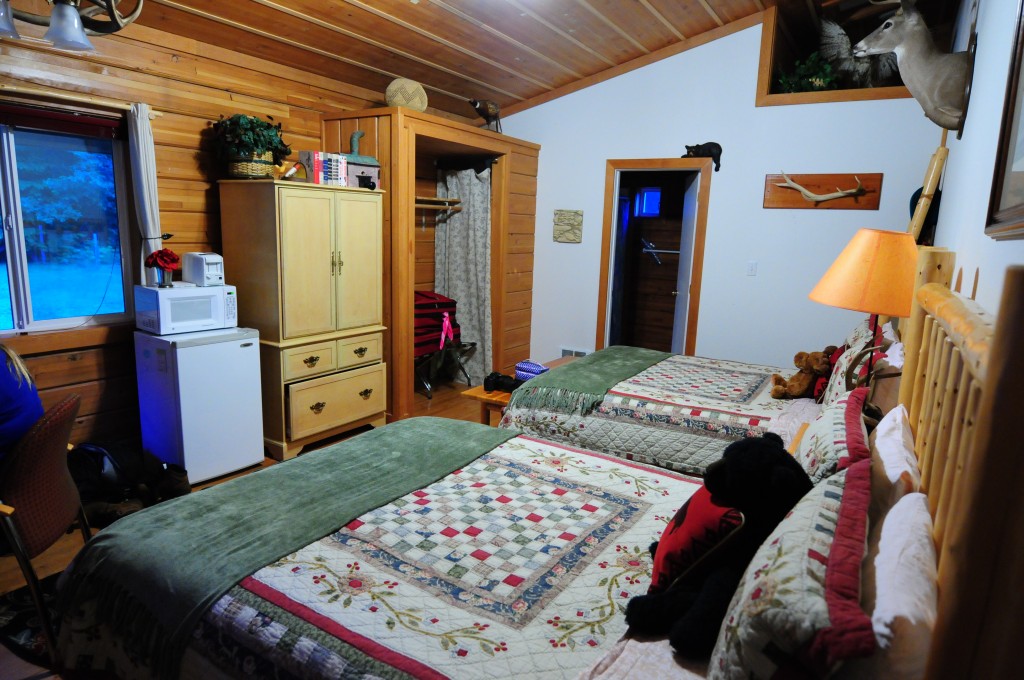 Despite the whole tourist trap thing, we actually really liked Forks and would go back again, especially since it's location is so convenient to sites along the Olympic Peninsula.