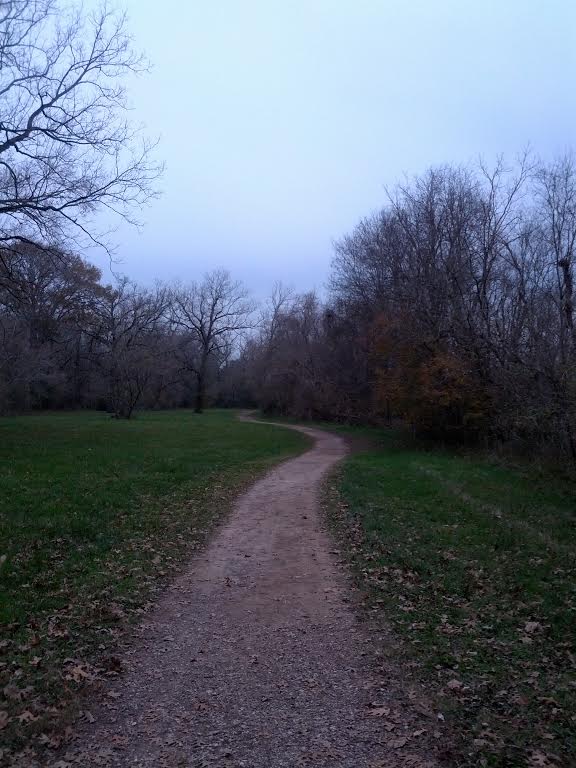 It is our annual tradition to spend New Year's Eve on a camping trip with a certain core group of geocachers, give or take a few.  For me, this is only the third year I have been involved in this tradition, but for J, this goes back about ten years.  (It would be the fourth for me, but last year we had to cancel it due to weather and my leg injury).  I knew about it back in the day, but I had trouble convincing my family to go, until my family dynamic changed.  This is the second time since I have been involved that we had it at Brazos Bend.  The first year, there was a whole group of us there.  This year, it was down to a handful.
When we got to the park, we had about an hour until the sun went down, and it was immediately apparent that J and I had different agendas.  He was in a race to get the campsite set up, and I wanted to get those last two geocache finds to help me end the year by logging the event as my #3300 geocache find.  He encouraged me to take the dogs and make the finds while he situated camp.
In retrospect, we realized that what he meant for me to do is to swing by the other campsite and pick up our friend Diane and maybe her friend, and have them come with me.  I didn't get that part, and plus they had their own thing going on, so I went off by myself at dusk to try to score some finds.  I think if I had a friend or a flashlight, it would have been a little different experience for me.
The picture up above is a scene from the trail I took, the Hale Lake Loop.  Also, below, a shot of the water from the bridge I crossed to get there.  I was really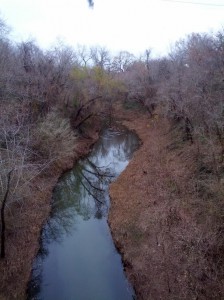 enjoying the quiet serenity of having the park to myself – I saw a person when I first set out, but once I got on the trail, not a single soul.
However, the thing about being in the woods is – you are never really alone, even if you think you are.  I realized this as I reached ground zero for the first cache I was after, which was about 250 ft off into the woods.  I saw a big, black animal moving in the woods about 80 ft in front of me.  I thought it was a bear for a moment before I remembered I was in Texas, so it was certainly not that – but in fact, a feral hog.  They are a huge pest species in our state, and generally speaking will leave you alone – unless they are in a group, or feel threatened for some reason.  I was worried this one would in fact be threatened if my silly dogs decided to start barking and lunging at it, and considered going back for a moment – but I really wanted that cache find, so I stood still, and that is when I realized that pig was not alone.  One, two, three, FOUR pigs in a line passed within about 50-80 feet of us.  I was amazed that when I told my dogs, "quiet," they actually listened, and stood stock still, even stopped panting, to watch the pigs pass quietly.  We made the cache find, and then got the heck out of dodge.
The sun was going down, but I wanted that next find, so I set off for the next one along a side trail that was the closest one to me.  I started reading the cache description, and started getting a little spooked.  The cache was called "Cat Tracks", and it turns out the reason why that name was chosen is because the cache owner said they saw the biggest bobcat they had ever seen at the cache site when going for the hide.  As I got closer, I began to get the paranoid feeling that I was being stalked.  I had to go about 180 ft into the brush, which by now was kind of dark inside, and when the dogs and I were about halfway in the thicket, we heard a branch snap nearby.  We all froze…and then beat a hasty retreat outta there.
About twenty feet back down the trail, I started second guessing myself, and started to go back in…only to see or sense something jump down off a nearby branch, which then bounced up and down from the relieved weight.  Nevermind!
As I was headed out of the woods and towards the bridge that would lead me back to the campsite, I started hearing cracking and snapping of branches in the woods to my right.  Several times the dogs and I stopped to listen, and I became convinced there was a whole herd of feral hogs in those woods, about to bust out and chase us down.  As the sun was finally setting, I came to two realizations.  One: those sounds, and the faint hissing sounds I was also hearing, where in fact only vultures settling in to roost, fighting over the best spots, and knocking down dead branches as they went.  Two: that at dark, Brazos Bend State Park belongs to the creatures.  That, although a frightening thing, is also how it should be, and I am glad the creatures have a place to call their own.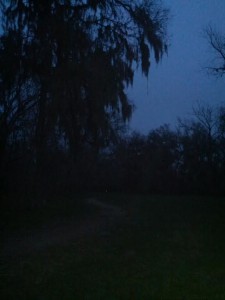 That night as we sat around the campfire sipping our adult beverages and telling life stories, I heard a sound.  It increased in intensity, and J noticed it, too, and agreed with my consensus: coyotes howling.  It sounded like a lot of them.
The next day, when we were hiking with Rod (from the caching team "uptrain"), he told us that earlier that day, he had come across the carcasses of four feral hogs that had been tore up.  He had told the ranger about it, and the ranger explained that was the work of the coyotes.  The coyotes lurk around the edges of the pig trails, working together to take down the weak and the young.  I am not sure if it was the four pigs I had seen the day before – Jerry didn't think so, because they were on the far end of Hale Lake, not the side I had been on – and I am not sure whose side I am on in this nature's scheme, but I did find it interesting to think about what kind of dramas played out in those woods once the sun goes down.