This morning, we contemplated the choices for adventure for the day, and chose to take the new bikes out to a local park to do some geocaching and look for more birds.  Originally I thought to try to get back out to WG Jones and finish the Presidential Series before it is all archived (one last back piece to go), but there was a threat of rain and J didn't relish the thought of the long drive out there.
Paul Rushing Park is only about 20-30 minutes away, and has had significant improvements since the last time I was there (back in like 2008  – a whole lifetime ago).  This park boasts 232 acres, with cricket fields and softball fields.  There is also a dog park, with sections for large and small dogs.  The most exciting improvement has been a hike-and-bike path that goes around a little chain of lakes, encompassing 100 acres of the park.  This path has multiple overlooks with bird blinds and benches to while away time looking at the multitude of ducks that flock to this park.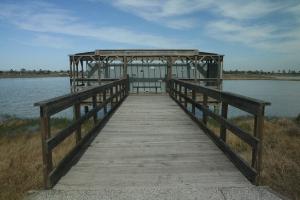 Early last summer, chefkimmo and TXSunflower hid about fifty caches in and around the park, and we decided we would find some of these today.  J and I have been riding our new bikes around the neighborhood at night, but this is the first time we have taken the youngest out on a group biking adventure since he started riding without training wheels last year.
My son really wasn't too crazy about riding in the grass, preferring to stay on the path and getting a little bit nervous about us not being on it. J let him find a cache on his own with the GPS and that seemed to keep him interested for a while.  Although he was a good helper with geocaching, he lost interest after a while and started to ask to go home. Plus, we were getting hungry.  Therefore, we ended up just finding the caches on the eastern-most side of the park, saving the rest for another day.
We were out there for about two or three hours, and saw several interesting birds.  There were also many more birds I failed to identify, in the interest of time.  Some of the caches were really hard to find, and required me to participate equally in the search.
Likewise, some of the birds were really hard to identify.  I think I am getting better but I have a long way to go before I could call myself a birder.  After some research, I determined that the ducks that I saw out on the water today included American Coots and a few Gadwall, Wigeon, and possibly a Blue Winged Teal pair.  The birding checklist for the park suggests Pied Billed Grebes should have been more abundant than the coots, so maybe I was also seeing those, although I didn't specifically notice them, so I am not counting that species.  I am going to have to go back.  I did see some white geese, which from the list I would have to say were the Great White-Fronted Geese.  The most exciting bird find was in the smaller pond by the back left corner – a Long-Billed Dowitcher.  We also saw a group of nutria back there, most likely a mom and her babies.
As we made our way through the chain of lakes, past the softball fields and dog park, down the road again, and back to the first parking area near the cricket fields to find the caches in that first section before heading out, I saw a flock of birds feeding in the field that included Brewer's Blackbirds and Brown-headed Cowbirds.  I think I saw one Red Winged Blackbird in that group, too, which was a little odd.
We also flushed a lot of sparrows out of the grass as we rode, most likely Savannah and Field Sparrows (already counted for this year), and most likely meadowlarks as well, although I didn't specifically see them.  Those are commonly reported for this time of year there.
On the way home, we stopped at the Katy Rock Shop, which was a really nice little shop, and a fun place for the little one and I to find some treasures for our collection.  Our rock collection drives J nuts, but it is something the little one is interested in.  His dad lives near a place where there is a lot of natural rocks that are great for collecting, and we came home with many of these during our visits up there and have them in a little decorative basket.  Today, he helped me chose a purple agate from Brazil for my collection, and he chose a pyrite cube from Spain, as well as polished stones of golddust, amethyst, and opalite.  Then we went out for burgers and shakes at our favorite "greasy spoon", Sam's Deli Diner.
On the way home, we spied what initially appeared to be vultures up on some bare branches, but something seemed different and J turned around for us to get a better look.  Sure enough, they were different…not actually vultures at all but a pair of Crested CaraCaras.
This reminded me of a story from last week, when I was in South Florida.   There was this professor I was really interested in talking to, and my friend thought she was doing me a favor by pointing out to him that I was also interested in birds.  I knew from his conversation earlier that he was an ACTUAL birder, and not a novice like me, so I had not wanted to bring up this point of confluence, because I felt I would just embarrass myself.  He asked me if I had seen the CaraCara earlier that day on the drive in, and he was so excited about it.  It was a huge deal, and I had learned that week that it was also a huge deal to this guy from Missouri.  I didn't know how to say, without seeming like a braggart, that oh, we see those all the time around where I live!  Not really ALL the time, but they are pretty common birds and I really just did not understand why these guys were freaking out about them until later, when I looked at their range in the bird book.  Here, and there  – that is pretty much it!  See the map: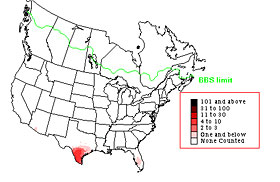 We also stopped at a light long enough for me to observe that the doves in the trees were not the white-winged and mourning doves that are so common in our neighborhood, but were in fact the eurasian collared doves.  That brings our identified species up to 73 for the year, about 11% of Texas's reported 638 total species.  Long way to go, but it has been winter and we haven't necessarily gone out of our way to find birds.  Plus, we aren't that good at it yet.  The good news is that spring migration is coming, and so we should be seeing more birds very soon.
Paul Rushing Park is located at 9114 Katy Hockley Rd, Katy, TX