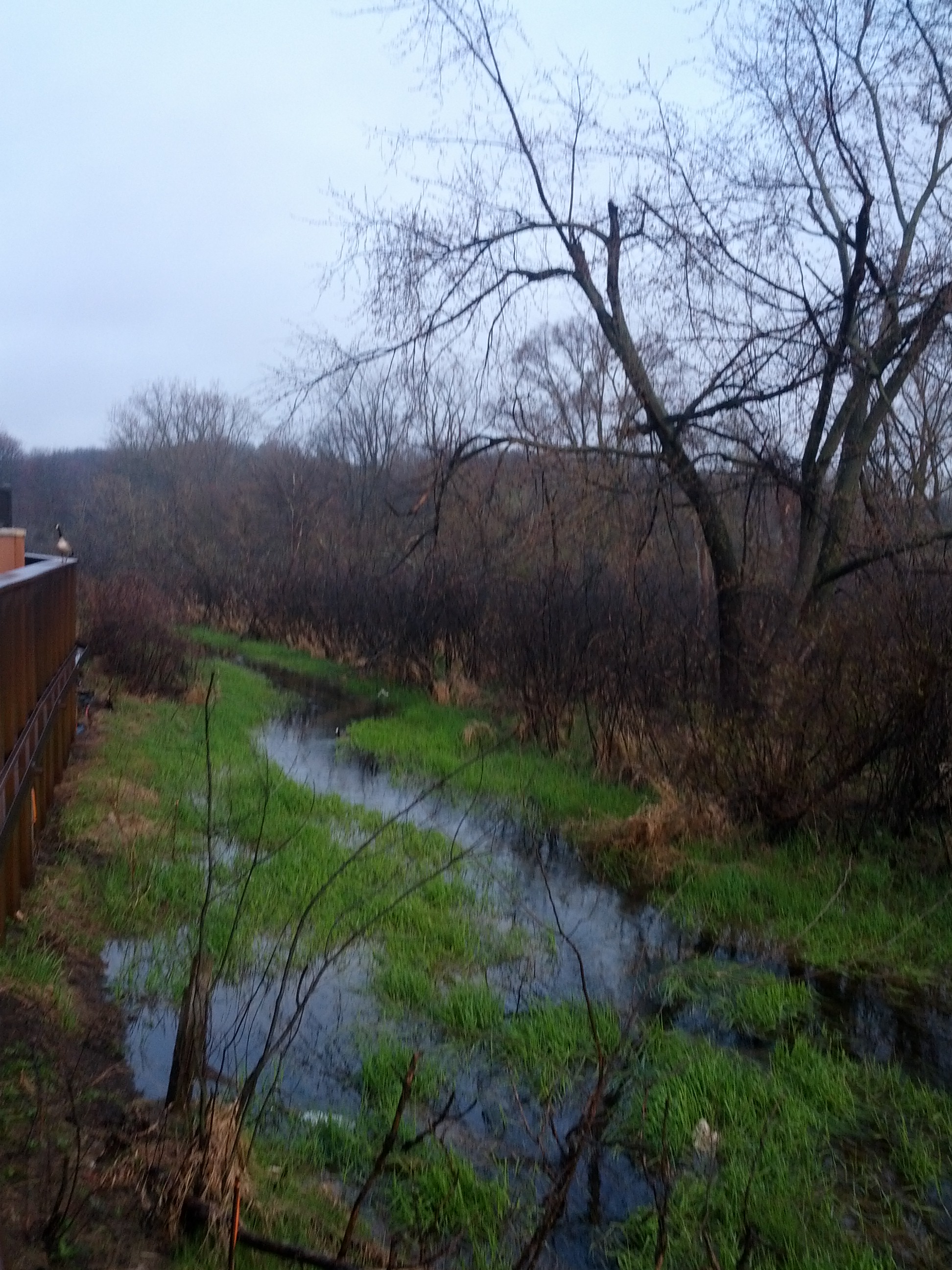 I had been in Texas in the morning, Georgia midday, Illinois early afternoon, then driven through Indiana to here, near Kalamazoo, Michigan.
I was on a mission; I have been trying to fill in my calendar on gc.com of days I have found a cache, and this was a day I needed.  Finally I had a minute to take  a short walk in the evening and see what I could find.
I came upon a herd of deer, about a dozen altogether.  They were grazing in a field about five hundred feet from the hotel, just across the street from where I needed to look for the cache.  A couple of young ones in the herd were curious about what I was doing, and turned to watch me.  One couldn't stand it, and finally had to cross the street and make attempts to graze at the grass near me, watching me.  I tried to see if he would let me approach him (foolish girl – but he didn't have antlers with which to gore me, and I was curious how close he would let me get), but this only resulted in the whole herd taking off for the safety of the woods, as if I meant to hurt them.
I didn't find that cache, but I did find one on the other side of the hotel.  I saw several Canadian Geese (#86) honking in the grass along the way, and the morning I saw them again in the back of the hotel.
This is the view from the back of the hotel in Portage.  I didn't get to explore much because I was sort of at the mercy of the sales guys, who had the car.  I spent some time here, though, armed with binoculars to see what I could see.  Most of what I saw were the same birds I had been seeing in Texas, except for a pair or two of Mallards (#87) that flew low near the trees on their way to some other water source.  There were blackbirds, robins, and sparrows out there, others too that I can't think of right now.
In the drive through Indiana, though, I had looked over and seen a glorious site of several sandhill cranes covering a field of beaten down golden stalks of some crop, probably corn.  I also saw cliff swallows (#88) that had made a mud nest along the front of the building of the client we had come to visit.  I thought I would have a chance for more wildlife observations when we returned to Chicago, but we stayed in an area full of tall buildings, and clubs and restaurants.
As much as it is nice to get away, it was also really nice to come home, return to my boys and my bike and the gorgeous spring we are having this year.