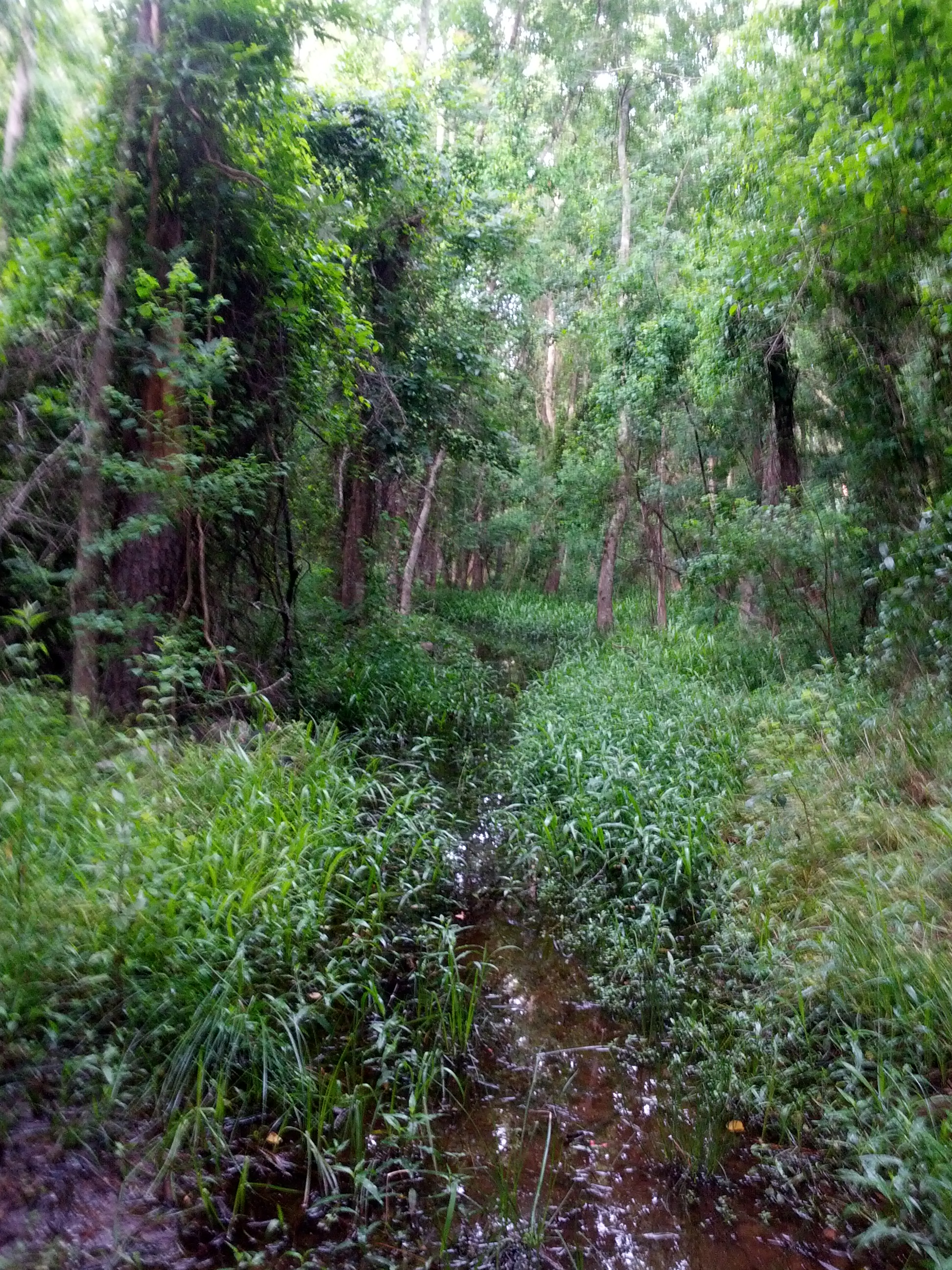 So, there were some things we didn't think about when we planned our activities for National Get Outdoors Day.  Like, the recent rains…and the consequences of that.  I dressed for biking, but I wasn't so much dressed for hiking, especially in THAT.  That, above, is the trail we were going to take into the forest at Spring Creek Nature Center to go on a nice little jaunt to look for birds.  Standing water on the trails equals mosquitos, and not just your normal flying around a little by your face tiny little mosquitos, but the kind that are like big enough to carry off a small animal, and who hunt in packs, and who don't just go away when you brush at them, but rather find that little bit of exposed skin, regardless of how much DEET you put on it, and go to town.
We all had great hoardes of mosquitos lingering around us;  the two of us, our guide Matt, and the three summer interns from the Nature Center who had decided to join in the fun (and who were much more appropriately dressed than me).  The interns wore big rain galoshes, long sleeve shirts, lightweight hiking pants, and wide brimmed hats.  I had on shorts, tennis shoes, and a v-necked summer shirt that exposed my shoulders.  I would have been very comfortable on my bike, for the record!
The thing is, we never made it to the biking.  What we did instead is meet up with Matt for the bird walk that they typically schedule here at this Nature Center for the second Saturday of the month, and then proceed to spend an hour in a swampy forest getting eaten alive and trying to find the best way out of all the waterlogged trails.  We saw very little birds – a cardinal here and there, and I think that was it.  We DID however HEAR a lot of birds.  For that, I think it was worth it to get out there (athough J might disagree – he was pretty miserable).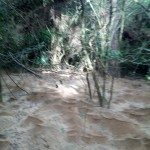 Matt is extremely knowledgeable about the forest and what it is composed of, both flora and fauna.  He pointed out different plants, insects, and butterflies as we went by.  We talked a little bit about the leaf cutter ants that build these huge colonies out there. (left pic).  He pointed out the bird songs that we were hearing as we went – Carolina chickadees, Carolina wrens, and the Northern Cardinal.  We heard a White-Eyed Vireo as we made our way back to the Center (finally!).  I picked his brain about where to learn bird calls and which birds we might be likely to see on our upcoming road trip.  I felt like I learned a lot in that amount of time, despite the fact that we were pretty eager to GTFO of there as soon as we arrived back at the Center.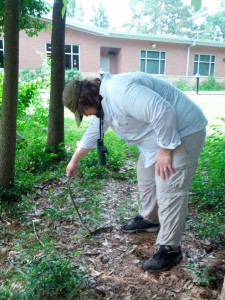 When we were walking past the area by the center where they have the nature game set up (some Scout's Eagle Project in the past), Matt found a rat snake and caught it to show it to everyone.  I was impressed, but I mostly was interested in getting inside and wiping off my legs that were not real appreciative of the fact that I made them tromp through calf-high wet grass.  I had red welts on my legs, either from bugs or a reaction to some plant.  However, I was still game for that bike ride!  J was just sort of humoring me as we drove from the Center to nearby Dennis Johnston Park.  We checked out the road that goes between the first parking area and the second, observing the big Lodge in the back and the entrance to the hike and bike trail that extends fifteen miles all the way to Jesse Jones Park.  We went to get out, but we talked it over and J was really so over the outdoors.  My legs did not look good, and I admitted that it would be nice to just get some cream for them, get out of these wet tennis shoes and socks, and sit in the air conditioner somewhere.
We were kind of locked in to some plans later on, so we decided to see a movie instead, and I bought some cream and emergency sandals at Walgreens.  We found a couple of park and grab geocaches as a consolation prize for all those caches we were going to find on the hike and bike trail.
Dennis Johnston Park, we will be back.  We will bike those trails and get those caches.  We will probably even host a geocaching event there to do that with a group.  We will also go back for a bird walk at the Nature Center again, although some conditions apply; never again in the summer, and also preferably during a season where migrant birds are around and easier to see, like April or possibly November. And, never again following a recent rainy cycle, ha!