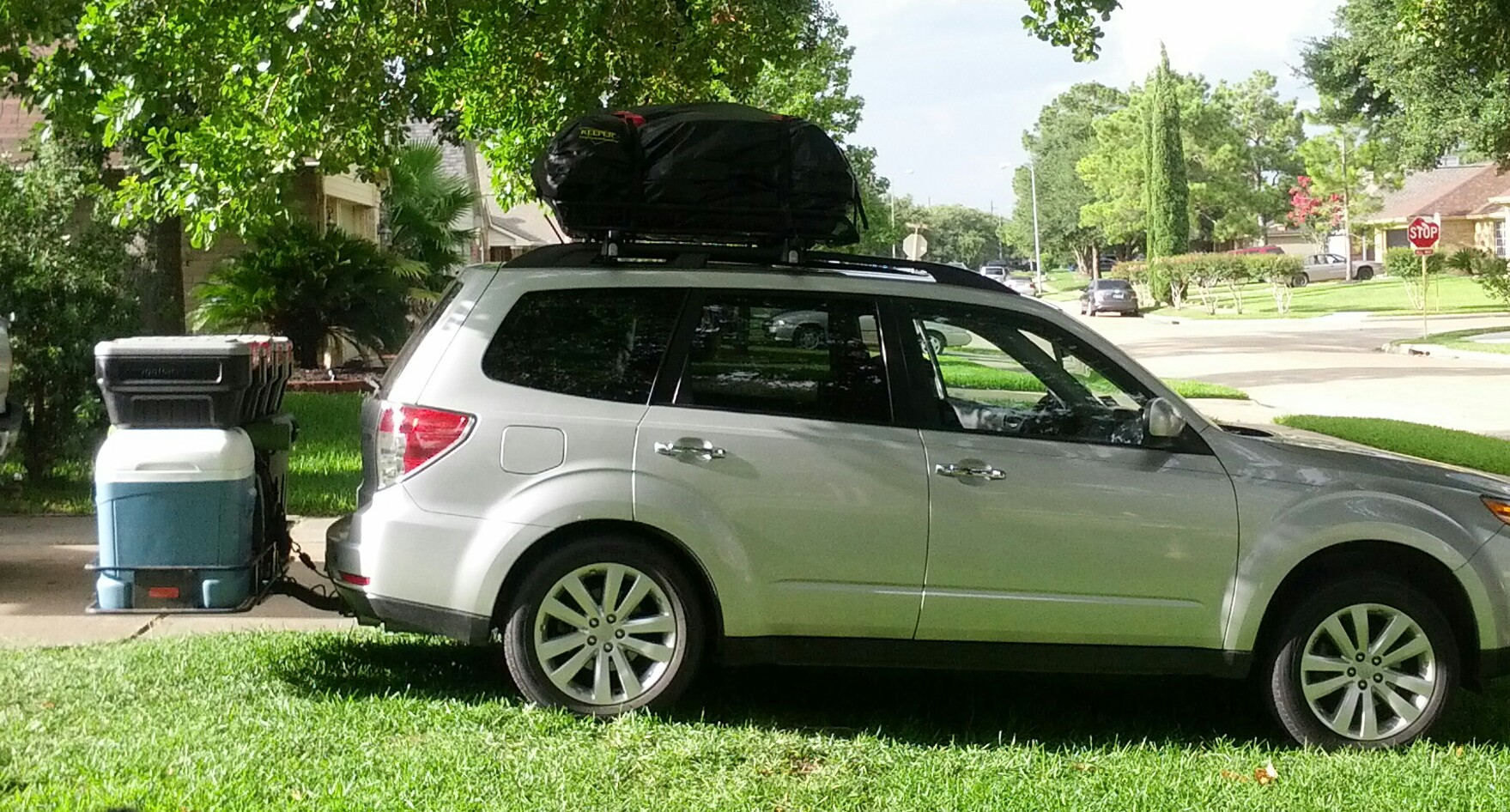 We thought we had a good system.  We thought we had figured things out.  J is an expert packer, and he had a four day weekend to think it through.  When we finally got the Subaru loaded up, though, with the kids, dogs, us, our camping gear, and clothes for the next few weeks arranged tetris-style on the luggage rack and cargo basket, it seemed that we were just a little overloaded.
We tried to make it work.  We made it about twenty minutes down the road before J decided he needed to test out some parking lot speed bumps to see if we were so low that we were riding on the bump-stops of the car.  Turns out we were, so while we stopped to feed everyone dinner, he called his parents to help bail us out by passing off what we could most do without…the dogs.
So now we were headed south instead of north, to drop the dogs off in Sugarland.  Then we had to head home to rearrange the entire she-bang.  We got rid of the luggage rack entirely and lightened up the vehicle's load by about two hundred pounds or more when it was all said and done.  So, my initial plan was for us to leave right around four in the afternoon and find a hotel in Arlington, having put some good hours in between us and Katy.  It was very late by the time we actually left, and we only made it as far as Fairfield.
The next morning, the youngest child lost a tooth over a pastry at the continental breakfast at the Days Inn.  There was some anxiety over the Tooth Fairy, who was actually short on cash at the moment, and we assured him that the Tooth Fairy would eventually find him.  I need to remember to ask when he gets back from visiting his dad, because we thought maybe the Tooth Fairy could find him there.  J struggled with the cargo bag in a hot parking lot, and everyone was a little grumpy and frustrated by the time we set out to make it to Caprock Canyons that night.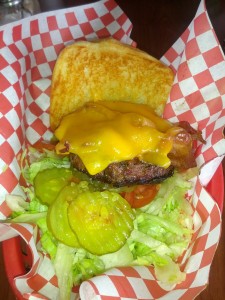 The good thing about being behind schedule was that it meant we were pulling into Arlington in time to have an early lunch at Chophouse Burgers, a place I read about on a Diners, Drive-Ins and Dives information website.   We think it was worth the hype, very good.  J and I both ordered the signature "Chophouse Burger", while the kids got just regular stuff.
The reason we were headed to Arlington was to find this cache: GC62, Tombstone, the 35th oldest active cache in the US and the oldest active cache in Texas.  It's a short multi-cache located in a park/cemetery area just outside the University of Texas-Arlington campus.  Even though it was 92 degrees outside, it wasn't too bad going after this one, because we approached it from the campus side, which was quite shady.
After this, there were some hiccups getting out of town (gas, bathroom break, cache stop etc) and then we finally started to head northwest, with our sights on the next "grandfather" cache in Texas on our agenda:  Texas Double.  This cache is the 59th oldest active cache in the world, and the second oldest in Texas.  It is located in the LBJ Grasslands, which I sort of imagined to be some amber-waves-of grain benign meadowlands.  It wasn't like that at all.  It was hot, rocky, prickly, and full of scrubby trees and chaparral style foliage.  It was quite a bit of a deviation off the main highway, too.  We did enjoy the backroad journey out to the location, and the solitude of the adventure.  We didn't see any other vehicles out that way.  There was a trail, and it didn't seem that far to the cache from where we parked, but with the afternoon sun beating down and the bit of a climb up a hill, it was more difficult to get to than we anticipated.
On the way back down the hill, my younger son hit a mental roadblock in figuring out how to deal with the terrain.  There was a long period of time where we were all trying to teach him how to walk sideways and make his way down, and during that time I got bit by some bugs and got an unexpected sunburn.  This was around the time that we first started to realize that the Single Most Valuable Item that we packed was one I incidentally just grabbed on the way out the door – Band-Aid brand Anti-Itch Gel, providing "immediate cooling relief" as the label says, to all our bug bites and plant-induced itches.
Finally we were on our way to get to the state park before nightfall, stopping just one more time to grab a cache and some drinks.  I will post later about what Caprock Canyons State Park is like.  It was such a cool place that it deserves its own post.