By the time we got to Bryce Canyon that Sunday night in July, I was really darn sick.  We were also extremely hungry.  We had driven pretty hard to try to make it to our place to sleep for the night, and hadn't time to stop for food.  We had driven past a Subway in some little town which my son pointed out longingly, but we assured him we would be able to eat once we arrived at Bryce.
We had food in the cooler, but it all involved cooking on the camp stove, which was more time consuming than just buying food.  I thought when we checked in at the Ruby's Inn Campground, where we had a tipi reserved for the night, we could just cook on the picnic table in front.  It just kept getting later, though, so late that the campground office was closed for the night.  I could see people inside, and knocked at the door.  The two female clerks shook their heads in annoyance as they counted the day's income, but the manager did come out to give me the slip for which tipi to go to and how to check in the morning.
Now there was the issue of food.  I was probably too sick to prepare our food over the camp stove, we decided.  We drove back up the road a few miles, where we had seen a restaurant with people inside it, but as I walked to the door, they told me they were closed.  Never mind the people inside playing pool…but I am guessing at this time of night, the place turned into a bar instead of a restaurant.  The Subway over here had just closed down as well.  The restaurant attached to Ruby's Inn…also with people inside…also turned us away.  Ridiculous.
We went inside the store at Ruby's Inn, but hordes of people were coming out at the same time, saying the store was closing as well.  However, one mentioned to us that if you were quick about it, you might be able to grab something and get in line before the registers shut down.  We were literally the last people paying that night, buying packaged sandwiches and chips that we ate sitting around the picnic table by the tipi that now Jason decided we should not stay in.  He was concerned about how sick I was, and about the tipi having an open roof and a door that had stayed pinned open, letting who knows what in.  He was on the phone instead calling hotels seeing if there were any rooms left instead.   There was no luck with any of the hotels close by, but he did find a lady who offered her last room at her hotel at a decent rate back behind us about nine miles back down the road.
So here we were, at the America's Best Value Inn in Tropic instead of having the tipi adventure I had planned for us.  However, the beds were pretty darn comfortable and apparently we all needed to recharge our electronics AND ourselves.  Jason also kept insisting that this worked out for the best, because there was a laundromat attached to the hotel and we had needed to wash all our clothes.  I kept trying to tell him Ruby's Inn also had a laundromat, BUT we did get vouchers for a free breakfast at Clark's next door, so there was that.
In the end, though, I think we spent a little bit too long eating, washing clothes, and packing back up, because we ended up being just like ten minutes too late for the earliest time to rent ATVs to take a ride into Bryce.  The next time slot was full, but they were able to take us at one pm.
This was a hard choice, because the kids really wanted to do the ATV ride, but I knew if we chose to take the slot, we would end up sacrificing the hike in Zion that I had been looking forward to so much.  We even had spent the money ahead of time to buy the equipment that we needed to do the Narrows hike in Zion, but when I put it to a vote, everyone else in our family was willing to sacrifice the Narrows to ride ATVs.  I guess I could have thrown a fit about it or insisted that we follow my agenda, because I was the one who planned the vacation AROUND this hike and wanted to do it so bad, but I was really too sick to even think about going against the flow.  Plus, I was thinking about a discussion Jason and I had about that hike, in which he had questioned my actual ability to do that hike, considering that it is supposed to be hard on the ankles and mine wasn't quite 100% still.   I still had the want-to, but I might not have had the able-to to go along with this idea.
So I let go, but we still had a little time to kill until the ride started, so we drove into the park and stopped at a few overlooks.  This is the part where later I realized just how sick I was, because I didn't even think about geocaching.  If I had just thought about it, I would have realized that there were some very easy virtuals we could have gotten, but they were all at the different overlooks than the ones we stopped at.  Kaleb expressed an interest in hiking down among the hoodoos, which I was surprised to hear coming from him, but we didn't have time for any such thing this visit.  Maybe next time.  Here is the view from the overlooks: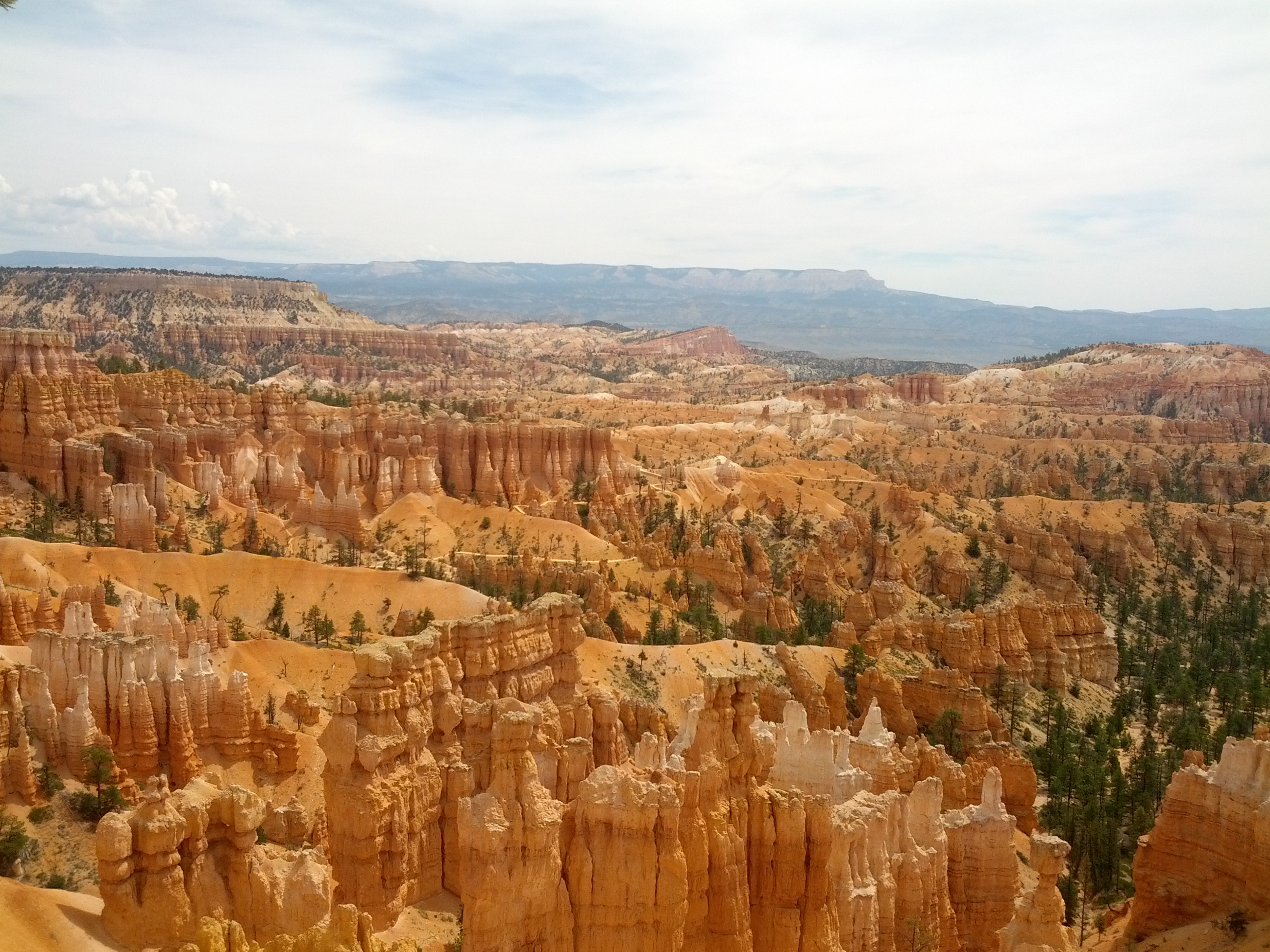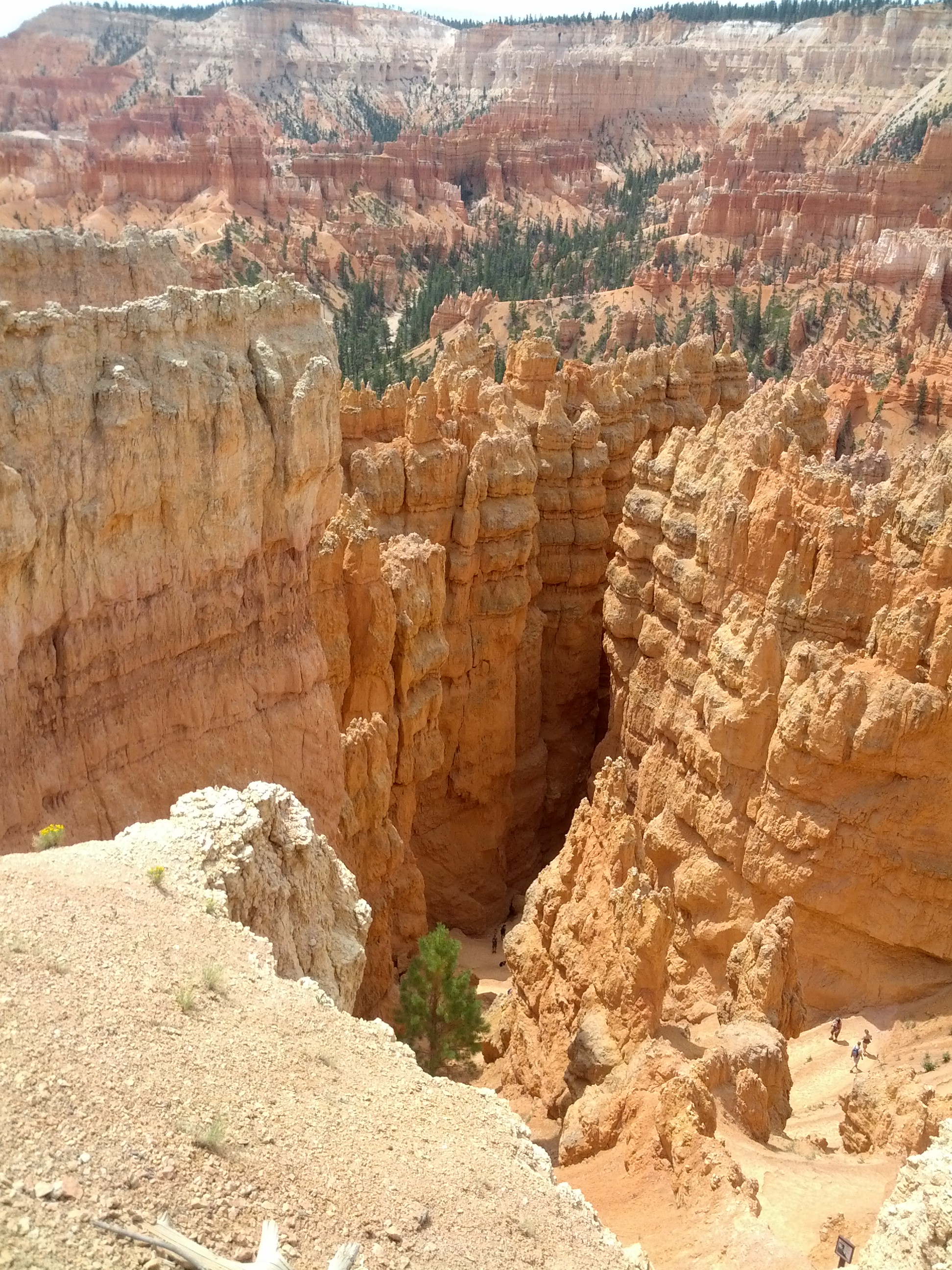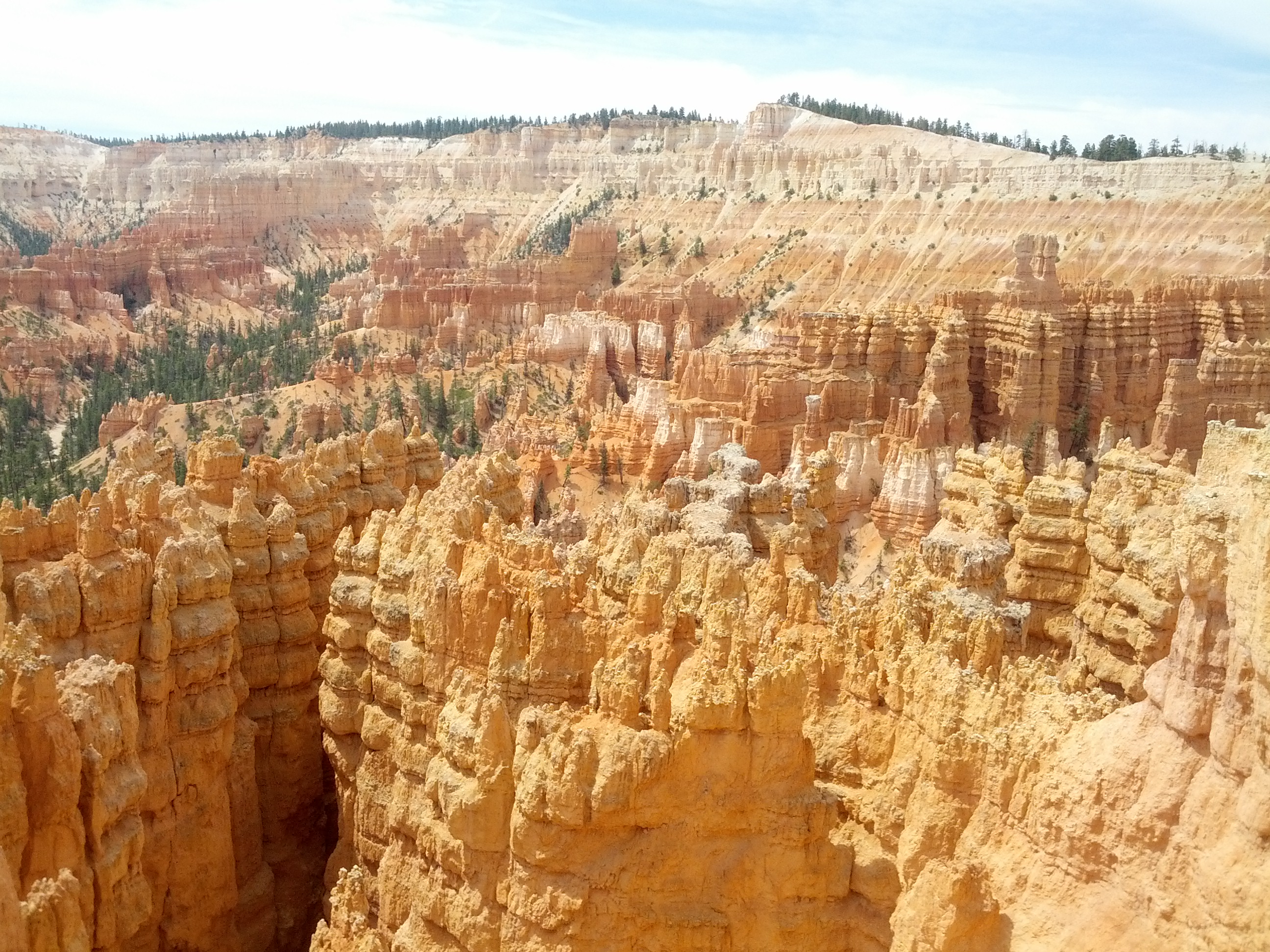 Then it was time to go for our ride.  We bought some bandanas to cover our faces to keep from eating so much dust.  However, because we were on the four seater ATV, we had to ride in the very back of the line, so there was a lot of dust being kicked up ahead of us.  One thing I am never doing again, ever – going on an ATV ride in the desert when I had a chest cold.  Despite the bandana, my lungs felt like they were full of chalk after this.
Everyone did had a good time, though, and we saw some parts of the park and Dixie National Forest that we would not have seen otherwise.  We saw some deer.  We had to "rescue" the guide's dog, who had jumped off his cart after something and then was trying to run to catch up when we got him on ours.  After this, though, we had a scary moment where the ATV shut down on us, with the rest of the pack too far ahead to notice we were not moving, and we got left out there in the middle of the wilderness.  I was beginning to think we would have to walk back to the headquarters, which I was not looking forward to in the heat of the day feeling like I did.  Eventually, the guide figured out to come back for us, and we got the machine going again and made it back okay.
We were all so covered in dust afterwards, and I guess the vehicle repair shop next door is used to this; they allow the guests to come over and blow themselves off in their air hose.  Even so, we were still dusty for the rest of the day.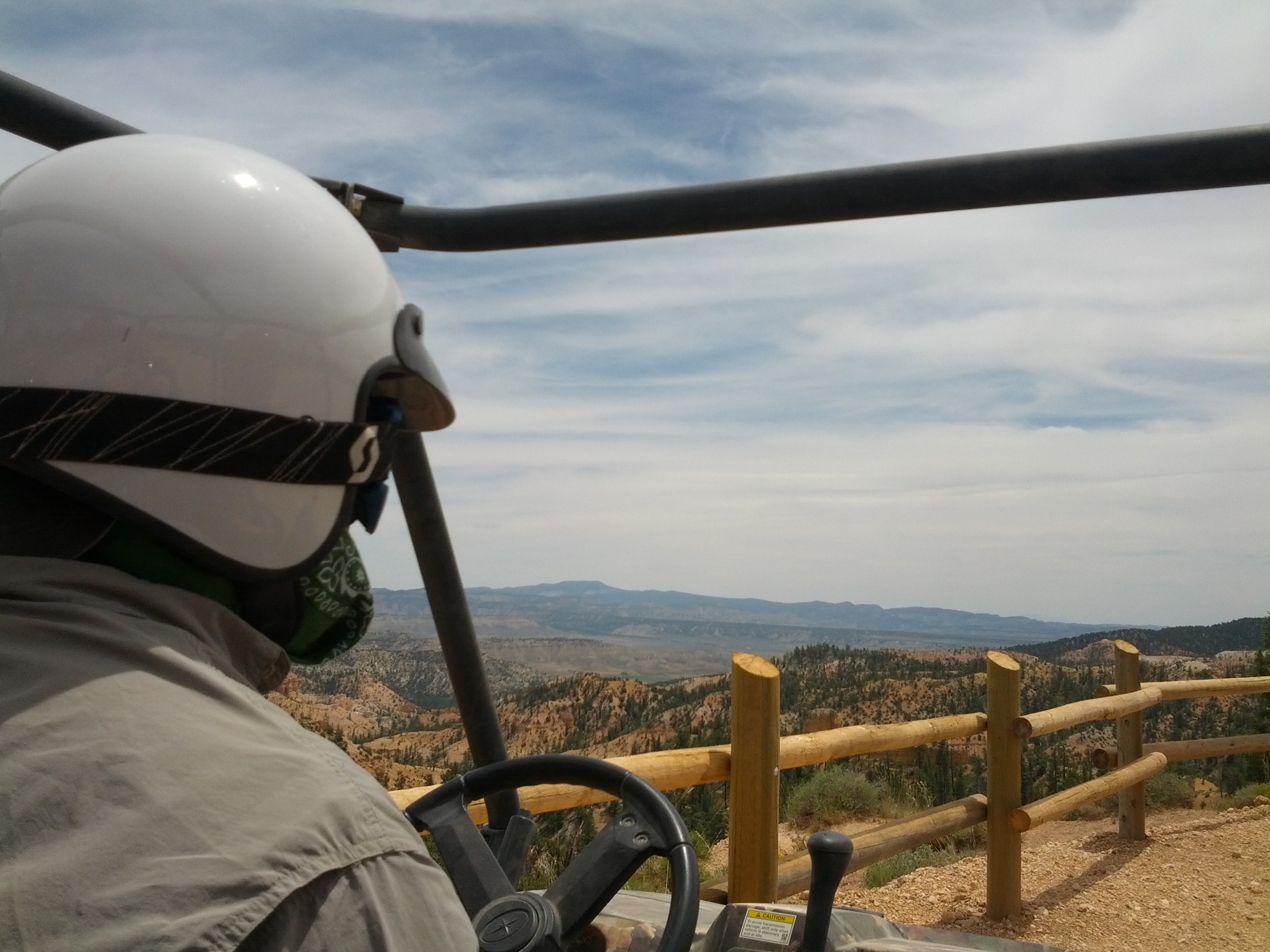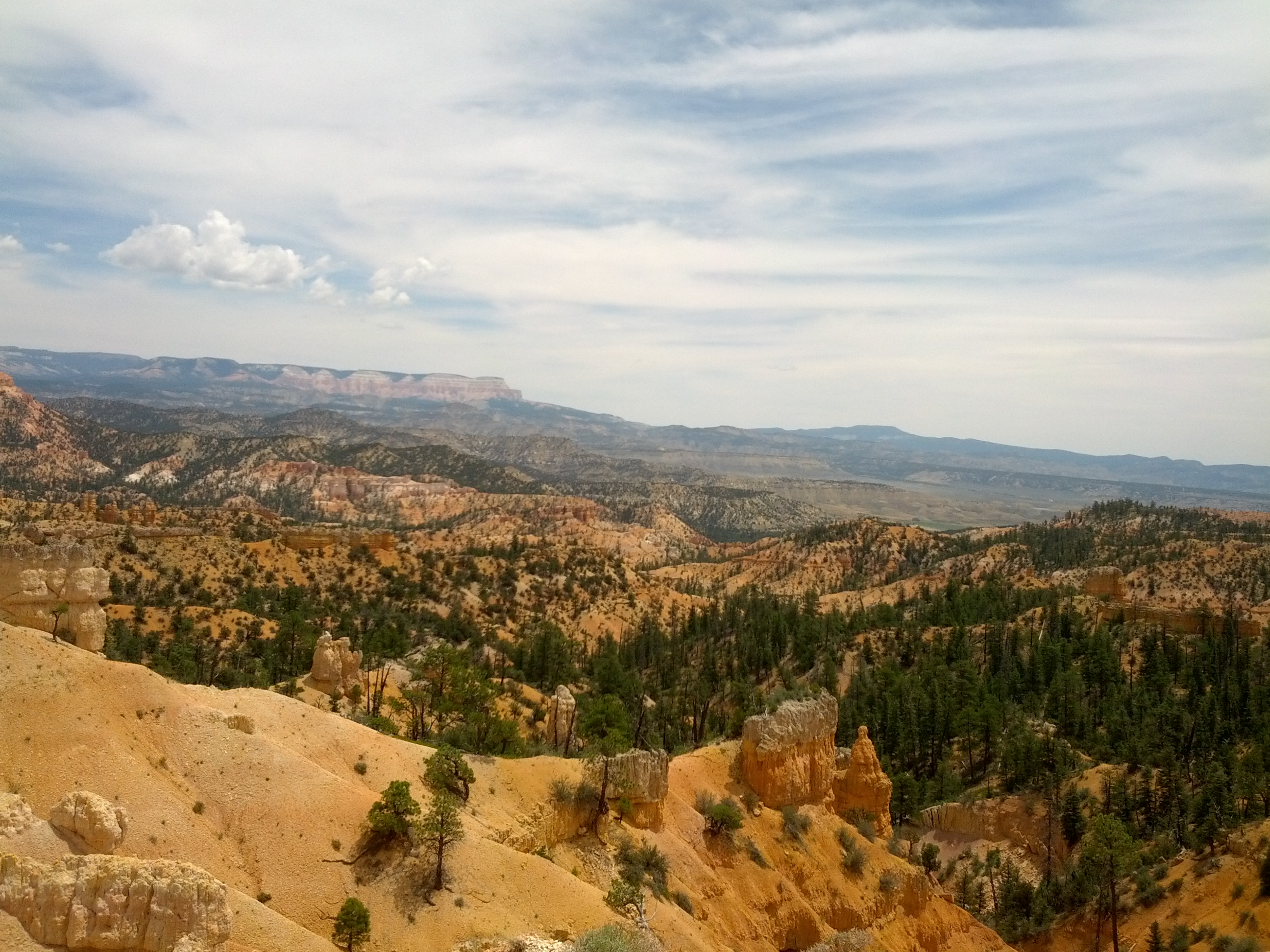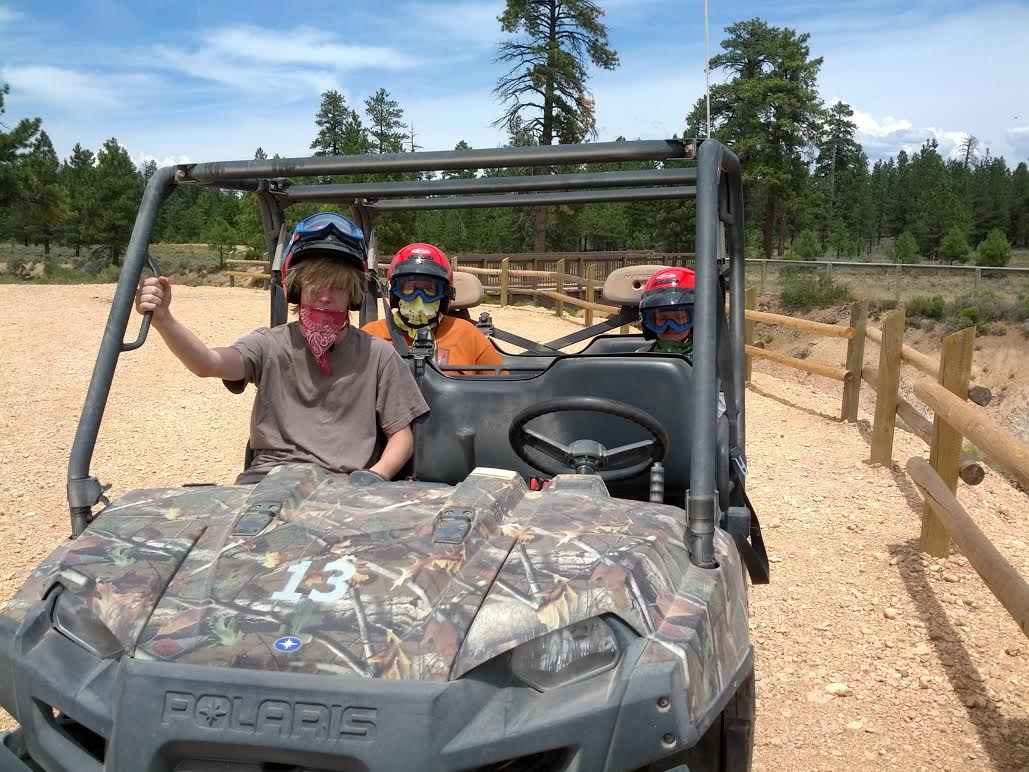 So, after this, we stopped at the Subway just outside the park, and paid ridiculous prices (it was something close to $50 for the four of us to eat!) and had terrible service by two poor foreign girls who had no idea how to make the food on the menu.  I am not usually one to complain, but it was bad.
After this, we tried to make it to Zion.  I still had a hope that we might be able to make it to the park in time to at least try to do a small amount of the hike I wanted to do, at least get into the Virgin River and get some of this dirt off of us, or see the park from the shuttle bus…something.  We were following the GPS directions from our vehicle's map, and it seemed like we might barely have enough time…until we got to the point where our GPS told us we had arrived…and we had not.  We couldn't figure out what happened at first, but then we understood.  We were technically in Zion National Park, but it was a northwest portion of the park called Kolob Canyons.  The name "Kolob" came from Mormon scriptures, meaning "the heavenly place nearest the residence of God".  We decided since we were here to go ahead and drive through.  It seemed we did not have time to make it the forty miles further south to the actual park, especially since we were supposed to meeting the kids' dad near Salt Lake City, and it seemed from his messages he was already or almost there.  We had to go.  We didn't even really have the time or inclination to hike around some of the trails, go see some of the natural arches or find the earthcache there.  We had just enough time to drive around the rim and take these photos.
Maybe it was one of those things that worked out for the best:  getting a good night sleep in a hotel room instead of the tipi (which probably helped me get better sooner), or having the ATV ride be one of the kids best memories of our vacation.  Maybe the Narrows hike would have just been frustrating or disappointing in some way.  Or maybe I am just trying to convince myself of this to be able to let go of the regret of giving up something that I wanted.
The real comfort, I guess, should be that most of my family (excluding Kaleb, who still would rather go to Wyoming) got excited about Utah and want to go back again.  AJ loved all of it and is willing to give up another intended vacation destination to come back here instead.  Jason got this idea about renting a boat to explore the Lake Powell/Glen Canyon area and he still has not seen the Grand Canyon, so doing the "Grand Circle" might be a trip in our future, and at that time, I can plan to do The Narrows Hike again.