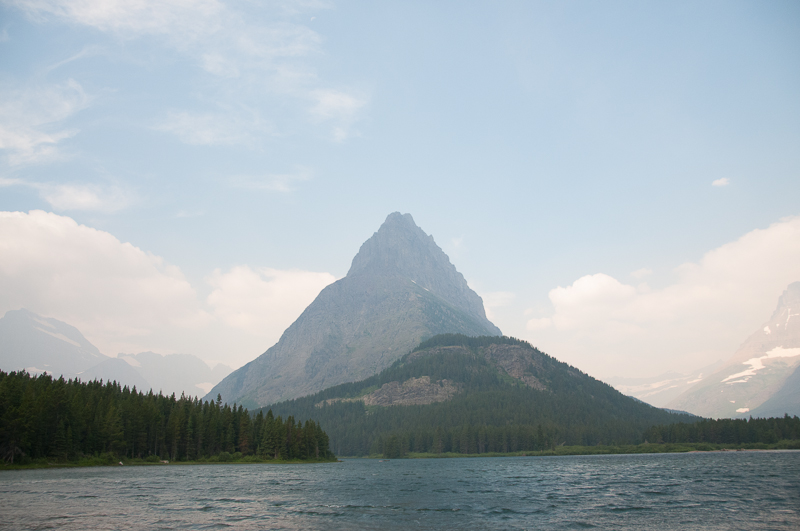 July 19, 2014
At some point while visiting Glacier, one has to make a choice. It would take probably a whole season, a whole year, maybe even a whole lifetime to see the entire 1583 square acres of this park, or to visit all of the 700 miles of trails, or to visit all seven sections of the park.
In our case, I had made some choices for us, based on reading booklets about the park and deciding what was most feasible for us. Or course, the plan was more ambitious than we could handle, and of course Jason talked me into scaling it back. He told me that his back was hurting and he didn't think he felt up to a hike of the lengths I had planned, but then later told me it was just an excuse because really he was worried about my ankle. I am not sure which of these I believe, but he did seem to be having more trouble with the altitude than we expected. Also, there were the bears.
My mind had already wrapped itself around the bear problem, but I also had done a lot more reading prior to this trip than Jason had.  When we stopped at a sporting goods store in Kalispell on the way into the park to buy bear spray, all of a sudden it got real for him.  (Plus, he kept questioning the necessity of this $40 spray, and if it would really be effective).  One of our weaknesses was the fact that it was just the two of us, since hiking in a party less than three  is not considered necessarily safe. The bears have not tried to attack a group of three or more hikers at the park.  This weakness was probably the number one reason why I conceded to his logic in making our plan for our first full day in GNP.
After some discussion, it became clear that Jason thought we should pursue the safety in numbers strategy, and also play it safe distance wise, by joining one of the ranger led hikes in the area.  Given that directive, we chose to buy tickets for the boat tour that left from the dock behind Many Glacier Lodge,  and take the optional short (1.5 mile) ranger led hike to Grinnell Lake.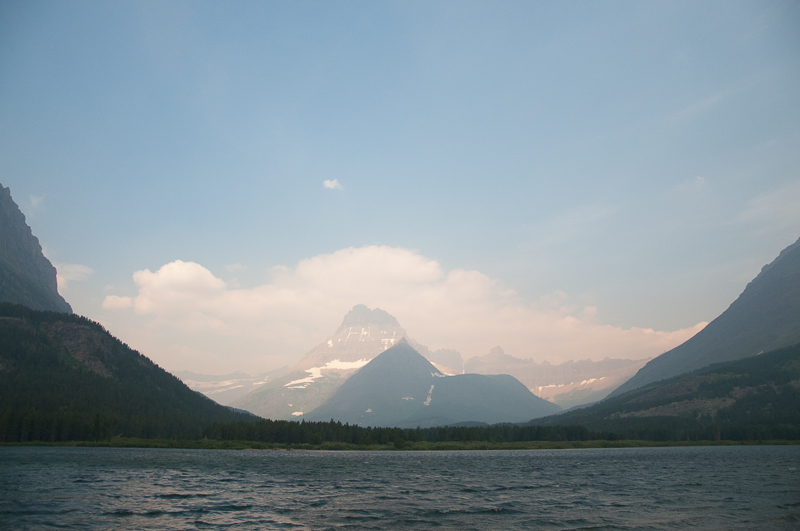 There is an early morning ride that one can choose that gives you the option of a longer hike to Grinnell Glacier, which I really wanted to do, but as it turns out, that trail was closed anyways (I can't remember now if it was due to weather or bear activity).  Jason didn't think we should attempt a trail of that length (7.6 miles if you take the boat shortcut, eleven miles if you don't).  After reading a story of a recent bear attack on that trail in which a mother grizzly with cubs was surprised on the trail by two hikers (a father and daughter) who barely made it out alive, I am kind of relieved we didn't pursue this option, although I can't help thinking about what we might have missed out on.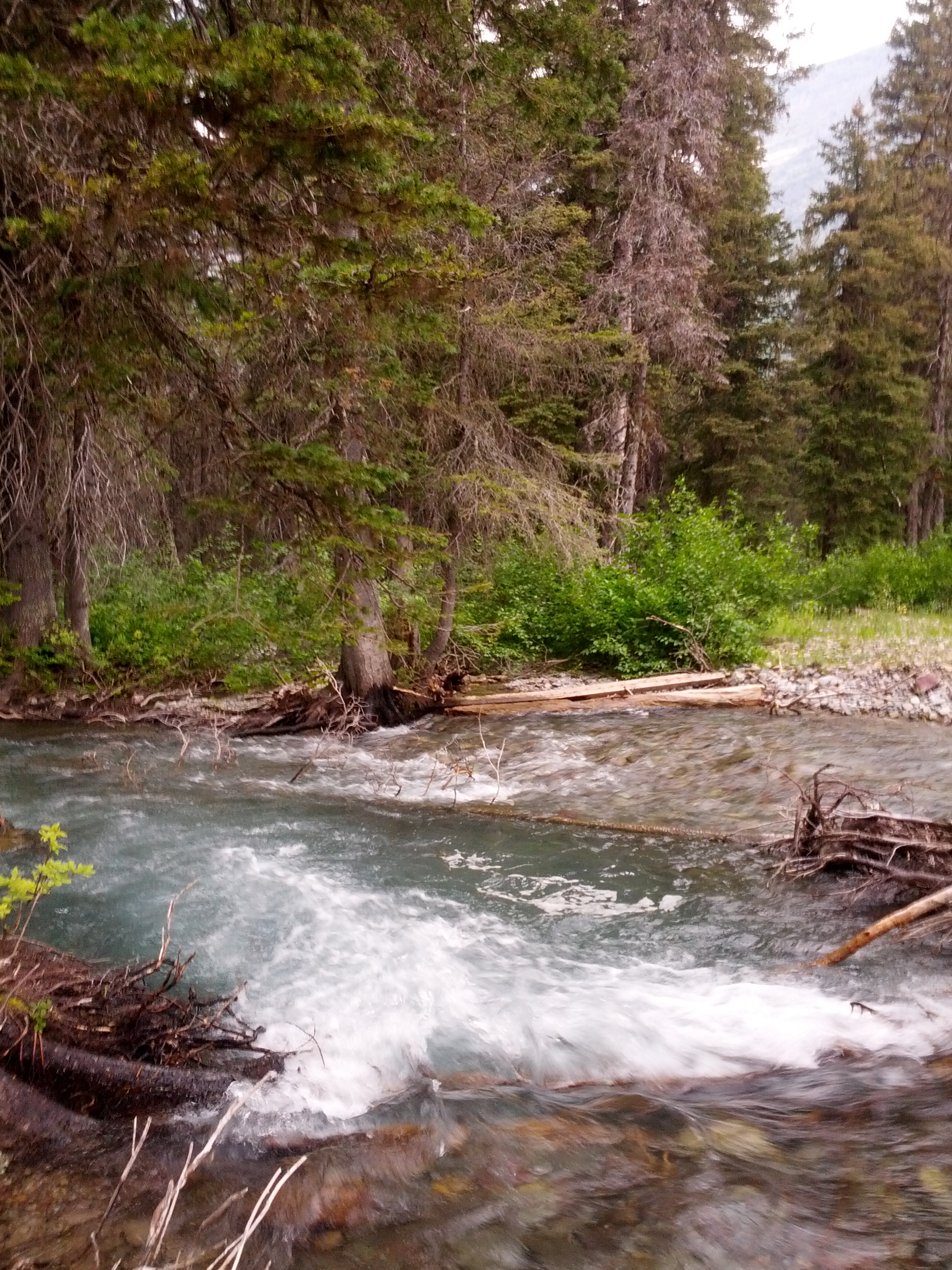 In the end, we made a compromise that worked for both of us. We drove to the old-fashioned swiss chalet style lodge in the morning and bought our tickets, but as we had some time before the ride started, we had time to walk around the lake on the Swiftcurrent Lake Nature Trail, an easy 3 mile walk that gave us some time in secluded beauty, but also felt somewhat safe, as we regularly came across other hikers. This made me feel like we were at least getting to see more than the short 1.5 miles with the group.  Even thought we walked through what is known to be a moose habitat, we didn't see any (although we were excited by the sight of a coyote in the woods on our drive in).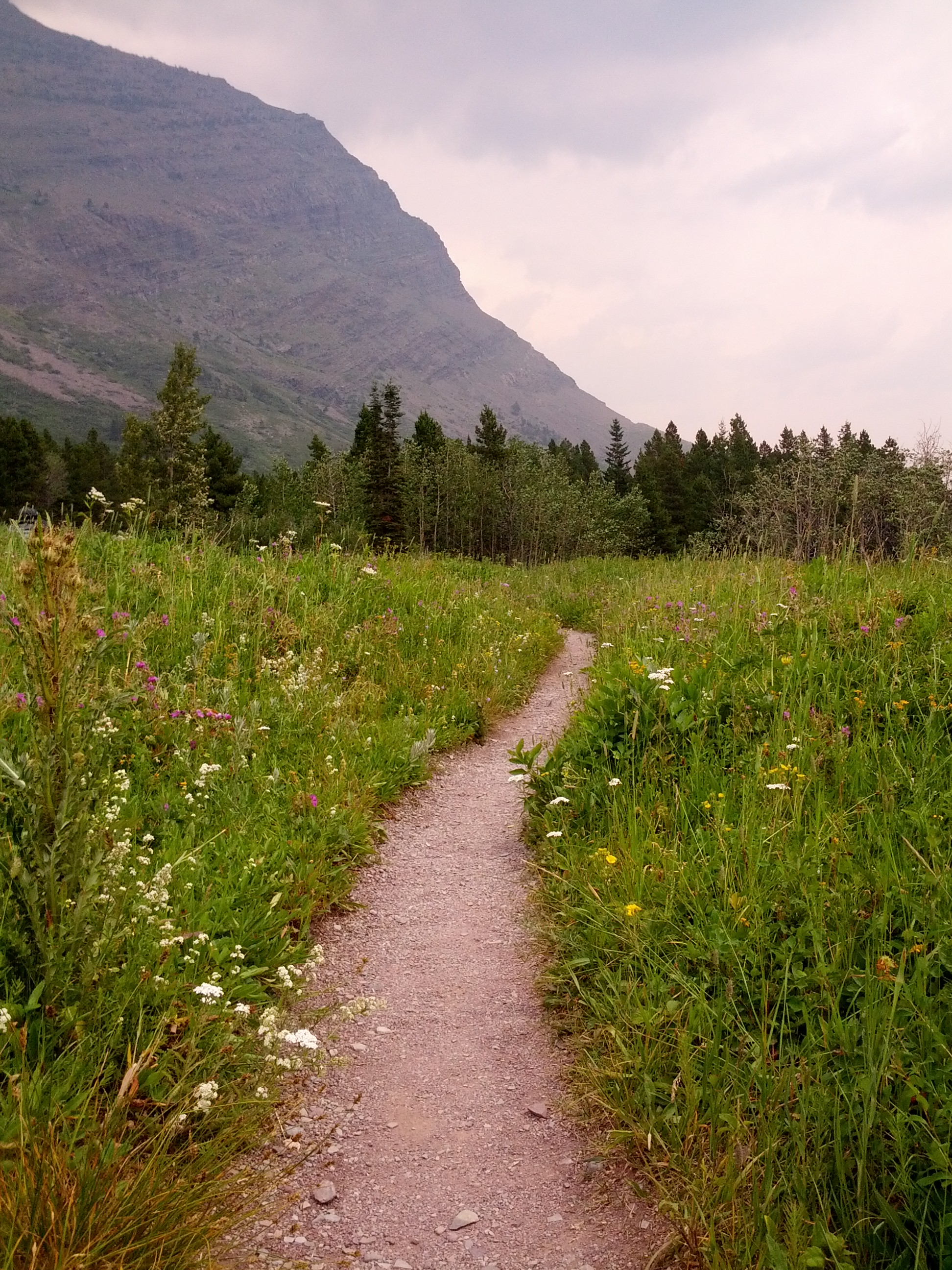 We attempted to hike up to Apikuni Falls nearby, but the elevation gain (700 feet over 3/4 of a mile) did Jason in, and we turned around before we reached the falls.
On the way back to the lodge from the trail to the falls, we saw a grizzly bear and her two cubs off a safe distance away. We were in our vehicle, and they were foraging in the grass at the edge of a woods in between the road and the lodge. There was a "bear jam" going on, of course, with everyone who happened to be driving by stopping at the edge of the road on both sides trying to get a picture or at least a good look.  We got the latter, and not the former.
We also saw a black bear by the forests edge on our way back to our campsite that night.  These four bears were the only ones, out of the 750 in the park, that we saw during our trip.


We ate a picnic lunch I had packed for us at a picnic table underneath shady trees while squirrels played around us, and hikers set off for points unknown from the nearby trailhead.  There was this lady on a bike who was cracking us up.  We saw her at the Apikuni Falls trail, and then again at this trailhead, and maybe again at the lodge.  Every time we saw her, she was wearing a different outfit, and she had this little daypack with her.  She looked worn and ratty but fit and intense, and she was just talking to everybody and joining in on groups.  She was one of the characters from our trip we laughingly reminisce about, just like "Bear Bells" from our little walk to Grinnell Lake.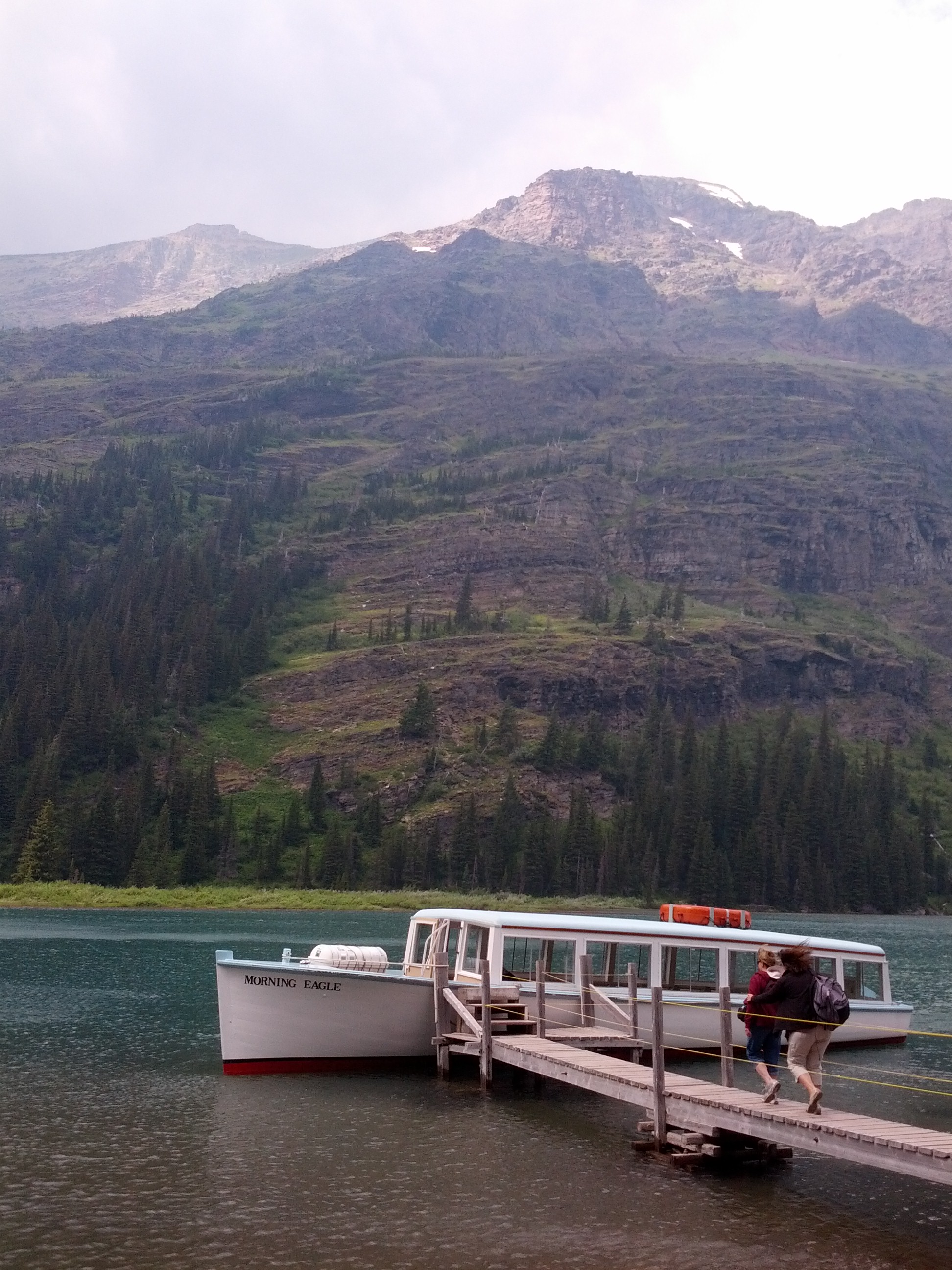 When it was time for us to take the boats to the ranger led hike, we boarded the Chief Two Guns that took us across Swiftcurrent Lake. The water was choppy and the little waves were fascinating. After the short ride across, we all left the boat and walked about 400 yards (with an elevation gain that took us both by surprise) to board a second boat, the Morning Eagle, which took us across Lake Josephine. After this, we had the 1.5 mile hike, led by Tom (we think his name was), who stopped every ten minutes or so to point out something special about the rocks or the plants.  One highlight of the walk was the tension bridge that could only be crossed one hiker at a time.  There was a great view of a waterfall that rewarded hikers if they were able to handle stopping in the middle of the bridge to look.
When we reached Grinnell Lake, he left us alone, and we all had some time to sit for a while and reflect on the lake, then make our way back at our leisure to the other end, where the Morning Eagle would come at a specific time to take us back.  You could also walk to the waterfall if you wanted.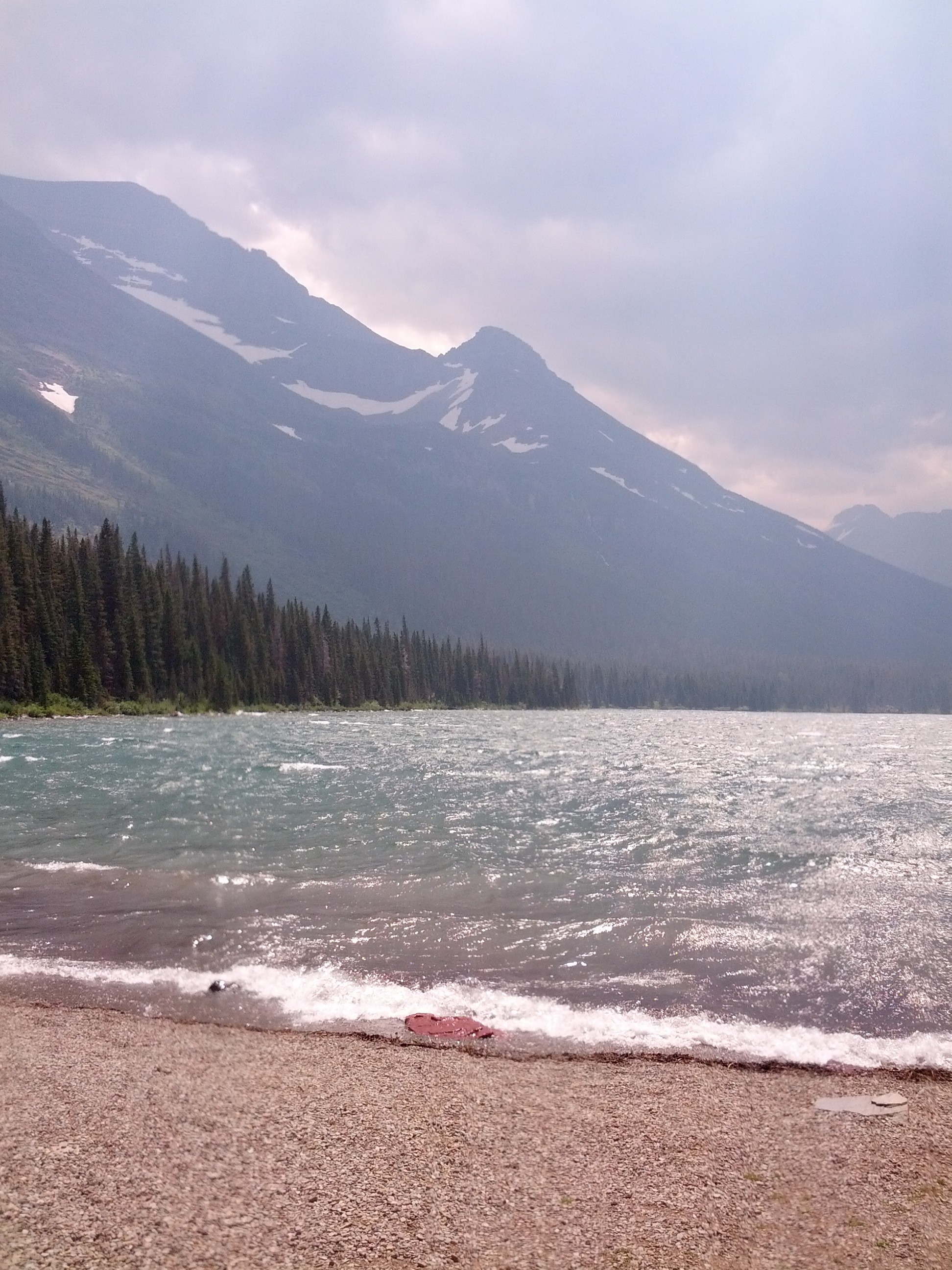 The water was absolutely beautiful in the lake, but very cold.  I tried to wade in it but that did not last very long.
Before heading back, we spent some time inside the Many Glacier Lodge, hands hugging a warm cup of coffee bought at the little deli downstairs.  Rocking chairs lined the porch, inviting guests to sit and watch a while.  It was quite windy, though, while we were there, so no one was taking up the invitation.  There was a gift shop with some fancy souvenirs in there.  The lodge itself on the inside reminded me of something out of The Shining.  I think it was the old style it was built in that made it a little creepy to me, although it was fun to walk around in.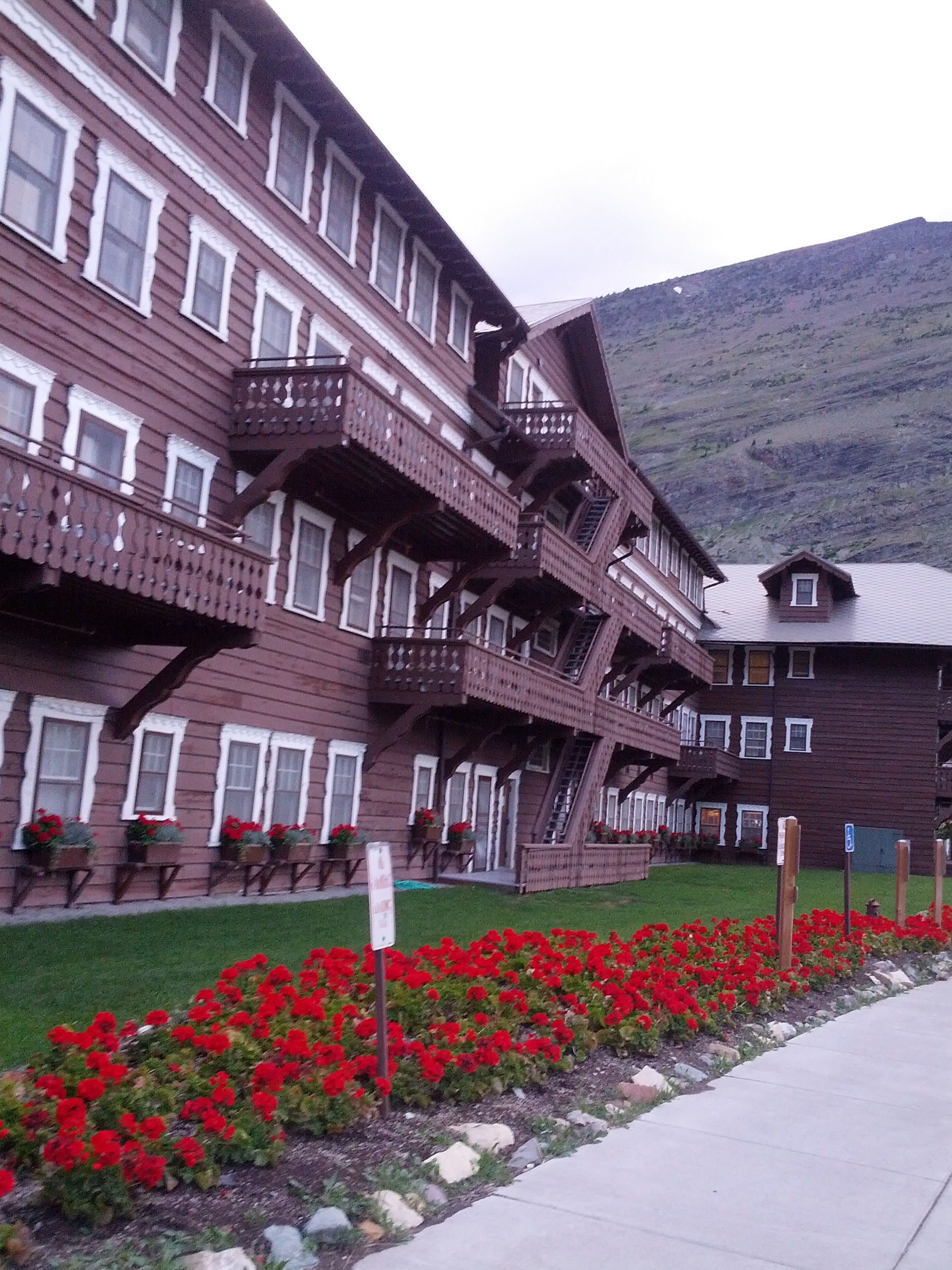 I read a story on the information displays in the main level that has stuck with me about the engineer that was tasked with finding a pass to build the railroad through up here in the late 1900s.  It was an amazing feat, culminating in a night where he walked up and down a short track he made in the snow in his snowshoes to stay alive in 17- cold just before finding the pass, while his Indian guide nearly froze to death at the campfire he had left him at, when the Indian refused to go any further.
It made me realize what lengths the early developers had to to go through to open up access to the public to this area of the world.  I am so grateful to them for their sacrifices, because this part of American is a jewel that everyone should take the chance to explore.