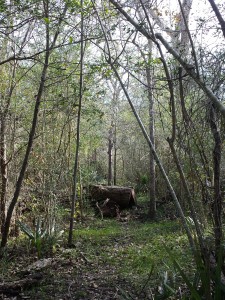 As we walk along the trail heading north back towards the nature center, we heard bird calls that were louder than usual, and saw a couple of people threading their way through a side trail ahead where the noises were coming from.  As we came upon the intersection, I realized why the noises were so loud, especially given the human foot traffic – they were coming from a cell phone perched on a nearby post.  A fine black net was strung along the tree line here at the junction.
One lady was walking away, and shared some information with another lady walking up.  "There's a hermit back  there," she says.  That meant little to us, but the approaching lady knew exactly what it meant, and she walked a few strides and then bent down.  We could see now the fluttering of a bird caught in the net, and the lady began to untangle its fine little feet from the net to bring it over to the table set up in the pavilion here at the Gulf Coast Bird Observatory in Lake Jackson, to get measured and have a little band placed on its delicate legs to follow it from year to year.
I had actually seen this lady earlier in the day.  She was decked out in that look that certain older outdoorsy women get.  I wondered if I would ever look like that, but it did occur to me that women who dressed that way were usually either flying solo or in the company of other women (although I am not sure why).  She was wearing sunglasses and a broad-billed hat to shield her from the sun, and was carrying a pack with all sorts of supplies in it.  She had on comfortable long shorts made of the sort of material that wicked away sweat and dirt and hiking boots.  I decided right then and there that women like that were my idols.  I am sure she is probably a master naturalist.
Earlier, she had stopped for a moment to patiently educate my child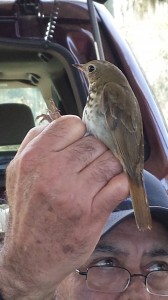 when he had asked me why we couldn't just capture the wild birds and keep them as pets.  Here in this moment, she stopped again, drawing the hermit thrush out from her hand to show my children and explain to us how to identify this species in the wild.  She gently showed us the red feathers at the tail and compared the ranges of this species to the other thrushes.
This moment, and others like it, is exactly why I dragged my family out of bed early on this Saturday and twisted their arms to come with me here. Although we got to the bird banding a little late (typical for us) and the crowd had dispersed a little, we did get to join back up with the group after the capture of this thrush to watch Robert Lookingbill measure and band the birds while his wife Kay wrote down their measurements and tested the crowd on field marks of the species they had.  We saw quite a few cardinals this day, but we also saw Carolina Chickadees and learned how to distinguish the Lincoln's Sparrow from the Swamp or Chipping varieties. This is exactly what I was after.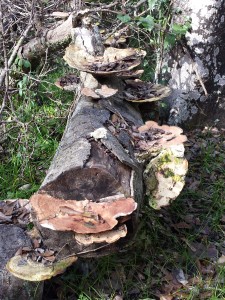 In between banding, we took a walk along the short trails they have at the center.  I think I also saw a Tufted Titmouse in addition to the other mentioned birds, but other than that, we heard the birds more than we saw them.  Although I have been listening to my birding audio CDs some, I have to admit it has not been nearly close to the amount of time I have spent listening to the Game of Thrones audio books lately, and I still have a long way before I have the sounds committed to memory.  I couldn't identify anything by sound, although I bet that naturalist lady probably could.  Although the trail was not long, it was nice and I enjoyed the time in the forest.  I was excited about the thought of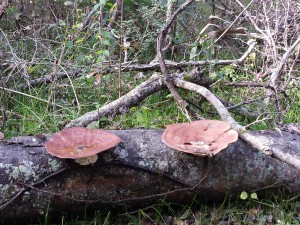 going to nearby Maclean Park and doing some more exploring/hiking, but we started to realize we were going to run short on time, and I wanted to take the kids to the Center for Arts and Sciences Museum, which we visited after this. That museum is free and boasts a huge collection of shells and gems, as well as other interesting displays, and I would recommend it to anyone heading out to that area.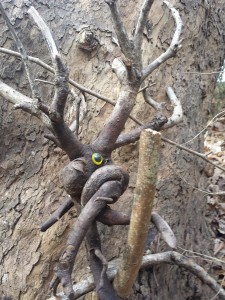 I also wanted to find some geocaches, but we only ended up finding one, on the nature trail near the museum.  Just that one little find managed to F%# me up a little, as I now have a nice "trail badge" e.i. scratch on my arm, and also I think I got bit by a spider.  Even though I was wearing pants, I have a spot on my shin that is red and blistered, and originally swelled up to a head like an ant bite, but now is just festering.  Just my luck!
Between all that we saw and didn't see, learned and didn't learn that day, there is plenty of incentive for me to come back this way another day, although I am not sure if my family is as excited about it as I am.  It was a long drive, and the kids were a little sad about missing so much gaming time that day (especially since we went directly from here to Jason's family's house for the rest of the day, and didn't get home until late).  Sometimes it is hard to balance all our needs and desires, but the kids also have to get out more and step away from their screens to experience the world outside, so I don't feel too bad about dragging them out here.