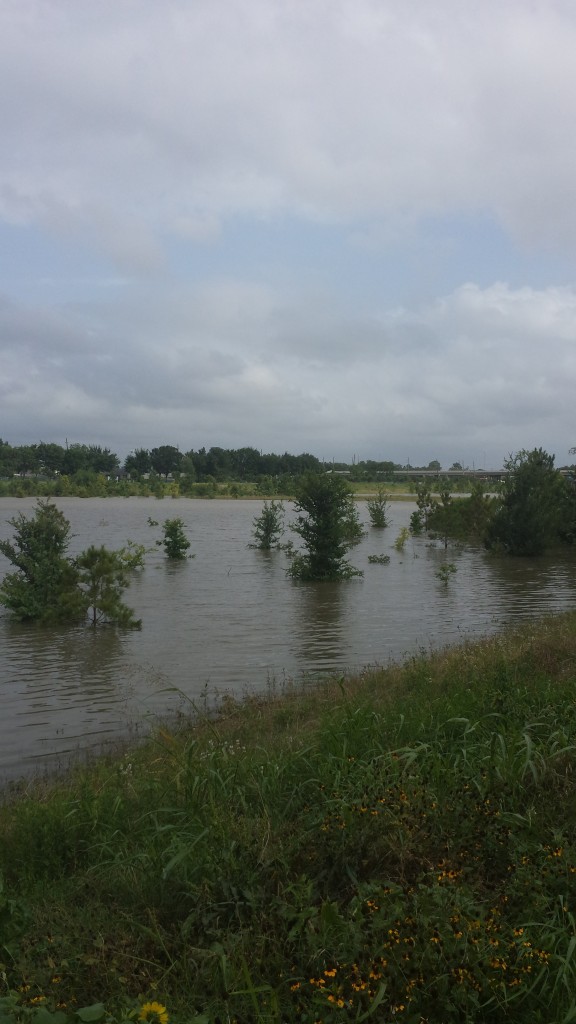 "Every time…".
That's what my husband says when we make the turn from Beltway 8 northbound to head west on the Westpark Tollway.
This is in response to what has been reduced to a simple gesture from me, or the beginning of a statement, something like "Someday, I want to…" or "Have I ever told you…"
This is a habit I developed in response to seeing Mike Driscoll Park there on our right. I've apparently been telling him I want to go there someday for years.  Finally I had a chance to go last week, when my plans for the day were canceled and I found myself with some time.  I loaded up the two youngest kids and we just went.
Basically, the park consists of a small playground and then a paved trail around a retention pond. This picture is after the recent rains (Memorial weekend historic flooding).  Usually, there is little to no water in this pond area.
The paved trail is a little over a mile long, and it has one big dip in it at the far end that was still able to be traversed by stroller. Some flowers were blooming at the waters edge, we saw a handful of bird species, and the trail had more shade than I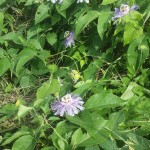 originally thought. We also found a handful of geocaches along our walk, along with a few mosquitos and a couple "rolly pollys".
I would go again, though next time wearing more bug spray and perhaps when it was a little less wet there.  My middle son got his shoes soaking wet in the playground and we were unable to get to some of the geocaches that were hidden here due to water and bugs.
Maybe now, though, I will quit driving my husband crazy whenever we pass it. I think I got the desire to explore it put of my system for a bit
😉