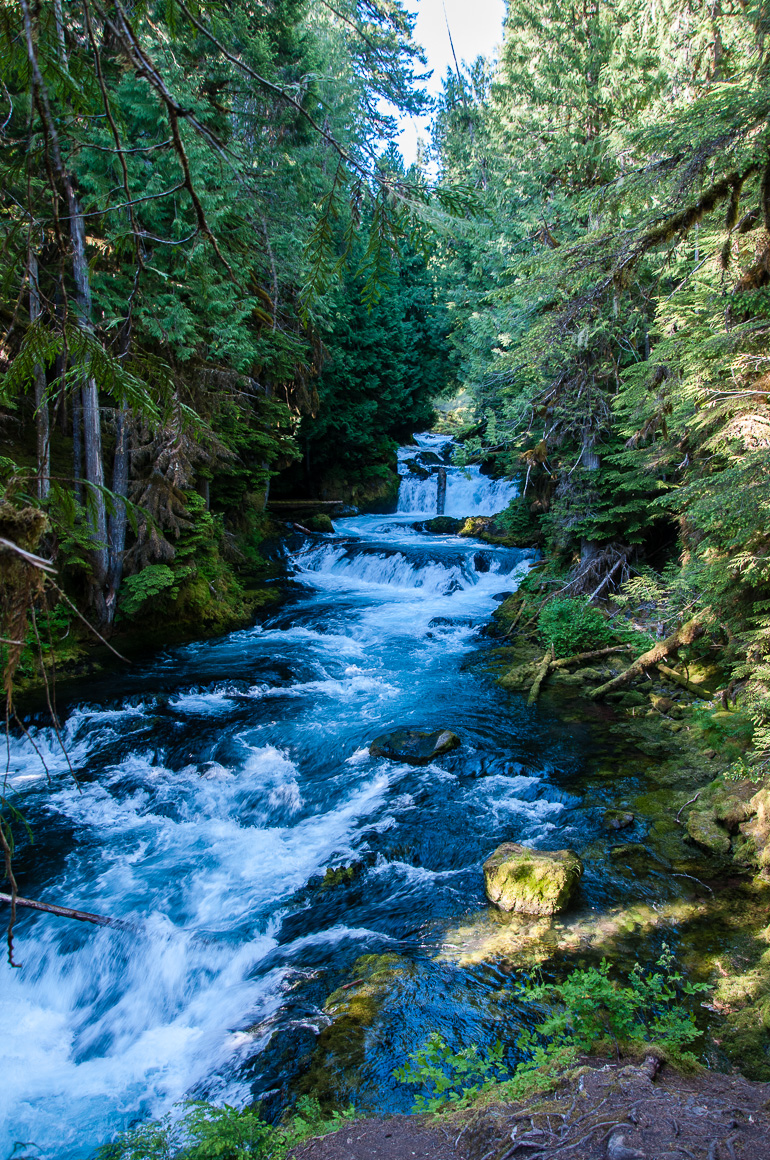 These pictures are from a hike we took more than a month ago, while we were making our way through Oregon to get to my work conference.  I haven't had time to tell the stories, though, because that baby pretty much demands most of my time at home.  As a matter of example, I have been thinking about posting this for about two weeks, and then had the page up for about four hours before I was able to sit down to actually type these words.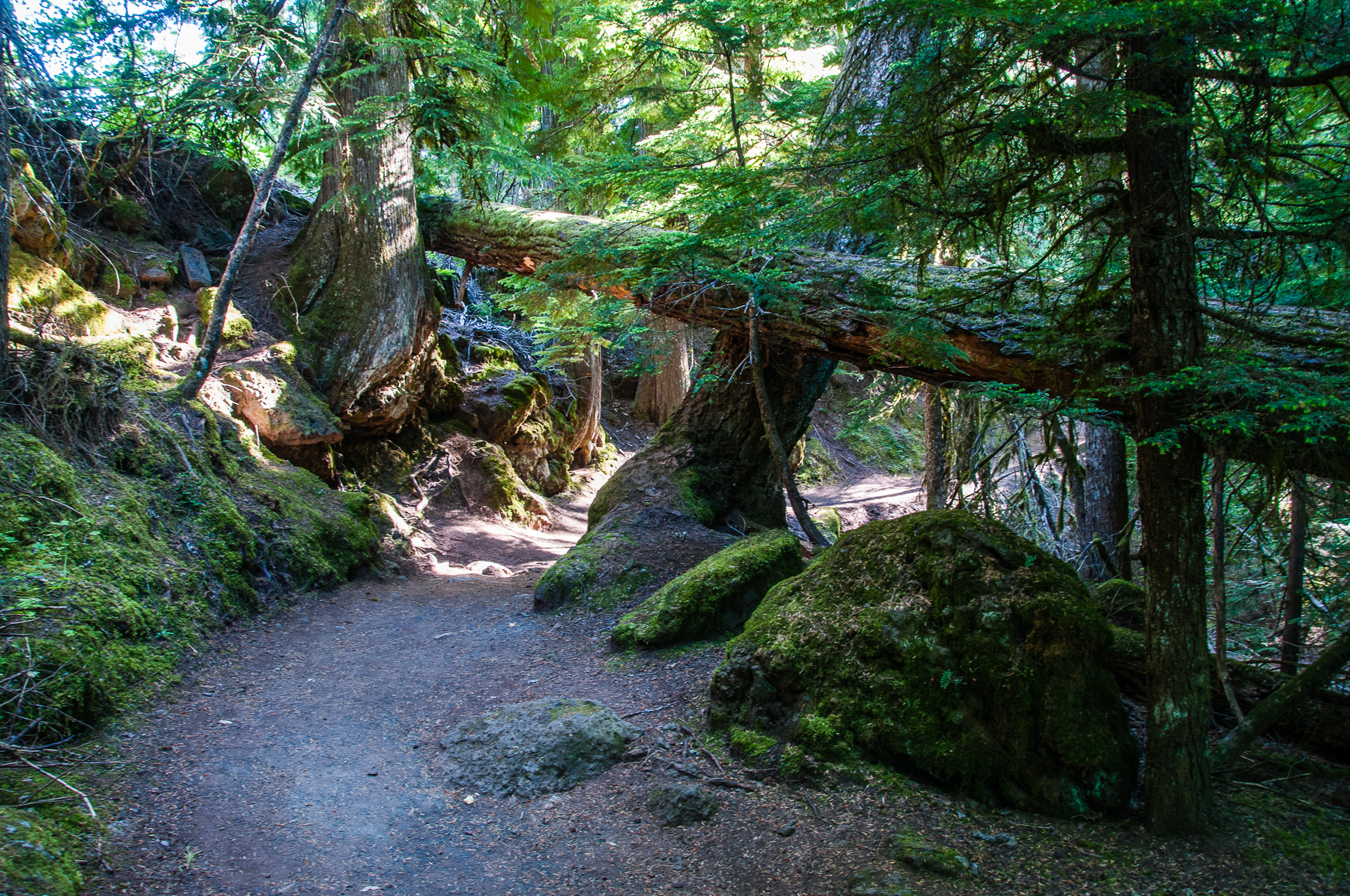 I still want to chronicle our outdoor adventures, though, and I am not giving up on that idea.  We'll just have to get used to the idea that every post will be a past-tense situation, and not a regular update.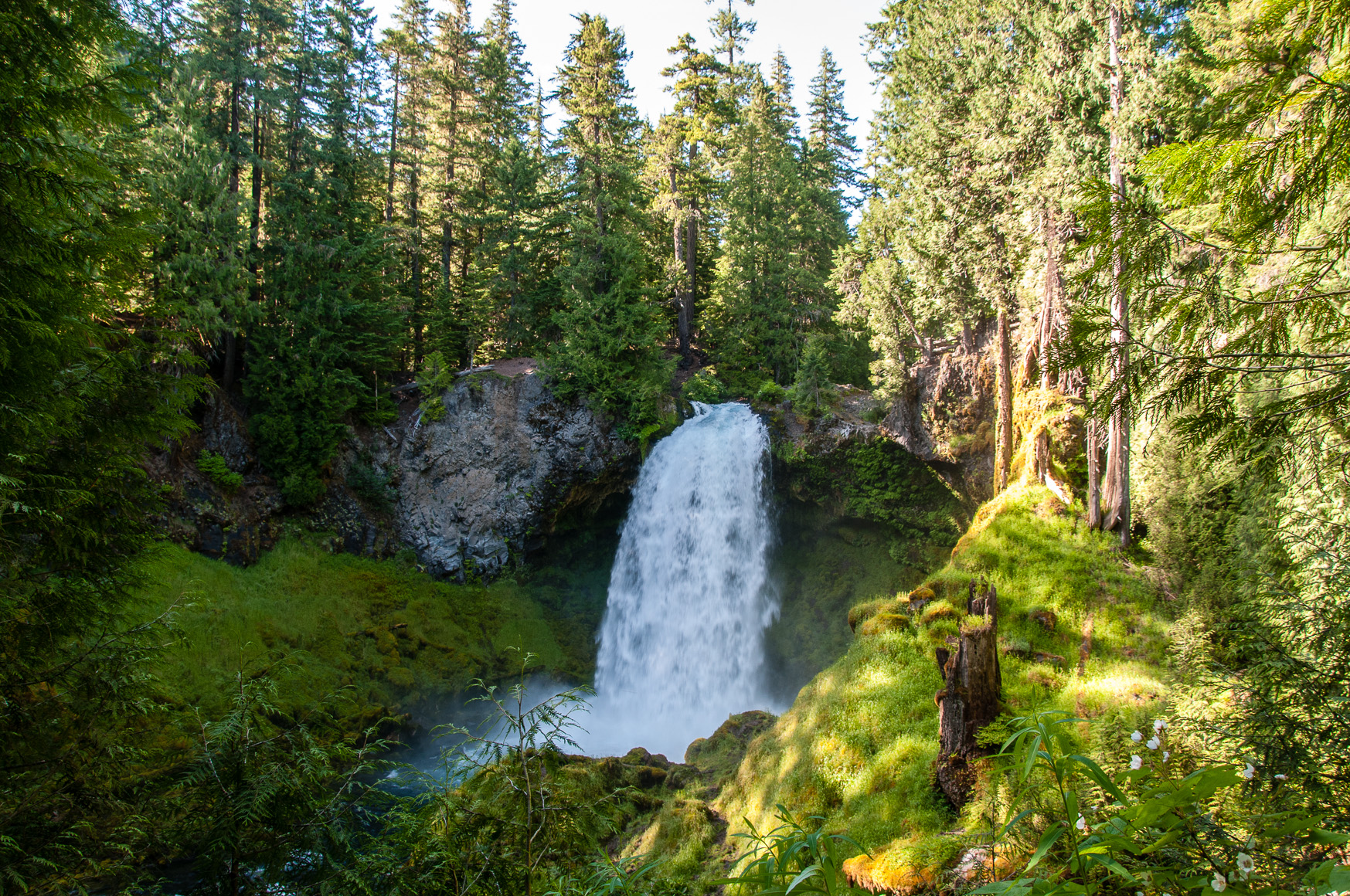 On the day I took these pictures, we were making our way from Portland to Eugene, and then from Eugene to Bend.  These waterfalls are a short distance from parking – so the information I read said – off Highway 126 (McKenzie River Highway).  The problem was, I didn't identify which parking coordinates/spot that was from.  We saw a sign indicating a parking spot for these falls, as well as other points of interest, so we stopped, anticipating a five minute hike.
We ended up spending an hour out here instead.  We could have make the walk shorter, I suppose, by giving up on the idea of finding a second geocache in the vicinity that was beyond the falls (which it turns out we could not find, anyways).  We thought about turning back briefly after the first find (GC3Y0R7) but then made the choice to keep going.  I don't think any of us regretted it.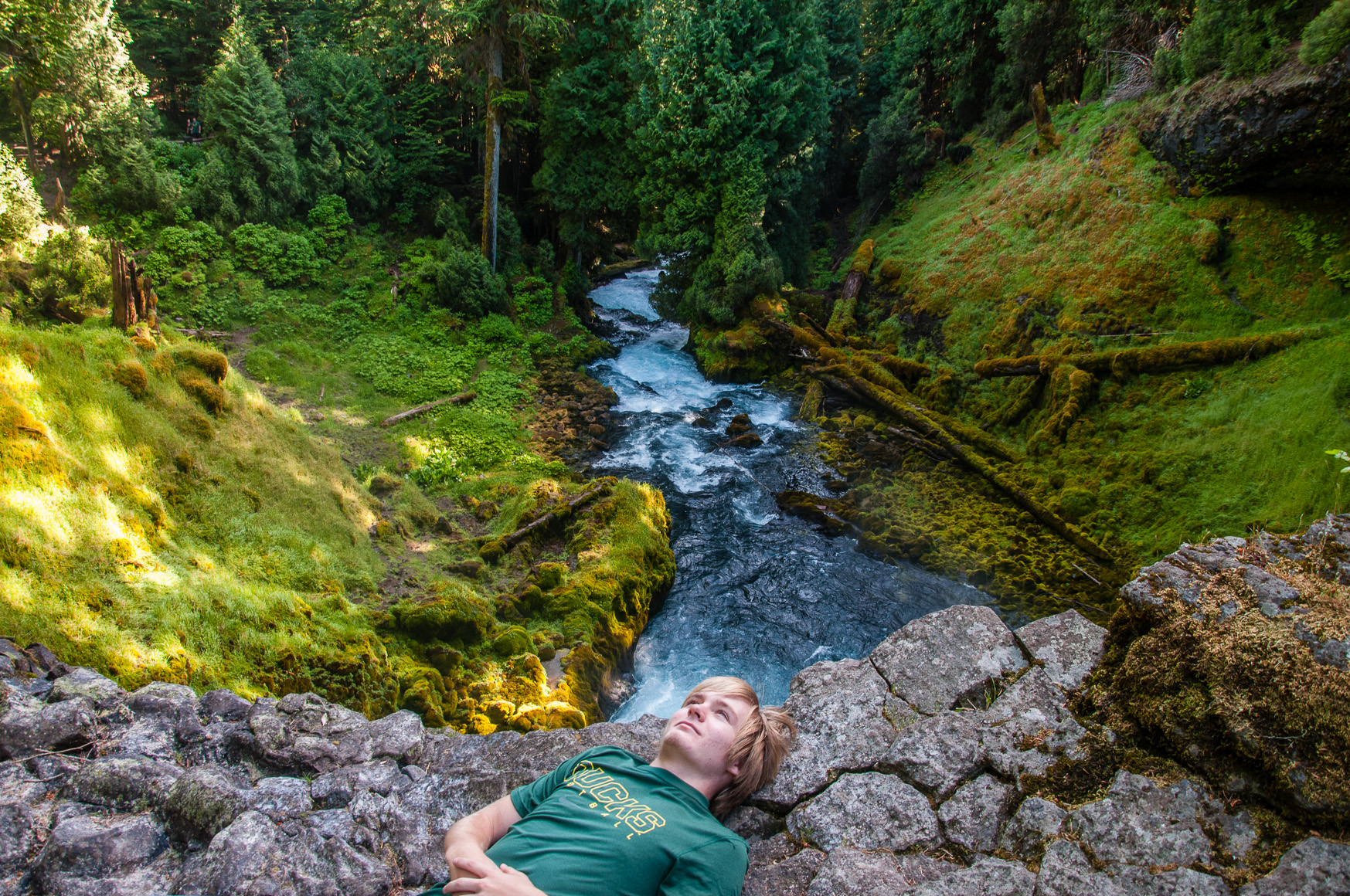 There was a time on the trail that everyone wanted to stop and get their pictures taken at various places along the path.  This is one example here.  We indulged the kids at first, but then it just got to be time consuming, so we told them we were just going to get to the end, then take more pictures on the way back.  However, as per the kids typical MO, they got it into their head to whiz back along the trail at hyper speed and not wait to see if we were keeping up on the way back, without thinking about the pictures they wanted to take.  I was torn between sticking with Jason, who had his camera out and wanted to take pictures, and keeping up with the kids, and then I lost visual sight of the older boys and had to hurry up to catch up with them, being annoyed at every turn that they didn't stop to wait for us when they noticed we weren't right behind them (or maybe not even noticing).  I finally caught up to them, but then we were over it and just wanted to get to the car.  It's a good thing, then, that we at least stopped to take the few we did along the way.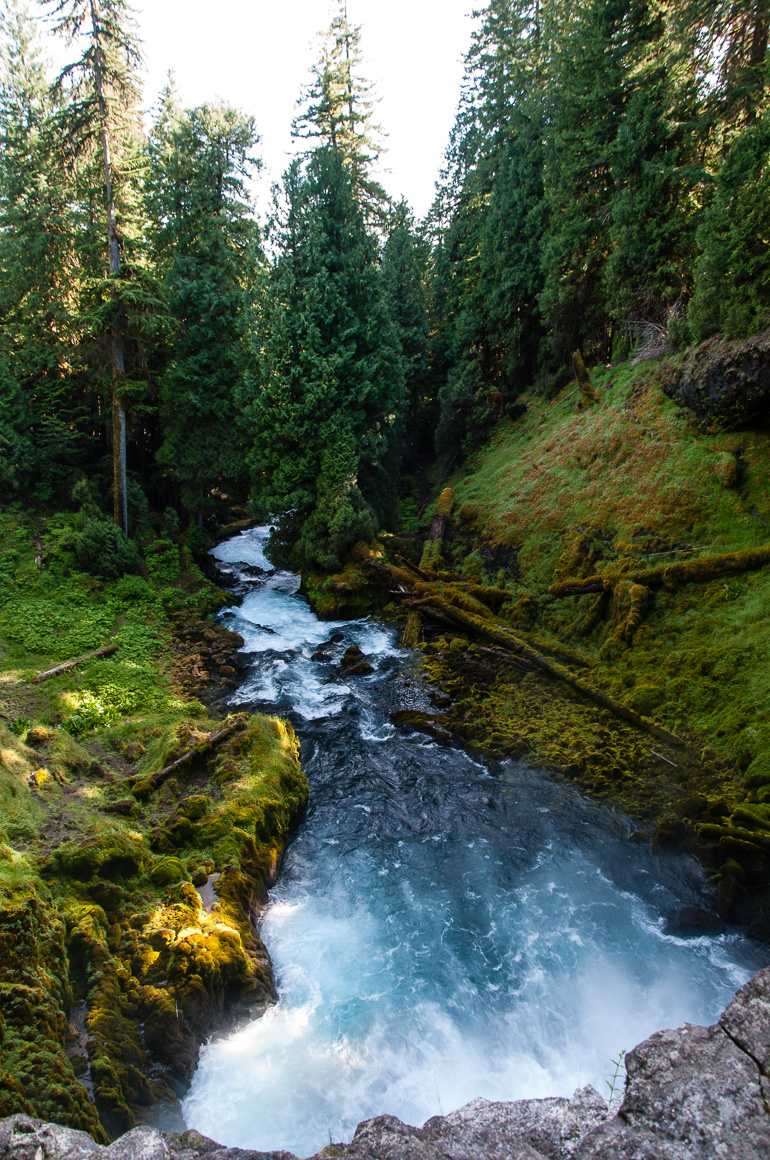 We took some of the other pictures that we took along this trip and printed them out for a big multi-photo frame that I had recently gotten for a Mother's Day present from Jason's sister.  It's going to be a memory that will be with us for a while as a result.
As we got closer to the top of the second falls, I noticed that we were passing another parking spot, and realized that this was the one we should have parked at for a five minute walk.  My oldest son and I remarked that Jason might be annoyed that I had picked the wrong parking spot, but when AJ went to talk to Jason about it, Jason was like, "why would I be mad?  This was an awesome walk!"  I agree that this walk was one of the best times of our year so far, one we would have missed out on if it wasn't for that location mistake.

The only reasons we should have parked closer was that we had other time commitments, and we hadn't packed any water for the walk.  We were supposed to be meeting up with the kids dad and were now going to be about an hour late, and I was going to be late for the opening ceremonies for my work conference.  We all ended up being a little parched from the walk, as well.
In the end, though, I made it to the work obligations without having missed much, and we still found their dad and made it work, and I am not going to feel regret about making him wait, considering everything I have been put through due to him past and present.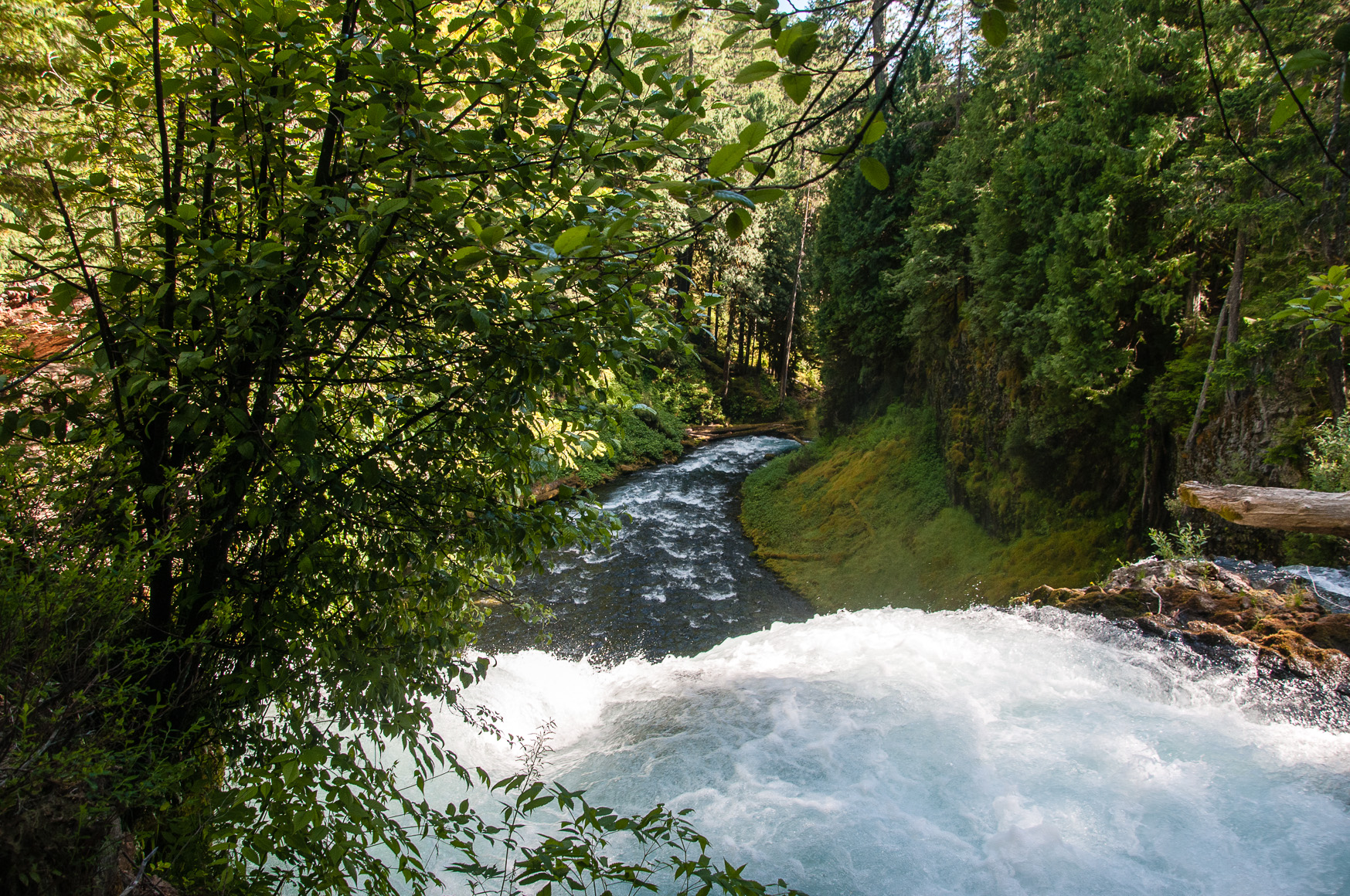 I think that Jason's response to AJ's question about the parking is perhaps a response we could apply to life: sometimes we take the long way, but if it wasn't for the long way, we would have missed all these other beautiful experiences.  I certainly feel like that could apply to my own life.  Sometimes it is the detours that make life worth it, or at the least, things still work out in the end, anyways.