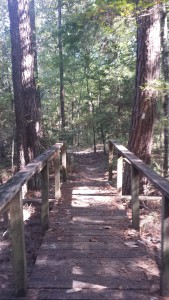 There's a quiet place along an old dirt road, not far from the cities of Conroe or Cleveland, where a small parking lot off Forest Road 217 provides access to a great big forest.  In this forest, there is a trail that runs for 140 miles, making it the longest continuous hiking trail in Texas (see Lone Star Trail).  There are also other smaller loop trails that this trailhead provides access to, one or two of which we hiked today with a small group (two other couples and their young children) from Hike It Baby.
When we arrived in the morning, it was in that golden moment of morning sun, where all is fresh and exciting.  The birds we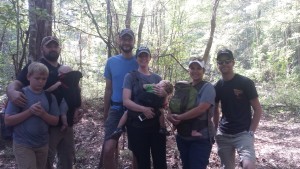 re chirping in the forest, and I was hoping to see some of the noted residents of this particular area: the Red Cockaded Woodpecker or some more exotic warbler species.  I heard birds, but I didn't end up taking the time to try to find them with the binoculars.
This portion of San Jacinto County also is home to over 90 species of dragonflies and damselflies, and seemed to have a high level of plant life as well.  We took a few shots of some interesting flora and fauna that we saw, but did not stop to catalog our bug and brush finds, either.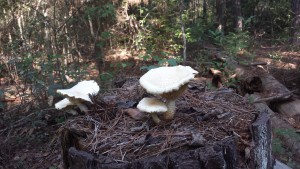 There is a time and a place for nature discovery, and although we were in the right place, it was not the right time.  I decided we should come out again in the spring, by ourselves, no group hikes or other agendas, to spend some quiet time in nature solitude.  We can bring our identification books, nature journals and favorite music to chill out to.
Today,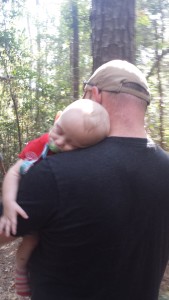 though, was for making friends and exposing babies to the wilderness.  Sebastian tolerated his baby carrier for about half the hike, and then lost it.  Jason ended up carrying him in his arms, feeding him a second bottle of our journey, while I carried the now-abandoned Baby Bjorn as well as one bag of
supplies and another bag with Jason's (heavy) camera in it.  Both of the loads we were carrying seemed heavy towards the end, but I think it was good practice if we ever actually intend to do longer hikes or real backpacking with Sebastian.
I still want to get out there and actually hike the whole Lone Star Trail one day,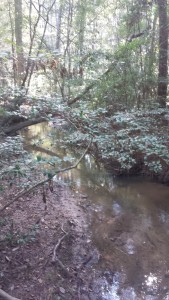 and I would like that to be practice for an eventual segment hike of the PCT or AT.  I have high hopes that someday we will have the stamina, time, money, equipment, and desire to stick it out for one of those real trails.  We've been saying that for a while, though, without any real progress towards it.  I hope this doesn't turn out to be another one of our pipe dreams.
I have spent a little bit of time lately reflecting on dreams and intentions for the future.  I don't want to be one of those people who doesn't make their dreams come true.  However, as I age, I am starting to consider if we should hold so tightly to our dreams, or if we should let them evolve over time.  I believe that what you spend your time doing is a reflection of what is truly important to you.  I don't see us investing time in obtaining the dreams I thought we had: saving our money for a ranch where we could have lots of animals.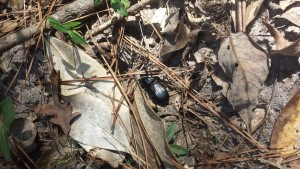 We do spend most of our spare time exploring the wilderness around us, and as a result, that has become who we are – explorers of the great outdoors.  Lately, the question has been raised that if that is actually what is important to us, where we invest our time, then maybe we shouldn't worry over a piece of land and obligate ourselves to hordes of animals.  Jason is suggesting that instead we get a smaller place and manage less, so we can do more.  I am trying to wrap my mind around this.
I want to invest my time in hiking, exploring, learning, geocaching, birding, camping, and finding my joy in the nearby forests each weekend, and what I realized today was that sometimes in order to do some of those other things, I am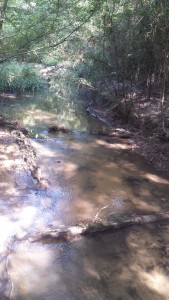 going to have to let go of some of the others.  We can't do everything we want to do at once, so we have to pick what is important at the time and let the others sit. For the short term, though, I still want to invest my time in Hike it Baby, because I am accomplishing my goal of making new friends for myself and Sebastian who have something in common with us – a desire to spend time in the outdoors with the kids.
That is exactly what we did today at the Big Creek Scenic Area.  Although Sebastian slept through about half of it, he did have some more contact time with both the forest and his new friends Max and Miles (who is just one day younger than him).  We got to know the Zubers and the Goods just a little bit better, developing those friendships slowly over time.  We got some exercise and fresh air, and found a new favorite place to come back to some time in the future.