It's early morning, and already baby is experimenting with natural elements.  He is checking out the properties of rock, wood and leaves.  Each new treasure he finds is tested for weight and depth, and sometimes, if he can manage it before mama catches him, taste and edibility.  The morning light is fine and crisp, and the sound of birds fills the air around us, including the cooing of the doves enclosed in the aviary.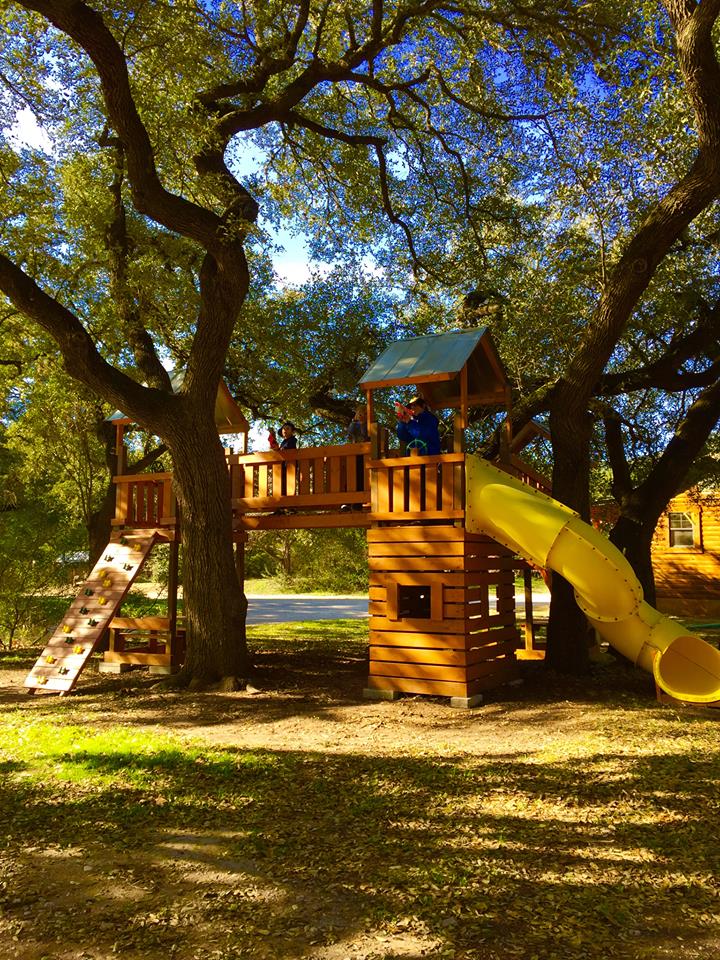 There are other sounds, too. Above us, the older kids are playing on the new playscape.  They have some complicated game going on involving light sabers and nerf guns.  A kitty or two stops to sit on the picnic bench nearby and watch the children play.  This is how morning begins on a relaxing weekend at Foxfire Cabins.

Jason and I had stumbled upon this collection of cabins right near the entrance of Lost Maples State Park a few years back, and had spent a night or two there when we didn't feel like dealing with tent camping but wanted to enjoy the hill country.  Since then, we have tried to go back a couple of times (most recently to celebrate my 40th birthday), but had to cancel our reservations.  This time, we finally managed to get there, with a best friend's family in tandem.
This first morning's adventures took us to Leakey first, a town about thirty minutes to the west via Hwy 337, referred to by motorcyclists as part of the "Twisted Sisters" or "Three Sisters" route.  "Oh great," my friend's husband said (sarcasm unclear), "Keely's bringing us out to dig in the dirt for an hour".  And, we paid to do that, ha!  I had given in to my middle son's latest obsession and looked online for a place for us to go arrowhead hunting, finding an affordable option at Sam's Digs at the Frio River Landing.  For $5 a hour, we had all the dirt we could dig through, and could keep whatever we could find.  One of my friend's son found an arrowhead, and I found a huge "Frio" that Sam and his cronies there at the park made a big fuss over.  Despite my son's interest in this, in typical fashion he didn't stick with the hard labor needed to find anything (like our trip to Crater of the Diamonds) and wandered about instead trying for a lucky surface find.  For the money, though, it was a good deal and something we would try our hand at again.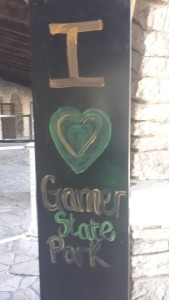 After this, we caravaned south to Garner State Park, a popular park in the summer because of the historic dance, but a lovely place to visit no matter what time of year.  We had a picnic lunch at the edge of the Frio River, then made a decision about a hiking trail to pursue.  Jason had his heart set on the challenging Mt Baldy Trail, so we agreed to try it.  I had tried this one back when Kaleb was a baby and AJ was about six, but had to turn back around because it got too tough with the baby in hand.  This time, even with the Osprey baby carrier, there was a time coming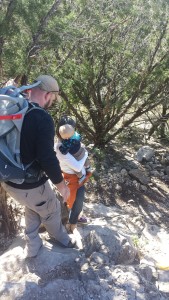 down that the only safe way to approach the trail with a baby was to do a hand off, person to person, down the slippery and steep incline.  It wasn't a long trail, but it was steep, and all had a sense of victory after reaching the summit and then making it back to the parking lot safely.
After this, we completed the Hill Country Square that we had started this morning:  Vanderpool west to Leakey, Leakey south to Concan, Concan east to Utopia, Utopia north to Vanderpool.  We ended the night with a fajita feast courtesy of our friends, and like the night before during our burger fest, we wandered freely between the two cabins.
At some point, my best friend and I were sitting between the cabins with my oldest son, looking at awe at the multitude of stars we could see from this location.  It felt like we could see the whole Milky Way, and we identified which constellations we could and watched for shooting stars as we talked.

In the morning, we got up and baby resumed his experiments, trying to touch and throw all the leaves, rocks and sticks he could find.  My friend's family played a little round of basketball and the kids continued their complicated Star Wars themed game.  After we were all packed up and fed, we went next door to Lost Maples and hiked a few miles round trip to "Monkey Rock" and back.  On the way home, we all met up one last time at the Old Spanish Trail Cafe in Bandera, a place where one could eat a down home country lunch buffet, where pancakes were served all day, and where, if you were interested, you could sit in a bar stool saddle.
It was a perfect weekend with friends, and I am already dreaming of the next time we can do this.  I don't know if it will happen again this year, but perhaps next year we can come out in the fall when the leaves turn, or in the summer when Sebastian is old enough to come with us tubing on the Frio and Medina Rivers.  When we come, we will most likely return to Foxfire, a place that will always be dear to us, a place where I hope we come back to time and time again.