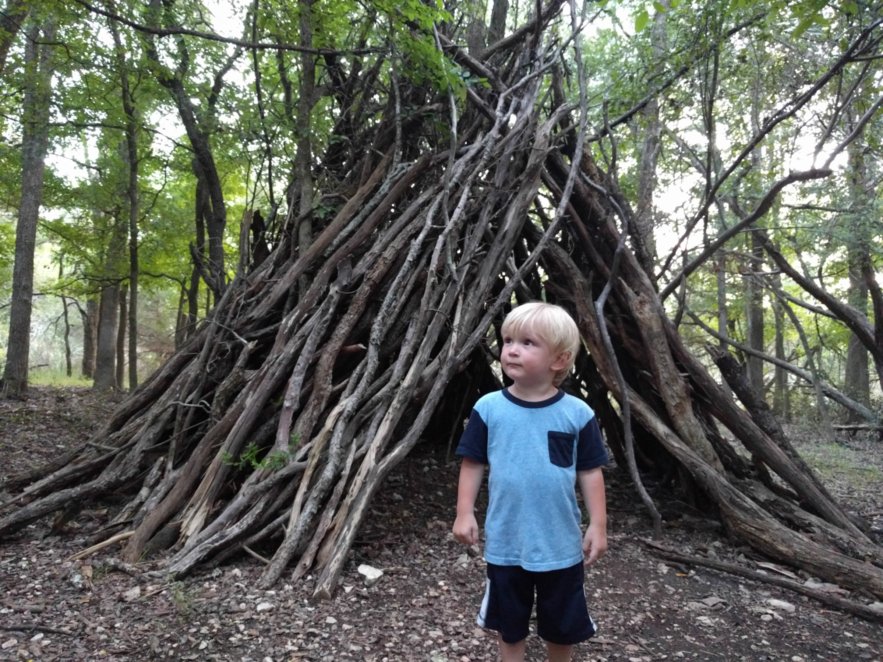 There is something exciting about following a path, not knowing where it leads you to.  Sometimes, you find something interesting along the way, something that sparks your curiosity and imagination, something that connects you to the past but then also makes you wonder about the future.  This is how we felt about the unexpected encounter with this tipi.
However, if you had been Todd (my best friend's husband), you might have been prepared for this sight, because you would have looked at the trail map ahead of time and seen the tipi marked on there.  I wasn't doing such things, but instead had, of course, loaded up a geocache on my phone for us to find.  And no one was surprised about that part.  There is something comforting about hanging out with people who really know you, know all the things that motivate you.
It was Todd's idea that we check this place out after dinner, because he knew that exploring a natural area is something that our family (or at least the two parents) would be completely interested in.  Our littlest one had some fun finding sticks, of course – this is what he is completely interested in.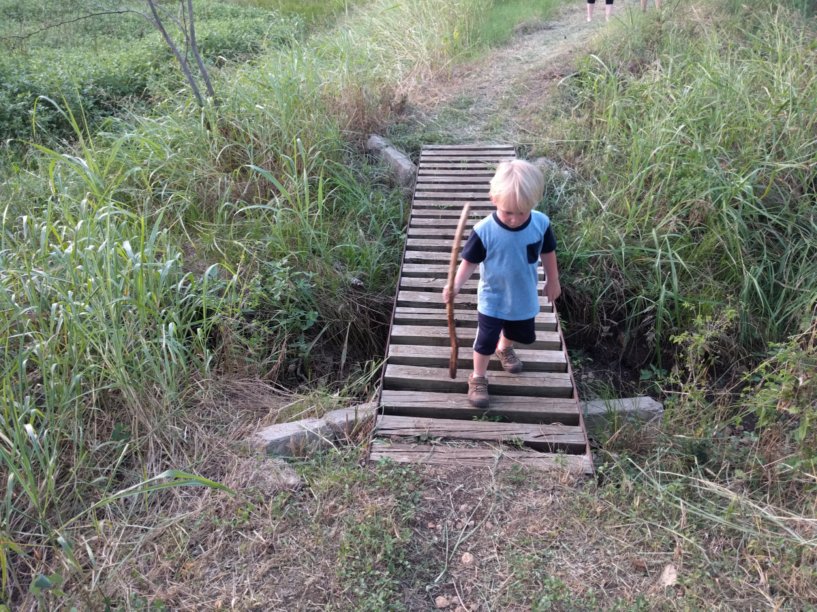 It was a neat place to check out, although I was starting to suspect by the end that it might have been a better idea not to go right after dinner, or on a day when we had two meals so close together.  We had a late lunch in Luling at the best BBQ in town (City Market), then had chased that with a pizza dinner at a place in San Marcos with really neat pizza (Pie Society).  We kind of lost some impetus at the end because I wasn't feeling great, and we had allowed the toddler to be loose and explore, and he kept stopping to look at every rock and crevice.  We were much faster when Jason carried him on his shoulders (we had not packed our Osprey for this journey).
It is nice, though, that San Marcos has these kinds of natural places to go explore.  The city does a good job, from what we have seen, of allowing pockets of wilderness to exist within the city.  We were surrounded by apartments, but on the trail, you could easily pretend they didn't exist and just focus on the shrubs, cedar, and stones around you.  This kind of focus allows your mind to wander into a more primitive place, a place I like to go because there, I can leave all the other things behind.  In this place, there is nothing but being aware and present, and taking the trail one step at a time.