South of the Indian Grass Prairie preserve section of the Katy Prairie Conservancy land, a steady stream of Northern Harriers fly northward, forty eight in total counted by birders within about an hour.  Like the jets that were named after them, these birds now seem symbolic of war – the current war between development and conservation raging west of town over a proposed section of road called 36A, or the "Prairie Parkway" – a proposed four lane highway to run from Freeport to Hempstead at 290, cutting through land protected by the KPC that preserves habitats for local flora and fauna.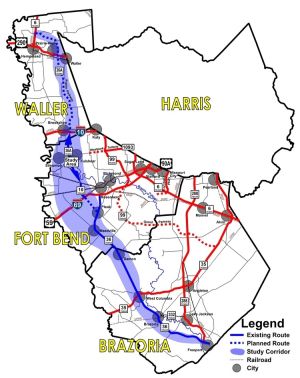 This is not a new war; it's just one battle of the same kind that has been played out since man first took to corralling nature, certainly burning more intensely since cities starting sprawling ever further over the land.  It's not even that recent of a war.  The Prairie Parkway has been on the thoroughfare plan for Waller County since 1985, and TxDot approached the commissioners in 2007 about piggy-backing the Trans-Texas Corridor along the same path.  The Sierra Club was  investigating the proposed parkway sites as early as April 2010.  However, just two weeks ago,  the turnout at the Texas Master Naturalist Coastal Prairie Chapter's January meeting was much larger than usual, due to concerned environmentally-minded citizens coming to get some questions answered.
The biggest question on everyone's minds regarding 36A seems to be, why? Why does it have to go through one of the sections protected by the KPC, therefore most likely interfering with the protection of species such as the Northern Harriers that were roosting in this area, or the native plants such as blooming Spider Lily, Blue-eyed grass, Spiderwort, Indian paintbrush, Lyre-leaf sage, and many other flowers that grow in this area?  The environmentalists are concerned that building this highway through the area will lead to the direct destruction of hundreds of acres of prairie and agricultural land as well as important prairie pothole and riparian wetlands.  The developers insist that this road will provide an important transportation shortcut from the Port of Houston to outlying areas, reducing the Fort Hood route from Port Arthur from 460 to 246 miles alone.  It would provide an important evacuation route for those along the coastline to make their way north, and help Waller County rise up in quality of life and tax base.
The environmental groups ask why the route cannot instead direct traffic over the new Section E of the Grand Parkway (99), or along 362, and the planners insist that there is a need to provide a new route, and not displace those who already use those previously existing routes.  Also, it would slow down the traffic moving northward from Brazoria County to have to shift over to these other roads, and just extending 36 from Waller County upwards would keep this traffic flow efficient.  Some in opposition to this route suspect that the real motive is to develop infrastructure to later build houses and strip malls along this route to support the tax base.
The engineers charged with planning this route also stress that the route would be built using Low-Impact Development (LID) techniques, such as creating a large number of smaller, cascading wet ponds to better slow down rain water and create a more natural green space, paving the roads with porous asphalt to slow rain water's progress, as well as filter out its pollutants, and planting native fauna along the thoroughfare.  They could plan to  divert animal traffic by thick hedges and tunnels that run under the roadway for animals like deer to cross.  Utilizing the National Environmental Policy Act (NEPA) process – the seven-step process that's required to build a public highway like 36A – the coalition wants to include environmental advocacy groups early on, so they have taken the interests of the Sierra Club and Katy Prairie Conservancy into account at a much earlier stage than what is typical.
The funding for this project is not yet complete.  The Prairie Parkway Advocacy Group is advocating for the project and trying to get people organized to press for funding.  They maintain that they are recognizing not just current needs, but future needs as well, placing their sights ten years or more into the future.  By 2050, the Greater West Houston area (Harris-Ft Bend-Waller Counties) is projected to have over one million new residents, and transportation in and out of these areas will be imperative for quality of life.
The question is how to maintain the balance between the needs of the people and the needs of nature.  If there is a formula for this, we might have forgotten it.  Last week, birding reports from the suggested route counted a thousand snow geese and over three hundred cranes.  Ducks, hawks, bald eagles, caracara, long-billed curlews and short eared owls all call this area home.   Biologists suggested that 50,000 acres were needed to maintain habitat for the native wildlife, so the 19,000 acres obtained by KPC is less than half of this recommendation.  How much will be lost to these transportation needs is not known right now.
I haven't seen a source yet that indicates when the next open forum conversation will happen about this proposed route, or what are the next steps that will be taken.  I will be watching, though, and will let readers know if there is an opportunity to share our opinions on the matter.  Meanwhile, I propose we continue to develop those opinions, whether or not we have opportunity to share them.  I, for one, don't want to lose this vital wildlife resource we have practically in our own backyard.