So, here it was, four o'clock in the afternoon now when we pull up to the entrance of Gold Bluffs Beach campground, the first-come-first-serve popular campground. Our chances of actually securing a spot were, at this point, completely nil.  Campground full.  This was a bummer because we were looking forward to seeing some elk on the beach – allegedly they come out and graze along the fringes of the campground.  Ah well, we at least wanted to experience the hike in Fern Canyon.
It's six miles down Davidson Road to get to the campground entrance, and two miles further down this is the trailhead for Fern Canyon, reportably one of the most beautiful and enchanting places along the west coast/redwoods area.  Davidson Road was, in itself, very interesting terrain.  You look at a road on a map and you think of it like other roads – a paved stretch passing through average scenery that you have to pass through on the way to somewhere else.  This road was a winding, dirt road that threaded through jungle dense dark green foliage, dotted with large ancient trees.  It felt like a place out of time.
Fern Canyon itself felt like that, but the local fauna was entirely different.  Some of the ferns that make up the canyon trace ancestry back 325 million years.   Perhaps this sense of ancient timelessness is part of why creators chose to shoot parts of the Lost World: Jurassic Park movies here, as well as BBC and IMAX movies on dinosaurs.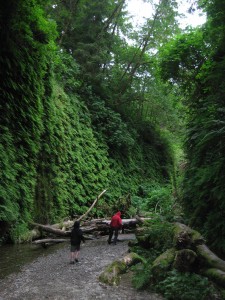 The hike through the canyon from where we started was not that long (maybe 1.4 miles).  We walked through the canyon itself, surrounded by the ferns waving down at us, water dripping down from tiny rivulets from the top of the cliffs through the greenery and into the canyon floor, where it created streams made passable for people only through creative use of fallen logs and little foot bridges.  The boys were loving the opportunity to use their body in different ways to complete the journey.  Then there was a turn-off for the James Irving trail which took you on a parallel course to circle back to the starting point.
Here are my photos from this surrealistic hike: