July 20, 2014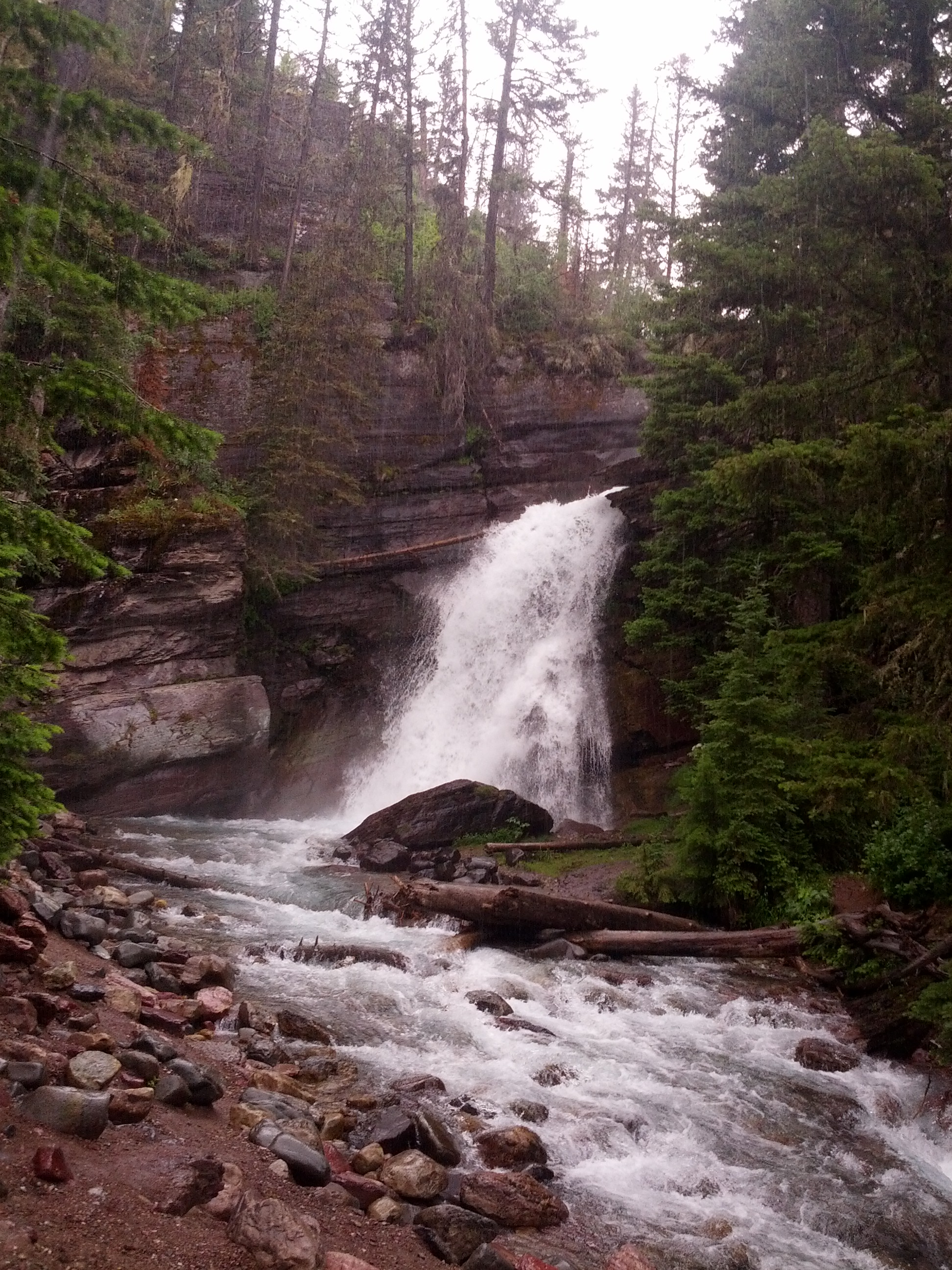 There is a boat tour that leaves from the Rising Sun boat dock and crosses St Mary Lake, taking passengers to Baring Falls (above) and, if they are interested, on a National Park Service Ranger-Naturalist led guided hike up to St Mary Falls.  We decided to take this three mile ranger led hike to St Mary Falls for the safety-in-numbers factor, and also to learn more about what we were seeing and experiencing.  It turned out to be one of the highlights of our entire vacation, in my opinion.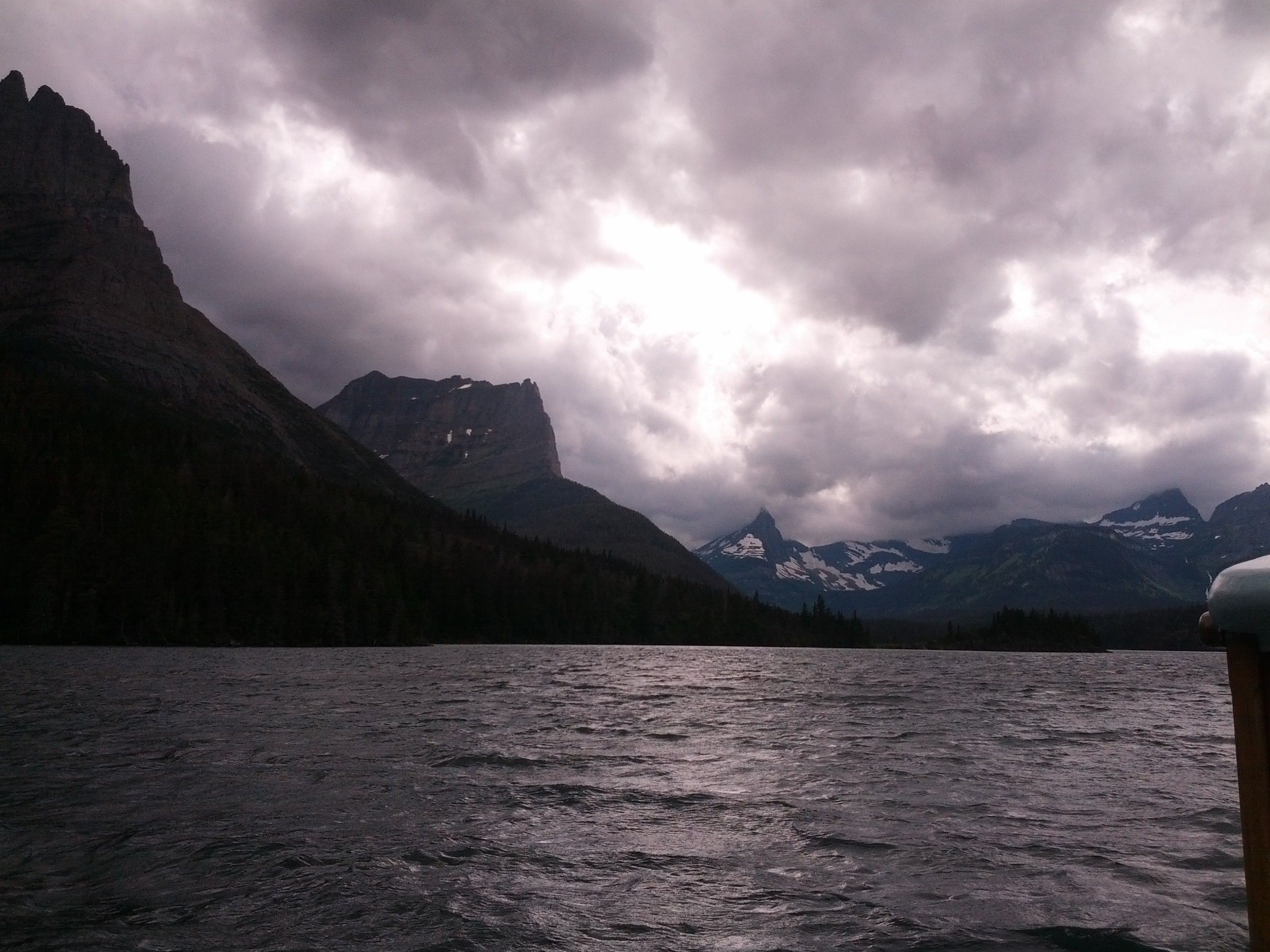 The boat ride starts out with a guide explaining the various points of interest along the way.  There were several interesting features along the way, including Sexton Glacier and Wild Goose Island.  I was most fascinated with this bit of rock, though, that I am looking at in the picture below.  GNP contains some of the oldest rock in the world, and this rock was told to be about 1.5 billion years old.  The rock existed before there were plants.  No fossils are found in the rock beds, even though most are sedimentary rocks.  The reason for this is that the rock was set before life as we know it began – even before algae, simple plants, before complex plants and animals existed.
Before this area was a mountain range full of (quickly receding) glaciers, it was an ancient sea.  This also mystified me, how a place can go from one extreme to another, and how geologic time is so unfathomable to our human brains, who have a hard time understanding how little time we have occupied in the grand scheme of planetary age.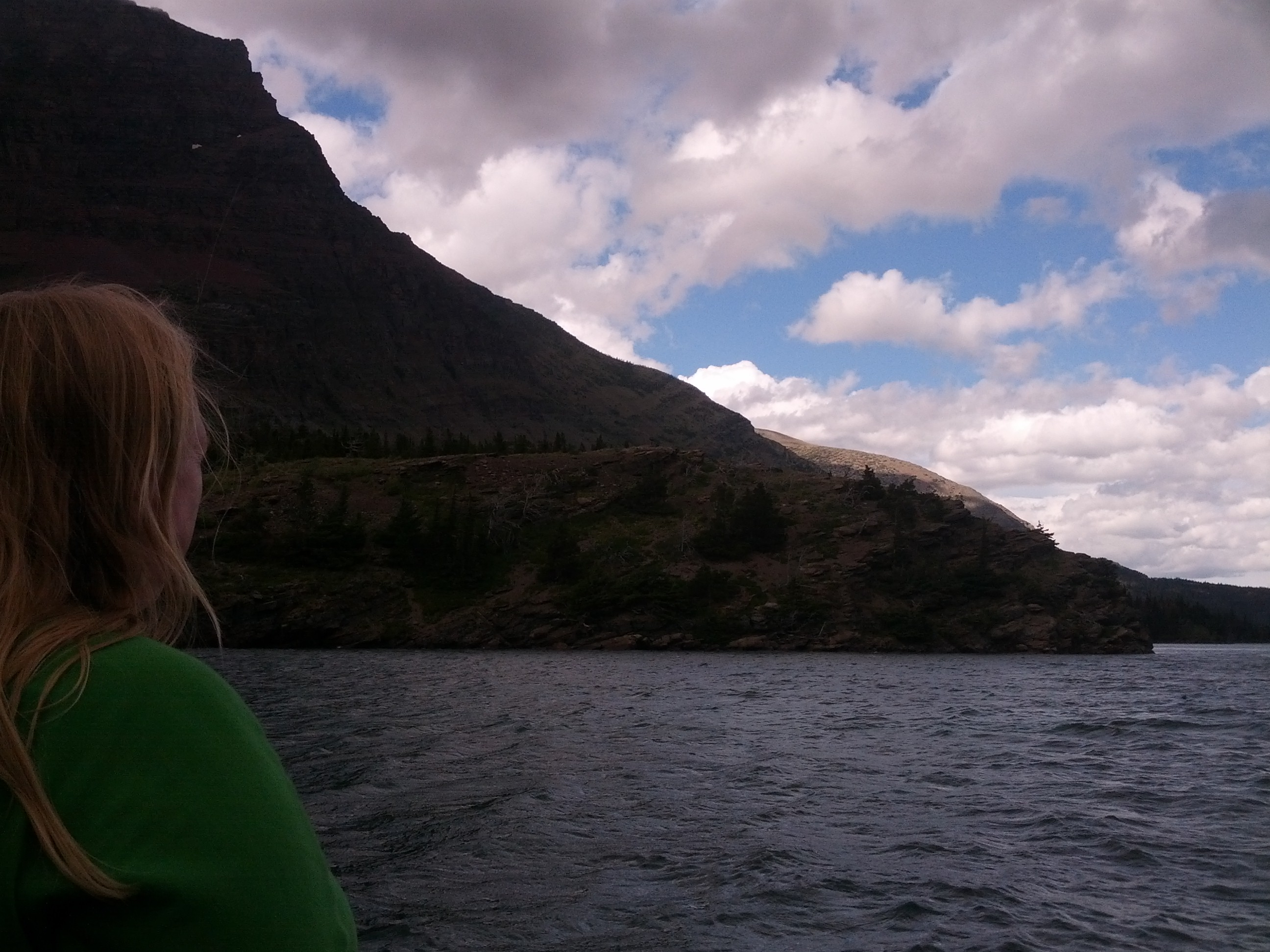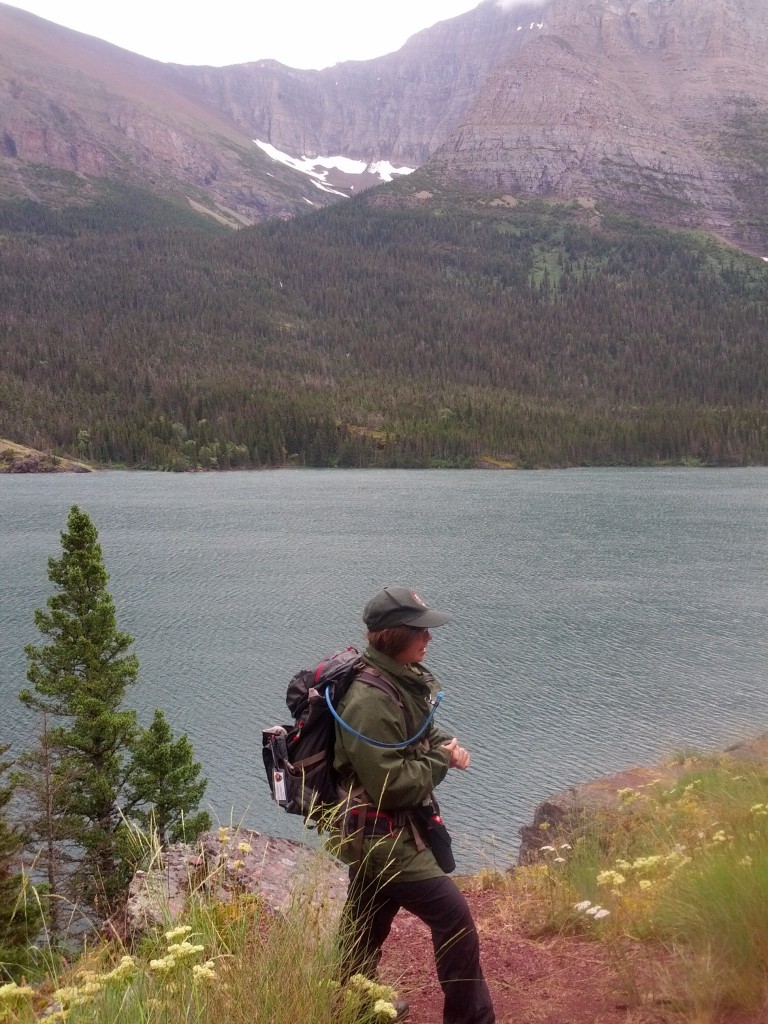 At some point along the ride, this guide stopped pointing things out and introduced Ranger Jackie.  She stood up and for a few minutes, I thought she was a junior ranger of some sort.  Surely she was still in high school?  When she started talking, though, it became apparent that she was just a fully-matured woman, just diminutive in stature.  It didn't take us long to become fans of Ranger Jackie.  She was incredibly k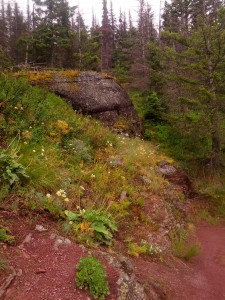 nowledgeable.  She seemed to know the names of all the plants and wildlife we encountered.  I think I want to be like Ranger Jackie when I grow up.
After our short visit to Baring Falls, she took the six of us who wanted to go on the extended hike to St Mary Falls, giving us a talk along the way about how the four elements of nature (air, water, fire, and earth) have worked in concert to create what we were seeing around us.
Along the way, she regularly would call out i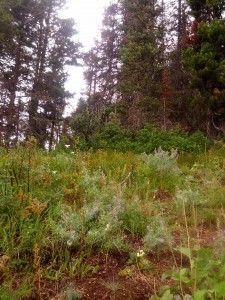 n musical-like fashion "Hey bear".  This was not to greet the possible bears along the way, but to let them know we were there, so they would share the "road" with us and not be surprised by hikers, which is usually when trouble begins.
I felt a little shy about calling out "hey bears", but if she wasn't doing that, I would have made sure we were making lots of noise.  Along the walk, Jackie shared with us that she had been a park ranger for five seasons in Kenai Fjords NP, in Alaska, before this summer.  When I told her I wasn't familiar with that park, she said that if you saw a picture on the internet of bears fishing for salmon in an Alaskan river, it was probably from that park.  She was known this summer as a bear specialist.
Soon after we left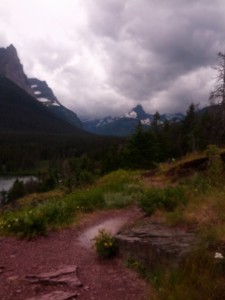 Glacier for the summer, I heard a story about a hiker from Texas who was hiking alone and surprised a bear on the trail (maybe a lack of "heybears" on his part?).  The bear charged him, and he used his bear spray initially, but either the bear wasn't stopping or he didn't trust the spray, because he ended up pulling out his handgun and shooting the bear.  The bear was injured and ran off into the woods.  The hiker then reported the incident to a ranger on the trail, and soon the rangers and "bear specialists" were spending nights and weekends looking for this injured bear.  I thought of Ranger Jackie when I read about this, wondering if she was one of the ones out looking, and who she sympathized with the most.
St Mary Falls seemed sublime in its force and power.  I thought about a lady Jackie told us about in caution, who had lost her life in a river in Glacier just recently because she stopped off the trail to get a better picture of a waterfall just like this, and fell in.  I would not want to fall in these icy, swiftly flowing waters, although the cool blueness was enticing.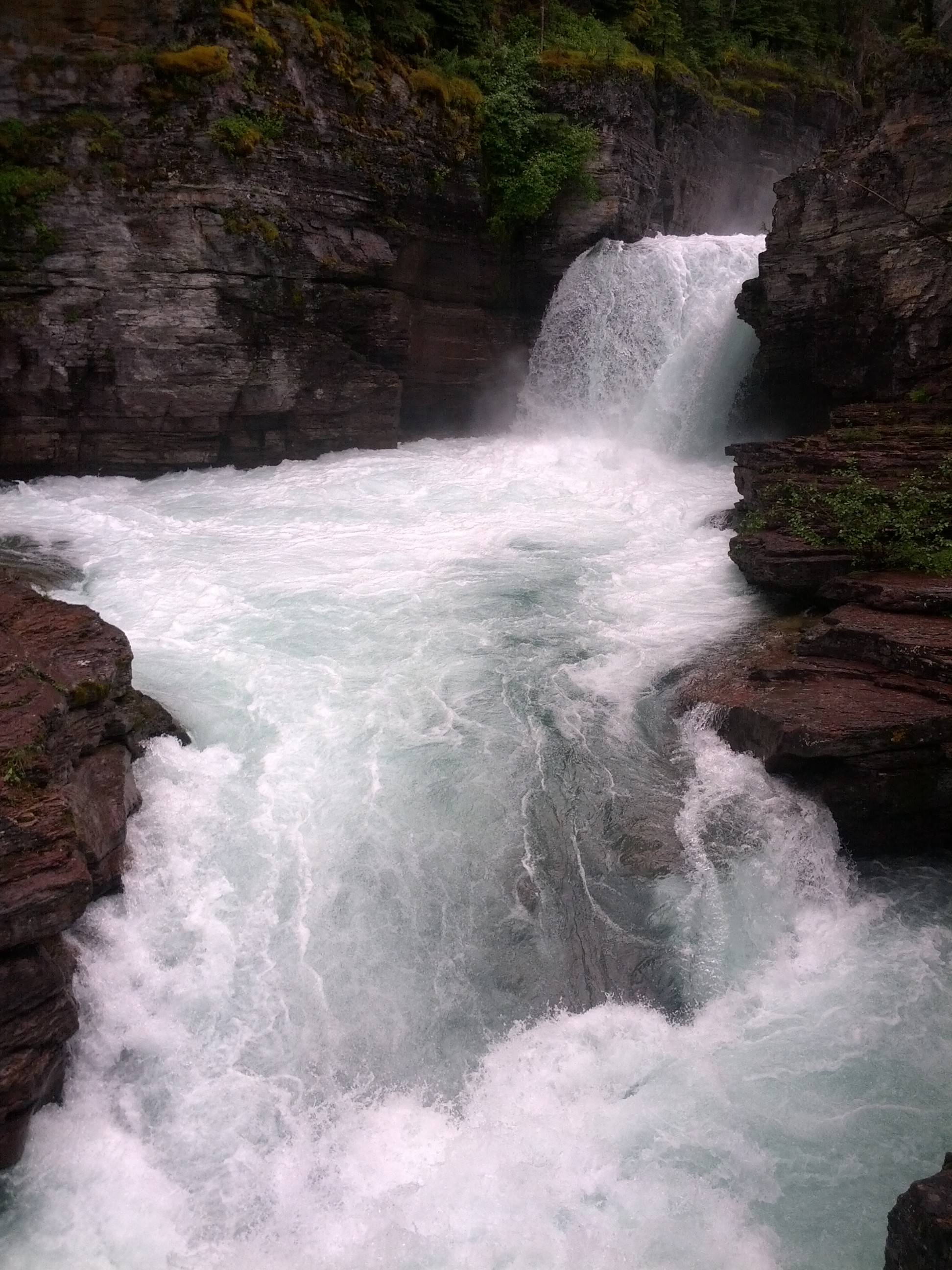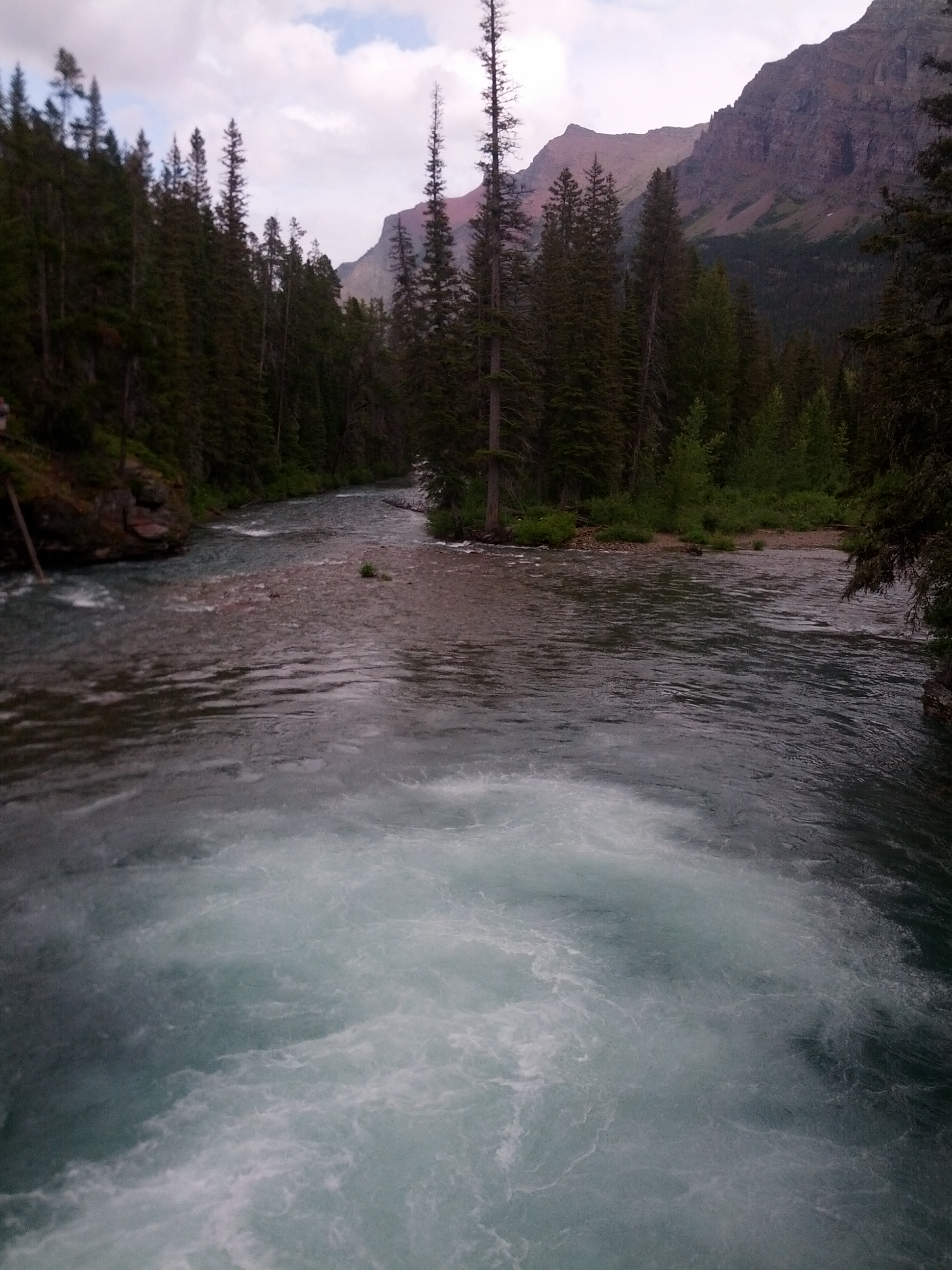 By the time we were leaving this waterfall, it became clear that Jason and I were both clearly in "Team Jackie".  There was a moment even when I walked up to the two of them where I could have sworn, in another reality, that he was flirting with her.  I know he doesn't have any game, though, (laughing), and even if he was, it was innocent and I don't really blame him.  I would have flirted, too, and in the end it probably would have paid off more for me, since we both came to the impression that she was "playing for the other team", so to speak.
I realized, though, what it was that we liked about her: her intelligence.  I have decided that Jason and I are probably both saphiosexuals – one that becomes aroused by intelligence and its use – and that this one thing, above all others, is probably what drew us to each other.  As much as I am attracted to him, it was his mind, and mine, and our early intense conversations that really sparked the flame between us.  Jackie was smart, confident, and outdoorsy, and in the end, we both like people like that.  We still think about her fondly.
After our two ranger-led hikes in Glacier, I have decided that I am pretty much a fan of ranger-led hikes, because I love the education that you get.  I wish I could bring a ranger with us everywhere we go, particularly one this fascinating.  I am going to make it my goal to seek out more experiences like this at the parks we go to.