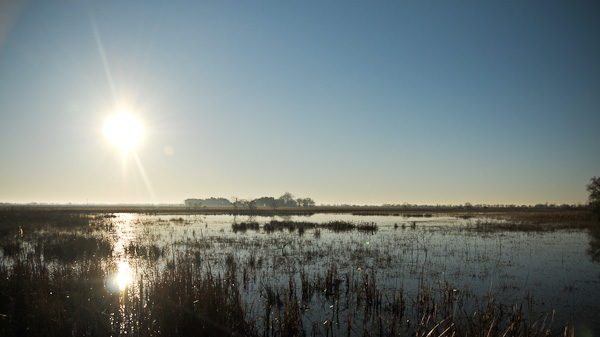 On an unusually cold Saturday morning, we went out for a drive along Katy's back roads to explore the Katy Prairie Conservancy sites.  Our primary mission was birding related.  He had just gotten a new pair of nice binoculars for his birthday, and lately we've become more interested in the birds.
Well, he's always been interested in the birds, since I have known him, but mostly his interest was in hawks and falcons.  Today, his objective was to see an eagle.  I, though, have never been interested in birds before him.  In fact, I rarely even noticed them.  I feel like I must have spent my life looking at the ground, or panning in front of me, but never really looked to the sky.  Oh, what I had been missing!  Now I am all excited and enthusiastic about learning the names of all these creatures.  And what a difference the binoculars make!
I had first learned about the Katy Prairie Conservancy during the Outdoor Fest at Discovery Green last fall that I have mentioned here before.  I had held on to a pamphlet about their mission with the intention of venturing out here someday.  Then he suggested we check it out early one morning, try to get there around sunrise to catch some birds, find some geocaches, take some waypoints of places to see birds at, and so off we went.
The Katy Prairie itself used to stretch from downtown Houston to the Brazos River.  As the Houston metropolitan area spread, and the west side of town was developed more rapidly, the prairie has begun to disappear.  However, this land was home to 300 species of birds, 300 species of wildflowers and other plants, and around 100 species of other kinds of wildlife.  Without a plan for protection, all of this would soon disappear, and the Katy Prairie would be swallowed up into oblivion.  In 1992, the Katy Prairie Conservancy was formed as a nonprofit entity intent on saving this bit of wilderness in our urban environment.  Their mission is to preserve 50,000 contiguous acres on the prairie,  To date, they have protected 18,000 acres towards this goal.
This day, we stopped at three sites along the map provided by the website: the Wildlife Viewing Platform, Barn Owl Woods/Nelson Farms, and Warren Ranch South.  These sites are marked on the map you can find here.  These locations, as you can see from the map, are right next to each other along the same road.  If you want to explore this yourself, you will have to approach from the west end of Sharp, as there is some construction going on right where the Cypress Creek crosses Sharp Rd, and the road is not only closed right now, but there is a gaping crevasse in it.
We didn't see our eagle this morning, but we did find some geocaches along these roads, including one right at the platform, and we had a good time looking at the birds through the binoculars and trying to identify them.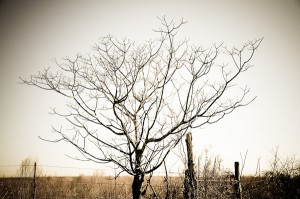 I was watching one for a while that we spent all day trying to identify from various sources, unable to come to agreement until we realized we were talking about two different birds we had seen that morning.  I was able to find out what it was, I think, by a nudge from another geocacher that I contacted who is an experienced birder and pointed me to this list the Katy Prairie Conservancy has up on its website.  From there I was able to narrow the choices by comparing pictures and migration habits.  I am currently convinced the bird I was looking at was an ash-throated flycatcher.
We plan on going back out to mark coordinates of places along this area to view birds and sharpen our skills at identifying them.  Next time we go out, I am bringing a sketch pad and map pencils so it is easier to remember exactly what I saw for later remembering, until we get a really good field guide.  I am excited about our new interest in birding, and thankful that this town has an organization like KPC actively preserving our wilderness so that future generations, both human and bird alike, can continue to enjoy it.