We celebrated New Years Eve weekend at Huntsville State Park, located in (you might guess) Huntsville, Texas, which is about an hour drive north of Houston.  This park joined the state park system in 1938, yet much work remained in the park at that time.  Most of that work centered around the building and then re-building of the dam, which caused the two creeks in the area to combine to form what is now Lake Raven.  The park officially opened to the public in 1956.
This park encompasses 2083 acres and offers visitors recreational opportunities that include fishing, hiking, biking, boating, canoeing, some swimming, and horseback riding (provided through 2E Stables).  And also, geocaching!  This was what we were there for, of course, and we found six of the remaining eight caches in the park we had not found yet while there for this campout.  Most of those were ammo cans hidden along a trail that require a little bit of a hike.
Here are some photos displaying the natural beauty of this park: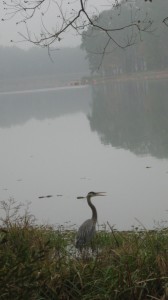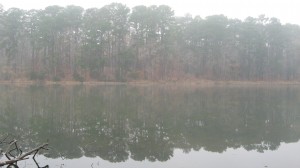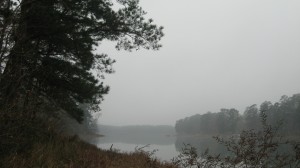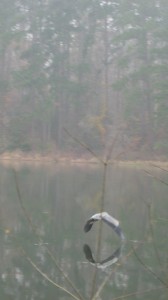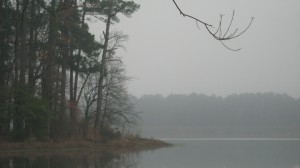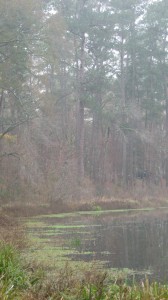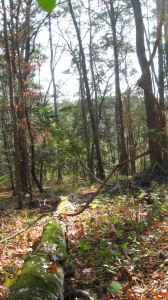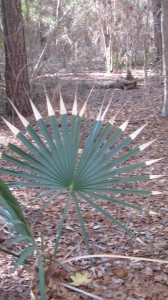 We arrived at the campsite Friday night, set up and then spent some time around the campfire with our friends who were already there.  Saturday, I made up some breakfast burritos on my new campstove, composed of eggs, sausage, cheese and tortillas.  As a group, we ended up taking a four mile hike along the Chinquapin Trail and finding some caches.  This hike had us all sore afterwards, but probably not as sore as Brian, one member of our group, who took a spill down the spillway.  The best part of this hike was a sighting of a bald eagle flying over the lake.
That night we had a potluck dinner, the highlight of which was the crockpot lasagna made by our friend Diane.  In the morning, we made some eggs and Spam on our stove, and also I finished cooking the black eyed peas I had started the night before, haha.  They were actually quite good, even though I cooked them oddly.  I ended up taking a horseback ride with one of the girls in the group this morning.  My horse was named Festus and he was a nice ride, if the boy in front of us had not been a very whiny unattended seven year old, we would have had a great ride.
We also went for another hike, down the other section of the Chinquapin.  This park did not offer First Day Hikes like some of the other parks, but we enjoyed making our own.
After this, it was time to break camp and head home.  We were pretty exhausted and we still had to stop by my parents house for gift exchanging.  It was a great group outing and I am sure we will go back to that park again.