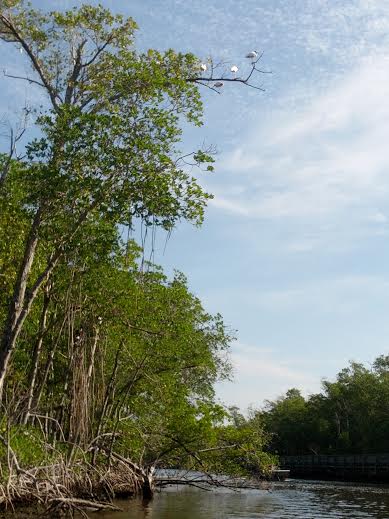 On the road between Naples and Immokalee, somewhere near the Big Cypress National Preserve, the egrets reign supreme.  Both the Great and the Snowy are seen flying unperturbed, perching in the trees along the roadside, or walking stilt-legged in the canals looking for food.  They are often joined by the herons, both Great and Little Blue, who fish alongside them or join the egrets in dotting the sky. Tri-colored Herons and juvenile ibis in white and brown coloration also were spotted, along with several adult White Ibis.  Other ducks cruised along the canal waters, irregardless of the fact that gators also shared this space.  A Northern Shoveler female waddles out of the canal, while coots and moorhens glide gently inside of it.  Double breasted cormorants dive for fish along the edges of the wetlands, while the hawks patrol from above.
In a trip into Everglade City, brown pelicans were seen landing on the front of air boats taking tourists out to look for manatee and see the glassy water of the "Everglades".  The pelicans were begging for food, although not all the boat operators believed in feeding them from the front of the boats.  I thought it was a unique adaptation to life with humans.  An osprey was seen caring for her young in a gigantic nest along a power box.  Mottled ducks trolled around in quiet waters back in the mangroves, while ibis and egrets showed brilliant white plumage contrasts to the green of the trees.South Florida is actually known as a birder's paradise, and I didn't even think about that when I packed for a five day trip there, leaving behind the bird book and binoculars.  Granted, I was working most of those days and really was not going to have time to look for birds.  You really didn't have to go looking for them, though – they were kind of right there.
Around the grounds of where I spent most of my days,  a group of white ibis patrolled, somewhat close to a canal where alligators were seen gliding about.  A red bellied woodpecker worked on a tree nearby, and a nuthatch climbed along a post (most likely a Brown Headed, based on range information).  Wild turkeys strutted about in green fields ripe for cattle.   A few pairs of Sandhill Cranes stopped their migration routes in order to just hang out here, with the back of one looking like a small emu in the distance.  Rounding a corner where hedges came up along fencelines at the waters edge, a few red winged blackbirds flew about, and an Eastern Meadowlark flapped its wings, showing off a yellow breast under a white and black striped body. A Gray Kingbird flew from fence to power lines, seeming to taunt the other birds over his control of the field.  Coopers Hawks perched vigilantly along power lines and "hawk poles" – large  wooden posts hung at intervals to entice the hawks to patrol the grounds for vermin.  Brown-headed cowbirds flocked with grackles near entrances to cow pastures, where cattle egrets greedily followed behind bovine herds.  Bear scat was seen on a forest walk, and panthers were rumored to be spotted in early hours.
There was a running joke among our group about the validity of a photo one of the girls had gotten of two black animals near a rock at the front of our hotel in the wee hours of the morning.  This area was a "panther crossing", although the noise of the nearby freeway and closeness to human activity had many doubting whether this blurry picture was, in fact, a photo of two panthers.  On the last night of our five days, in the field near the hotel as we pulled back in from dinner, we saw black animals with the long panther-length tails stalking about in the grass, and then saw their owner following behind them, and we all had a laugh as we realized that her two black panthers were probably these two dogs who just happened to have  tails that kind of resembled the cat in question's.
Someday I am going to come back to this area, and when I do, I am bringing the bird book.  I am not going to book any business from sun up to sun down, like we were doing these days, but spend my time traipsing along the Florida Birding Trail, walk up and down the dirt roads near the center we were training at, stalking birds in the riparian zone in between the canals and the farmland.  Even though I saw fifteen new species for the year there, (bringing the year total up to 66), I could have seen so much more if I had the ability to look more closely.  There are even some blurry camera photos I took that have species in there that I don't think I named or identified yet, so the birds that I saw were much, much greater than those I named.  My experience with the nature world there sums up my feelings on the training I got – it was interesting, but there was so much more I wanted to get out of it that I feel like I have to go back sometime for a deeper look.