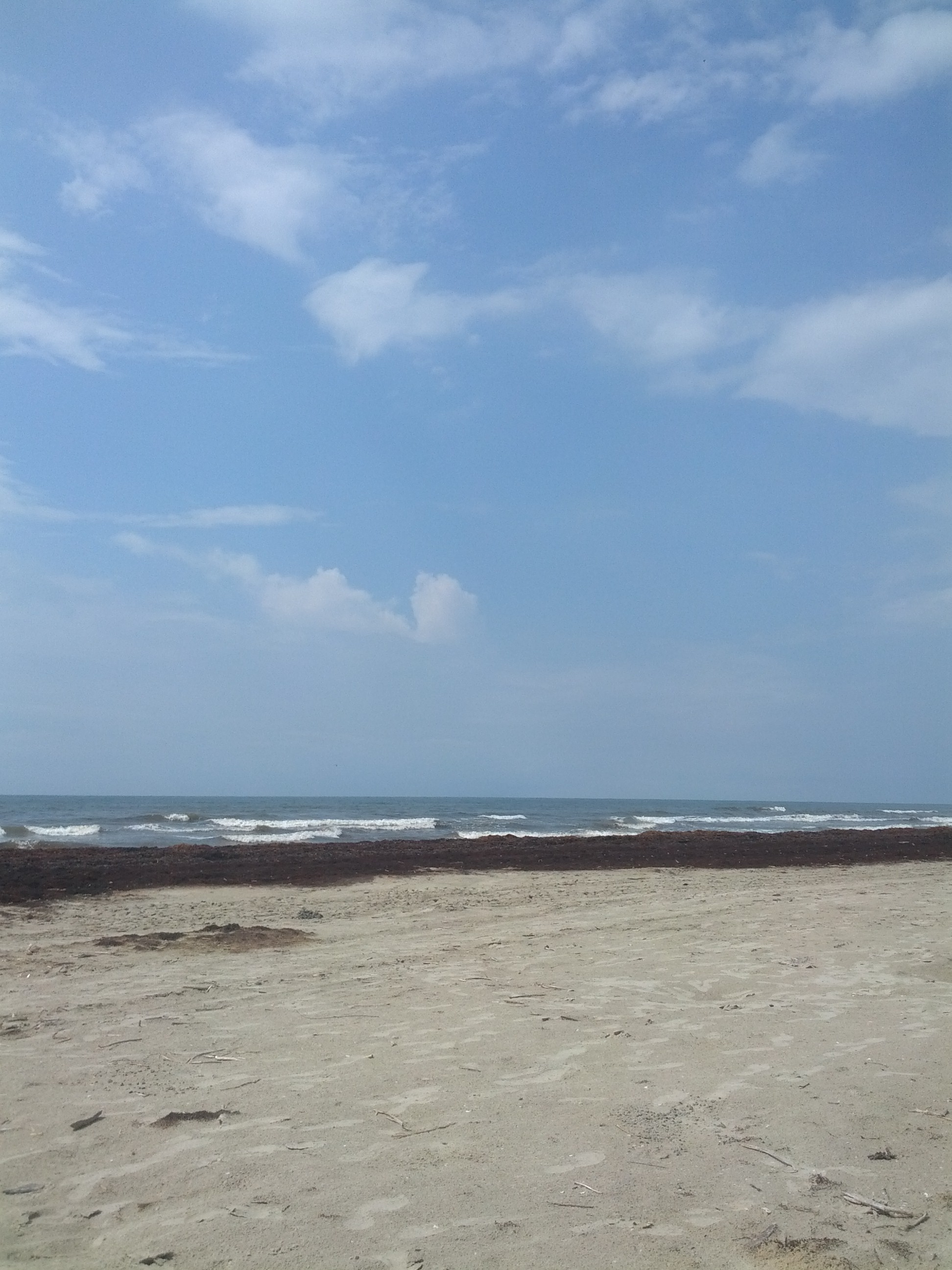 For the second year in a row, we went down to Galveston to celebrate my youngest's birthday at the end of May.  Yes, the seaweed was still bad.  This year, cold weather in early spring led to a bombardment of Sargassum seaweed on Galveston's shores (as well as several other coastal towns).  This seaweed comes from the Sargasso Sea, where an intersection of four currents creates a gyre.  I guess this year the currents just took it all towards the Gulf of Mexico.
The kids didn't let that slow them down.  They were still in the water, having fun as if it wasn't even there.  I went in with them some, and it was a little irritating at times, but we lived with it.  The worst part was having to step through it to get back to the beach area.  There was one small spot that was cleared for foot traffic but sometimes it was not convenient to get to.
There were folks meeting us out here, and so we spent quite a few hours at the shore.  We always get tired of it before the kids do, though.  We had to get out of the sun in the late afternoon, though, so we headed into the state park headquarters/gift shop to find the geocache in there and let the birthday boy pick out some treasures.  After this, we went to the part of the state park on the other side of the road.  I thought I wanted to find some geocaches there, too, until we got swarmed by mosquitos.  We did finally find one and see some birds, too: Brown Pelican, Laughing Gull, Black Skimmer, Clapper Rail, and Willet (#90-94).
There was some irony in the fact that I wanted to have the party at Stewart Beach, to be closer to the hotel, but my mom was concerned it would be too packed due to its proximity to the Sandcastle Building Contest.  Well, the contest ended up being a wash (literally), as a storm came in and turned it all into a mud pit down in the East Beach parking lot, while we had nothing but sunny skies over there on the West End.  We did go to Stewart Beach the next morning, and us adults (who were all sun and beached out) sat under the shady umbrellas while the kids played in the seaweed water again.
We'll try it again next year, I think, but maybe we'll think about whether to have it at the same time as the Sandcastle contest, or maybe just stay on the West End closer to the state park.