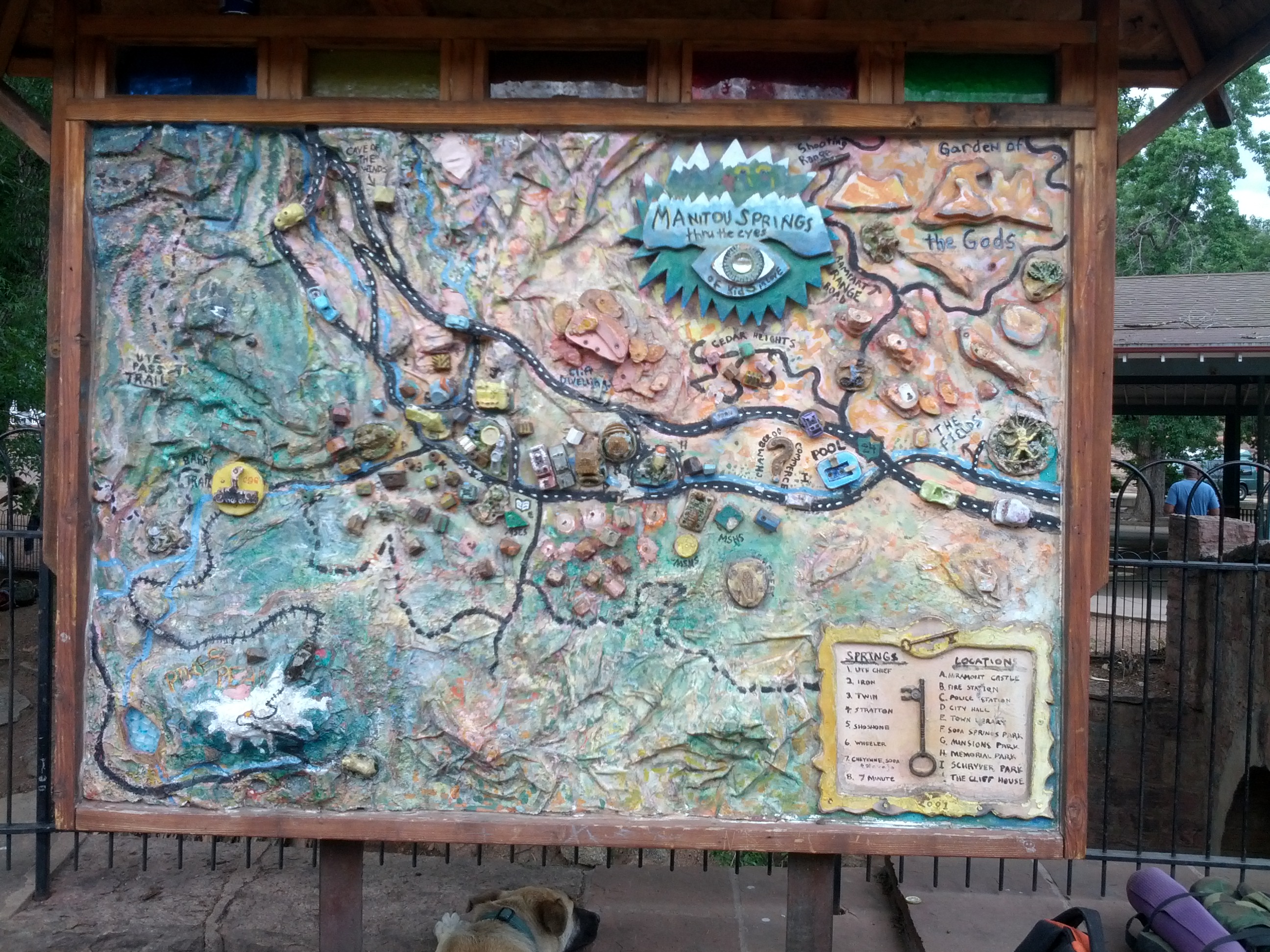 That last part of the title is the question my youngest son asked us every few hours for a few days.  At first, we were patient, then we were tolerant, but after a while, we were neither.  This question started to be answered like this: "We're not having this conversation again", "we're done with that", and "OMG enough already".  This was not a highlight of our time in Colorado.
Also, he had brought a killer cold with him, and Jason had become infected with it as we were making our way out of the Blue Lake Campground area on this third day of our vacation.  By the time we got to Manitou Springs, he was no good and just wanted to be left alone to sleep.   He had exhaustion for the next few days, which really put a cramp on our style, and then by the time he was feeling better, I came down with it.  This was not a highlight of our trip either.
But these things were highlights:
Manhattan's Pizza Parlor in Pueblo: after a couple of days of camping and eating out of our cooler, it was really nice to sit down somewhere cool and eat the hell out of some New York Style pizza.  This is where we went after leaving GC19, after a couple of random stops in Walsenberg for gas, ice and cold medicine
The pool at the Silver Saddle Motel in Manitou:  we had decided to stay at a fifties-era motel for its character and low cost.  Supposedly the pool was a big feature.  It wasn't all that, but it was a good place for my younger son and I to go to let the older guys rest and get a break from him.  We met a little girl there who turned out to be the daughter of the owner, and she was able to answer some questions about the history of the place.  It had not occurred to me when I booked the room that the Silver Saddle would be a great name for a biker den.  However, it did become clear that is what it was, at least temporarily this weekend.   That gave us some interesting people watching fodder.
Garden of the Gods Trading Post:  this was a place that I remembered as having an incredible selection of awesome things during the time I lived around this area, which was sixteen years before.  I wanted the kids to experience it.   I had been pushing them to save their money for this place all summer, despite their protests about all the other things they wanted to spend money on.  Even their dad had been like, "they are boys, they don't care about gift shops" but I KNEW the temptations that existed in this place, and I was RIGHT, because both of the boys blew their money in this place within thirty minutes.
A brief hike in the Gold Camp Road/Bear Creek area to look for an old cache (hidden in 2001).
Manitou Springs Penny Arcade:  even though I lived right above the arcade in the four months I lived in this town earlier in my life, I had never once come down and spent any money or time here.  However, I knew that my sons would like this.  My youngest son especially had a good time, and our leaving was much too quick for him.  He could have spent hours.  They had all kinds of games to play; so many, it was overwhelming to make a choice.
The Springs and the shops of Manitou:  my little one got it into his head that he wanted to taste all the natural springs in Manitou (there are about ten of them), so we stopped at a few so he could use his little "Pikes Peak" cup he had bought to drink some of this water that supposedly had healing powers.
Later, we went over and spent some time walking through the Garden of the Gods, but that deserves its own post and some of Jason's photos posted with it.  More on that later.