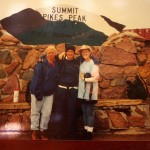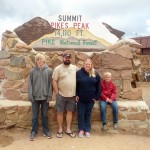 When I was young, fresh out of college, my father and I attempted to drive up Pikes Peak Highway to the summit of this landmark mountain.  We didn't make it all the way. Both of us flat-landers were terrified of the mountain road, which seemed too steep and dangerous, with no guardrails to offer protection. It seemed like we could just fall off the mountain in my long bed Ford F150.  We ended up trembling with fear and turning around to head back to safety.
Neither one of us had much experience with mountains then. Over that following summer, I gained some familiarity with the mountains while working at a summer camp in Pike National Forest. Much of that experience was on horseback, but there was some hiking and exploring that went along with that.  I lived and worked with two other girls who taught horsemanship alongside me.  At the end of the summer, after camp season had ended, these girls came over one night and spent the night with me sleeping on the floor of my new apartment. In the wee hours of the morning, we headed out on to the Barr Trail that took us twelve miles up to the top of Pikes Peak, to the summit that my dad and I could not make it to by vehicle.
This summer, sixteen years later, I was back and I wanted to show my family this mountain that meant so much to me.  There is no way we were going to hike it, and taking the Cog train was so much more expensive than driving it.  It was time to conquer that mountain, see if I would still be scared of the drive up. This time, we had a much more competent driver (Jason). He and I had been on several road trips involving mountain roads in the years we have been together, not to mention the experiences I had living in Oregon and California, and so our comfort level is much different than mine was that first summer out of Texas.
Also, I had a friend from high school who joined us in our ride in the Subaru up this mountain, "America's mountain", and I specifically decided to sit in the middle seat in the back, next to her, so that I wouldn't focus on the steep drop offs. She and I talked most of the way up and down, and in this way, she was helping me feel better about the drive. There wasn't even a question this time about making it to the summit, and honestly it did not even seem scary this time.
Both times I have made it to the top, my friends helped me get there.
This is my friend Autumn and I at the summit: