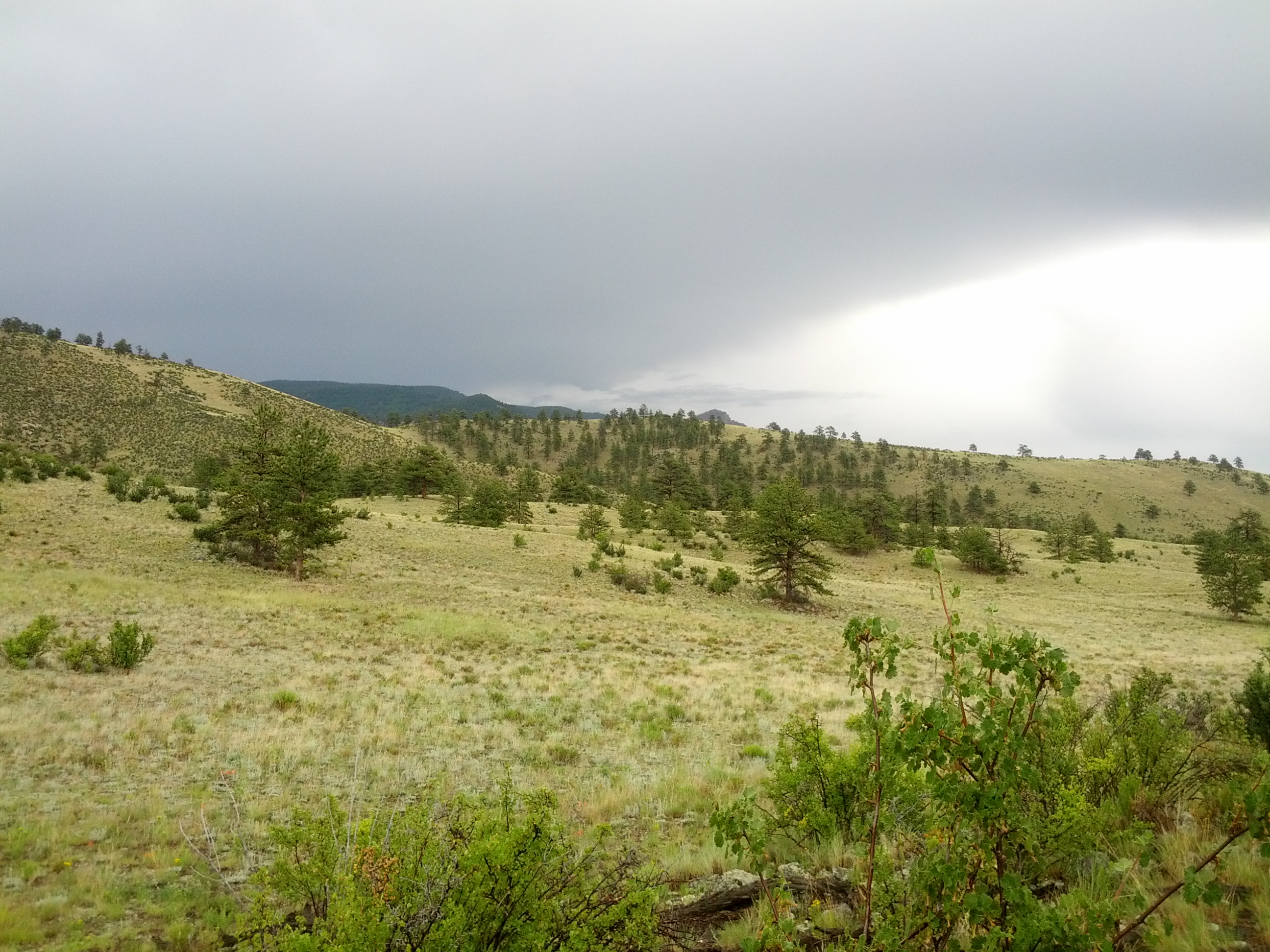 To get to Tarryall, the oldest cache in Colorado and twentieth oldest active geocache in the world, one would take the Ute Pass out of Colorado Springs.  Heading west on Highway 24 will take you past the turn offs for the North Pole, the Pikes Peak Tollway, and Green Mountain Falls.  You'll be tempted to stop for lunch in Woodland Park, and maybe grab a couple of other caches along the way.
A little further up the road from Woodland Park, you will reach Lake George.  You will look for a turn-off for County Road 77 that leads off to the north.  To get to this cache, you would turn right at this turn off, following the signs for Tarryall Reservoir.  You will gape at the incredible beauty along this secluded road.   Clear creeks run down from the mountains in rivulets along green pastures.  You are trying to pay attention to the road,  but every now and then a brilliant flash of natural beauty catches your eye, and you will glance at your companion and say, "wow,  did you see that?"
Then, you will take a left hand turn on to a dirt road that may or may not have a sign, we don't remember.  Google calls it La Salle Pass Rd and it looks like it goes on for a while out there in the wilderness.  You will kinda veer off in the rutted dirt road to the right.  If you are in a car with low clearance, you might find yourself having to park along this road and walk the rest of the way in.  Maybe you will be lucky, like our new friend from Alabama, rmayben9, and some cachers from Texas like us, in a Subaru like ours, will pick you up and give you a lift the rest of the way down the dirt road until it is time to stop.  At that point, you will walk slightly uphill, at 8,000 elevation, and look for an ammo can hidden near a tree.  Maybe you will even get some sub-standard cell phone pictures like we did.  You will see some very interesting plants and possibly, as the occasional log reports, black bear.  We saw no animals but we did enjoy the plants.
After this, you will have to walk back down to your car and make it back out the dirt road.  You might even find some more caches along the way out, although not if you were pressed for time like we were.
You will feel a sense of accomplishment for finding this very old cache, and feel refreshed from the nice drive and short hike.  It will be worth the diversion, trust me.