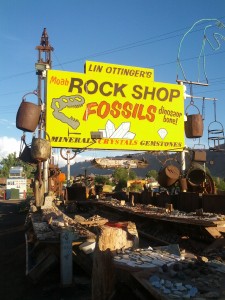 At the last minute of our vacation planning this summer, we had switched which hotel we were going to stay at in Moab, on the basis of dog friendliness. The hotel we chose, the Kokopelli Lodge, I would recommend as a motel with character and friendly owners. It also boasted a small garden area, where dogs were allowed to romp and guests were allowed to use the BBQ grills to cook their dinner, which we took advantage of to grill some hot dogs and vegetables.
After our visit to Arches and a stop at the Moab Rock Shop (most awesome for little rock lovers like mine), I took a late stroll out to this garden. I was about to sit down on the bench when I noticed something moving in front of me. It was dark out, so I had a hard time identifying what I was looking at until it held still for a minute, and then I caught my breath and my heart kinda jumped as I realized that what was standing still about a foot in front of me was the upraised tail of a skunk. What do you do?
My mind raced with coming up with a plan as we stood frozen in a stand-off position. Finally I decided to just back away slowly and talk in a low voice, saying "go away, skunk". As I was backing away, though, I heard a noise behind me, and another one came running along from my right! By this time, though, my eyes had adjusted to the darkness a little better, and I could make out that they were young skunks, and they seemed to be trying to avoid me by this point, so I just kept talking and slowly lowered myself to the bench as they started to make their way to the edge of the garden. Right as they were about to squeeze out of the fence, a woman came walking by the sidewalk nearby, and I felt like I should warn her. It turns out she lived right next door, and was quite familiar with the antics of these little skunks. As we discussed this, it occurred to me that where the baby skunks were, there was sure to be a momma, and sure enough, I did see their mom on the way back to my room. She was exploring the area around the hotel trash cans. I thought about getting a better look at her, but then…I decided not to. I had no idea how to de-skunk a human being, so better safe than sorry.
In the morning, we ate cold cereal in our room (this motel doesn't offer free meals, but we had plenty of our own we needed to eat), and then set out for Scenic Byway 12, the slow route to Bryce Canyon National Park.  We choose this route because it offered us a chance to drive through more National Park and National Monument areas on the way there.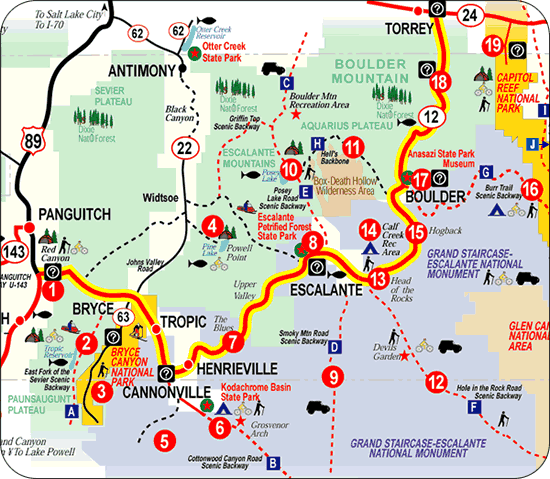 I had literally spent quite a bit of time mapping out the possibilities along this route, but I am not sure what happened to my hand-drawn map with notes. We all know from experience though that it is one thing to dream a thing, and quite another to actually experience it live. There were also so many choices of what to do that I had decided to not get too attached to any of them, and just see where the day took us. In a way, I regret this mindset, because I feel like it played a role in getting us to certain destinations later than I intended, but we did have fun exploring. Here is a short summary of stops we did make, and stops I wish we had made.
En Route: we could have stopped at Green River and Goblin Valley State Park, but we didn't feel like making those side trips. We did, however, stop for a while at a cache called Desert Sentinels, which gave my older son a chance to explore rock formations unhindered, and was a highlight of this day for him.

We also drove past some alien-looking rock areas where there have been numerous UFO sightings reported. This area near Hanksville is so other-wordly that the Mars Society actually has a Mars Desert Research Station out here for research crews to simulate living on a Mars environment.
Capitol Reef National Park: there were a lot of stops we could have made for at least taking some pictures of the scenery, but Jason didn't feel inclined and we were making good time. I wanted to stop at the Fruita orchards, where allegedly there is always fruit in season that visitors can pick on a pay-what-you-take basis. The youngest got his heart set on this idea so intently that when we did make a stop to see some petroglyphs, he cried the whole way along the boardwalk to them, and then refused to look at them. I tried to explain that this stop didn't RULE OUT stopping at the orchards, but then he was being such a brat about it that we didn't want to reward his behavior, and plus, I never saw an entrance to Fruita or an orchard that wasn't fenced off. Next time we go, I am going to have to research the locations more exactly. We saw a deer grazing near the petroglyphs, and I am amazed that the ancient people who carved these were able to reach the rock face like that, and wonder what kind of message they were leaving on the rock walls.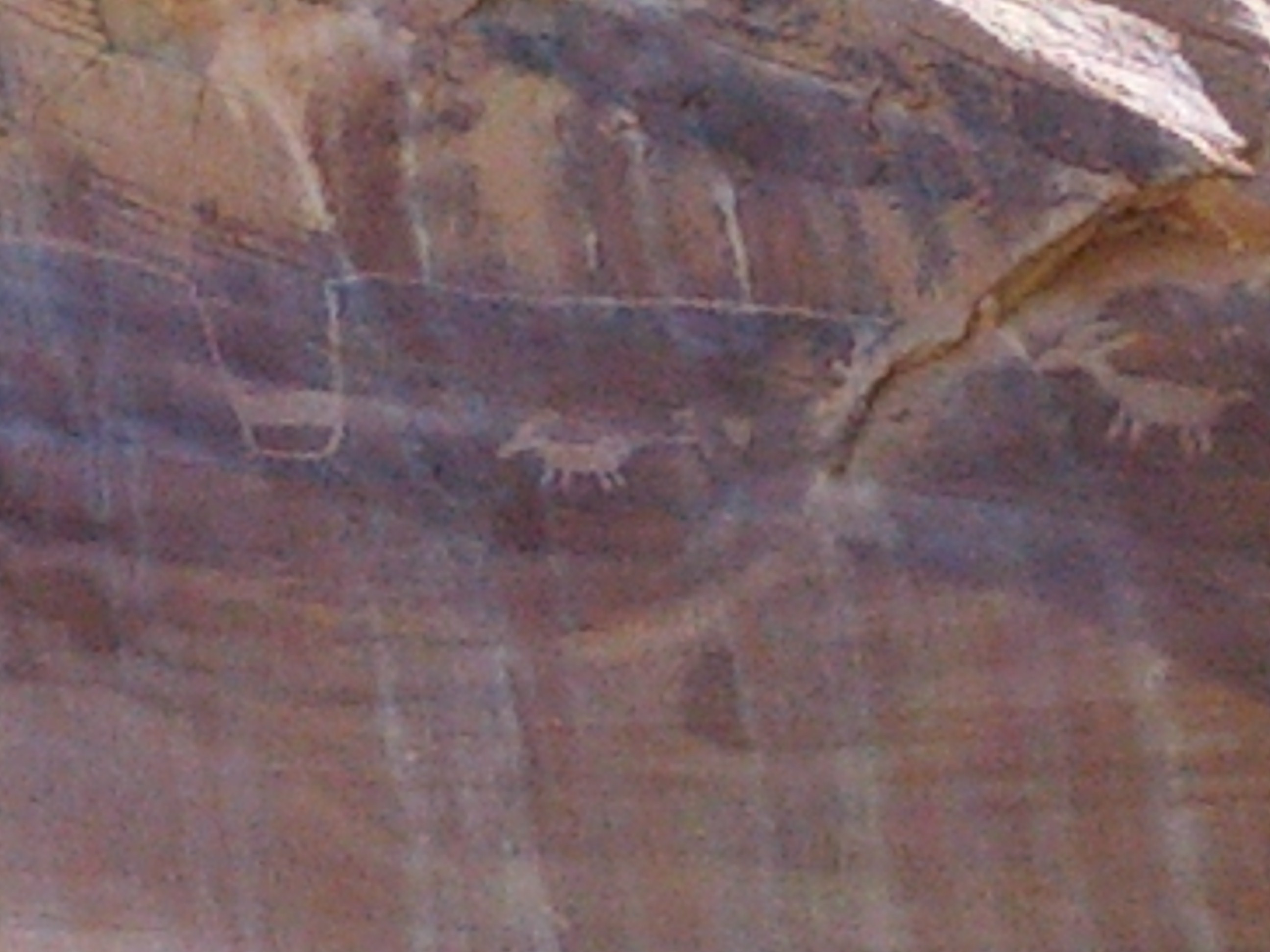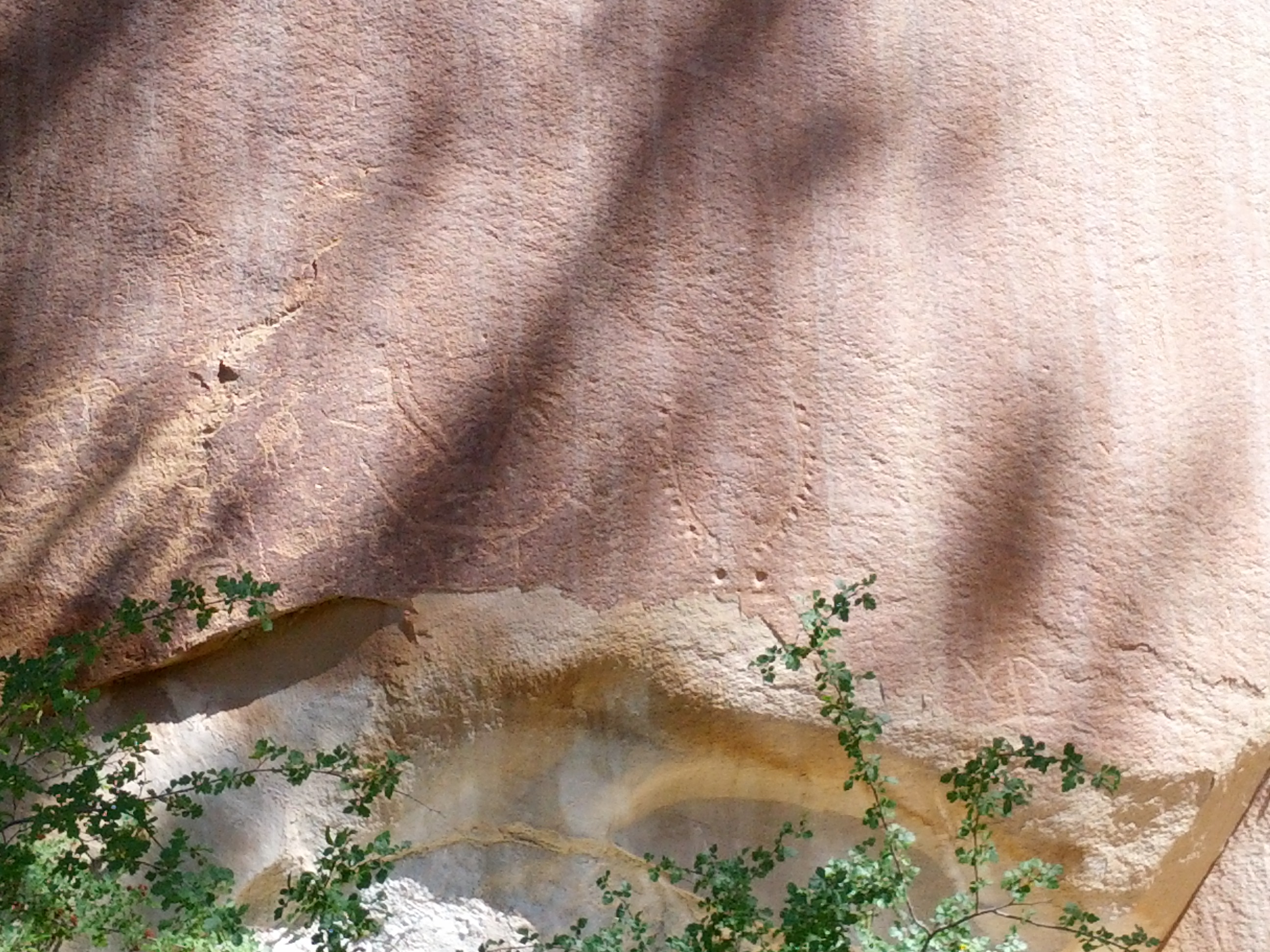 We could have taken a mile long hike out to the Hickman Bridge, an interesting natural formation in the park, but again, we were making good time and did not feel inclined to stop long yet.
However, it was getting close to lunch time, and I wanted to stop at a place I had read about in my Road Food book, the Capitol Reef Inn and Cafe. It was an interesting place, and the food was all right, but now I wish we had waited it out and stopped instead at the Hell's Backbone Grill, which I have heard from a couple people now is *the best* place to stop for food in these parts. Also, we wasted too much time both at the restaurant and putzing around Torrey. We were moving slow at this point. We did find a particularly fun geocache, though, that was outside a local coffeehouse. The cache was called Robbers Roost, and it was a handmade treasure box filled with fun stuff located inside a shady, grassy yard that was filled with birds, as the property owner has many bird feeders out to draw them to her place. This one earned a favorite point from us.
We stopped another time at a lookout point to find an ammo can cache and take some pictures. Here is my youngest at that stop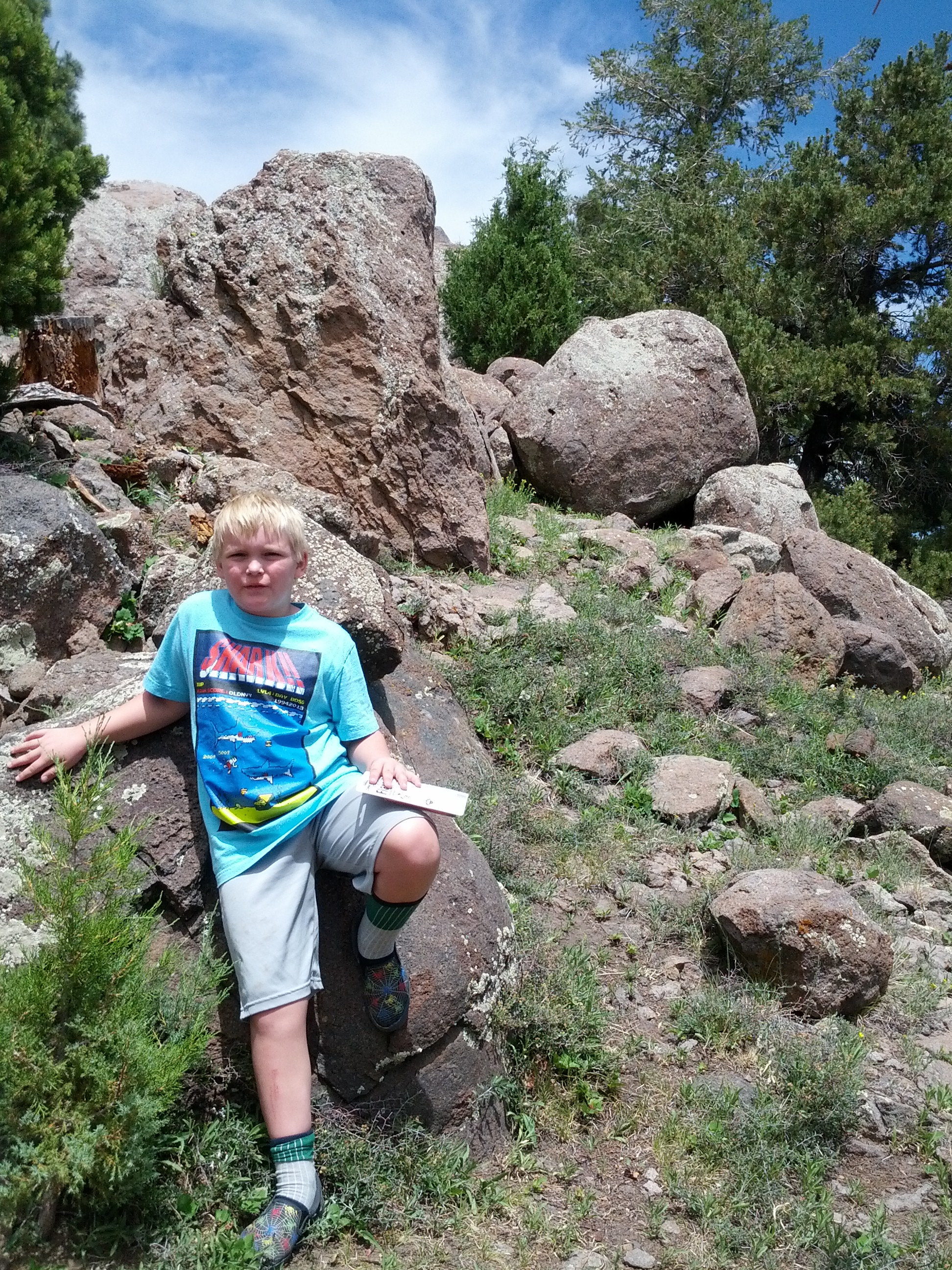 Anasazi State Park Museum: I wasn't sure if we were going to stop here, but I am glad we did. We took the little walk around the back and explored the kind of shelters the Anasazis lived in. We also found a fun ammo can cache back there. The Anasazis were thought to have lived in this area from about AD 1050 to 1200, and then they just took off. My youngest said he learned that their gods told them to leave, from reading the exhibit signs. I am glad to know he learns independently.  Here is my oldest by one of the shelters: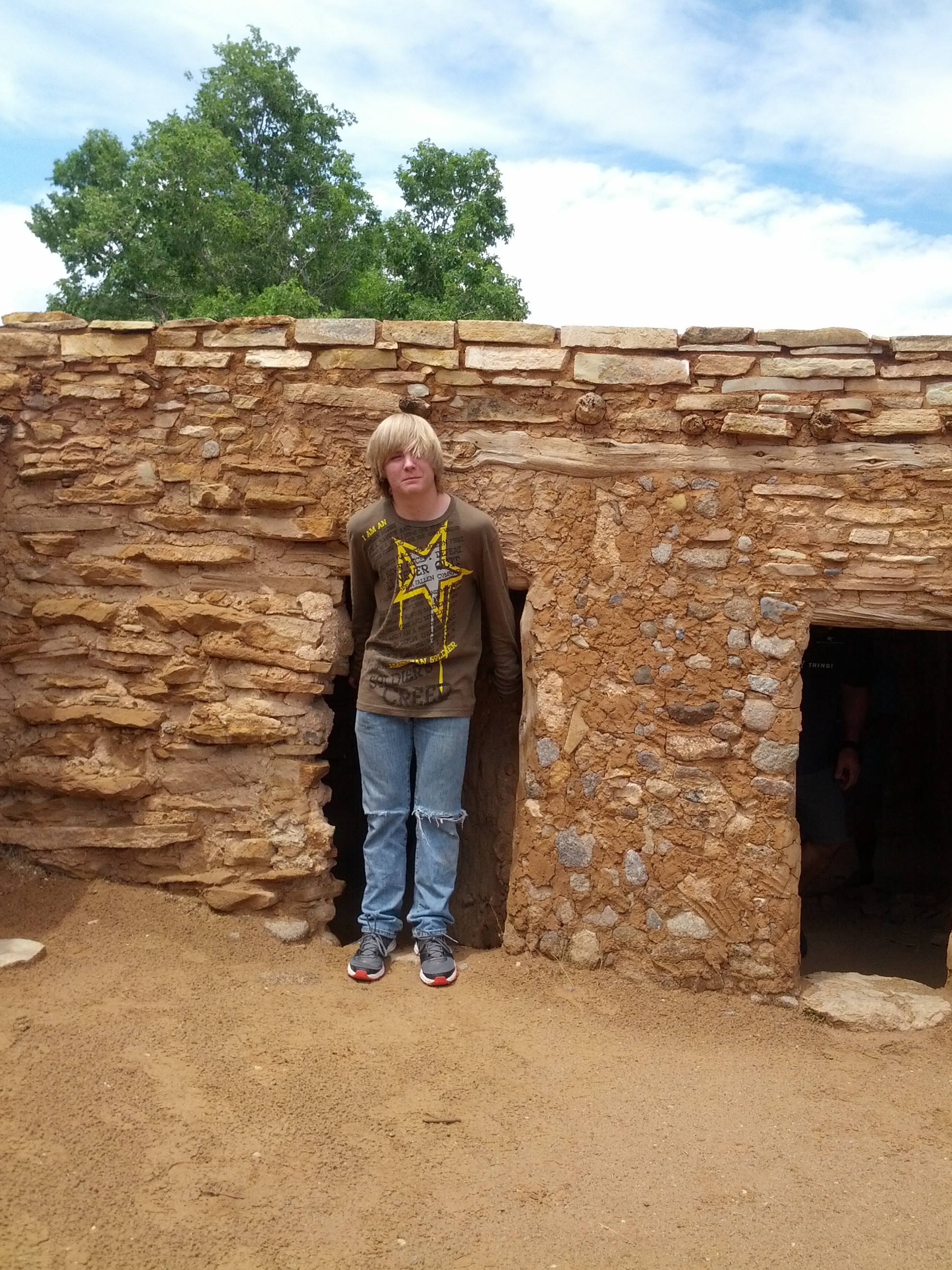 After this, we did stop to take a hike: the hike to Lower Calf Creek Falls that I posted a couple of pictures of on Facebook. That hike was so epic that it deserves its own post, so we will leave you, the reader, here for now.