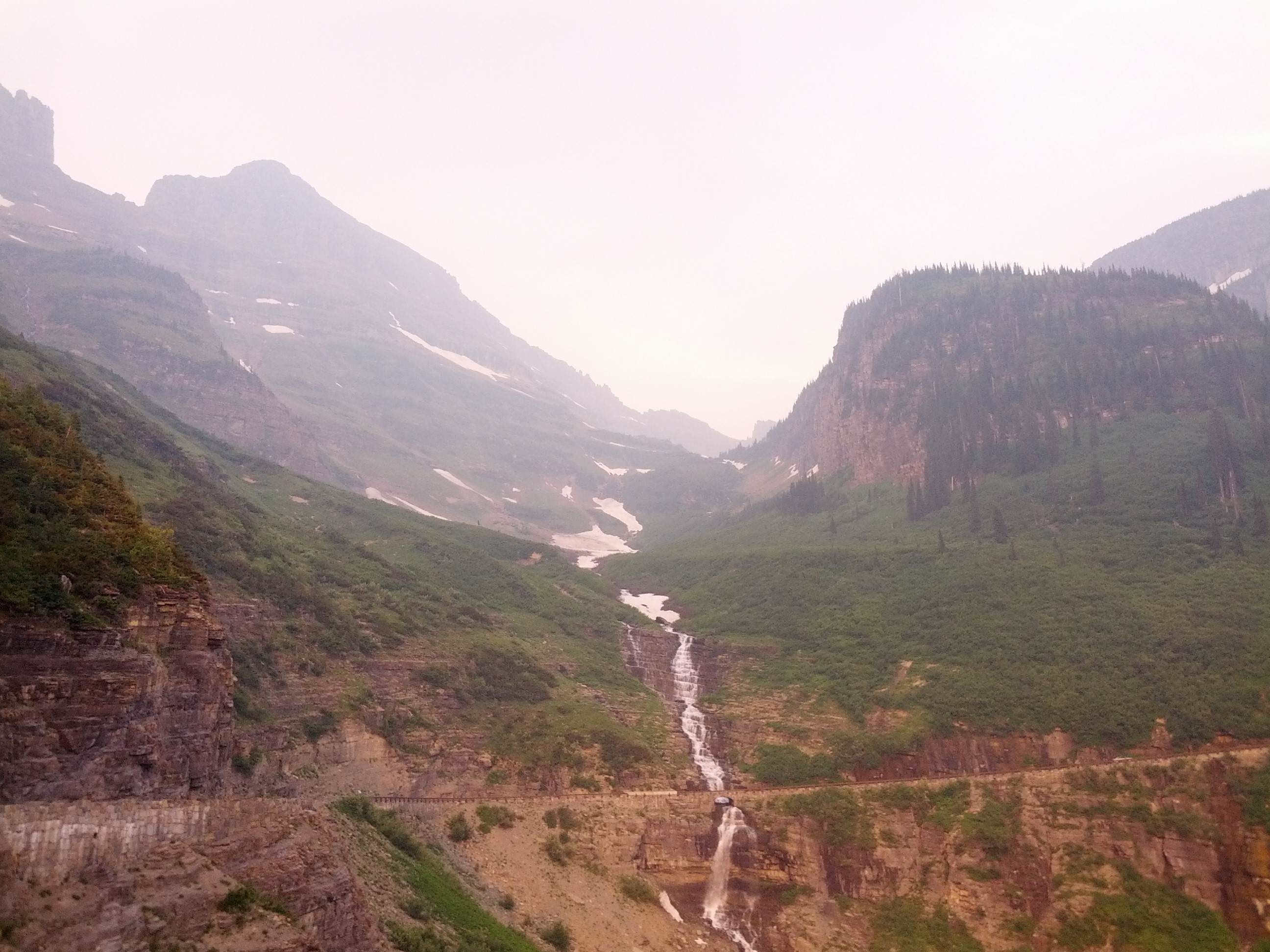 There are roads, and then there are ROADS. On every road trip, there should be at least one of these epic roads that one has to travel.
At least, that is the rule that Jason and I live by. For us, in 2010, Beartooth Pass was THAT road, a road so epic that it was the destination itself, not the several national parks we stopped at on the way there and back. In 2012, the steep curves and sharp vistas of the Road to Paradise in Mt Rainier NP, and one could argue even the Tioga Pass that took us into Yosemite, were those roads. In this journey, the road trip of the summer of 2014, the epic road was Going-To-The-Sun, the fifty mile main artery of Glacier National Park.
This was probably the most anticipated of any of the epic roads we had traveled, as well. I had been dreaming about this road for years, maybe two to four. I had bookmarked the virtual geocache stops along it, traced it with the mouse cursor, showed Jason videos on YouTube of other people driving it, and plotted where we were going to stop and what we were going to do there. The names given to the various points thrilled me: Weeping Wall, The Loop, Siyeh Bend, Sun Point.
What I didn't plan on, during all this anticipation, was how I would feel if weather rained, or in this case burned, on my dreams of stunning mountain views. There were wildfires in the neighboring states all around us during this ONE particular day that we finally made our way there. Smoke drifted for hundreds of miles and left a dark mist all over Glacier NP on July 18 of this year. It was a lesson for me in how to handle disappointment, that is for sure.
I wasn't the only one, either. That night, when we made it to our campsite, I talked to a fellow traveler who came to the park from New York in an RV with her husband, and she said her husband was so pissed off about it that he wanted to pull up stakes and leave, now, even though they had driven for days to get here and meant to spend three days in the park. We meant to spend three days in the park, too, and luckily, by the next day, the smoke had moved out of the area and we were able to enjoy the views. We drove halfway back up Going-To-The-Sun and back to get to Logan Pass to go hiking, and it all worked out in the end. That first day, though, I had a hard time letting go of that lump of frustration that something I worked and saved so hard to be able to see was just covered up by a haze.
Here are some of the pictures that we did get along the way, all taken with my cell phone.  Jason didn't even bother to get his camera out of the car.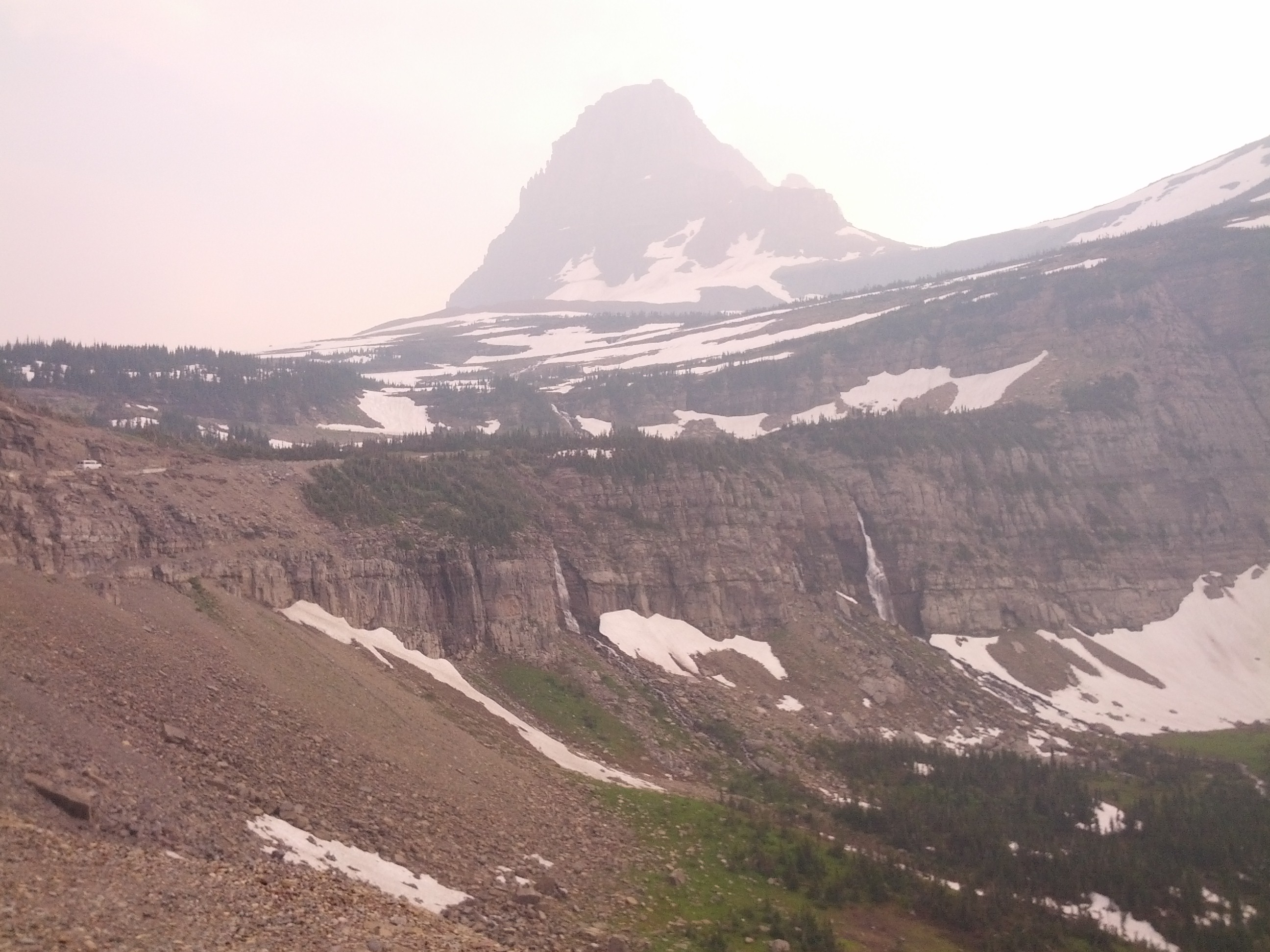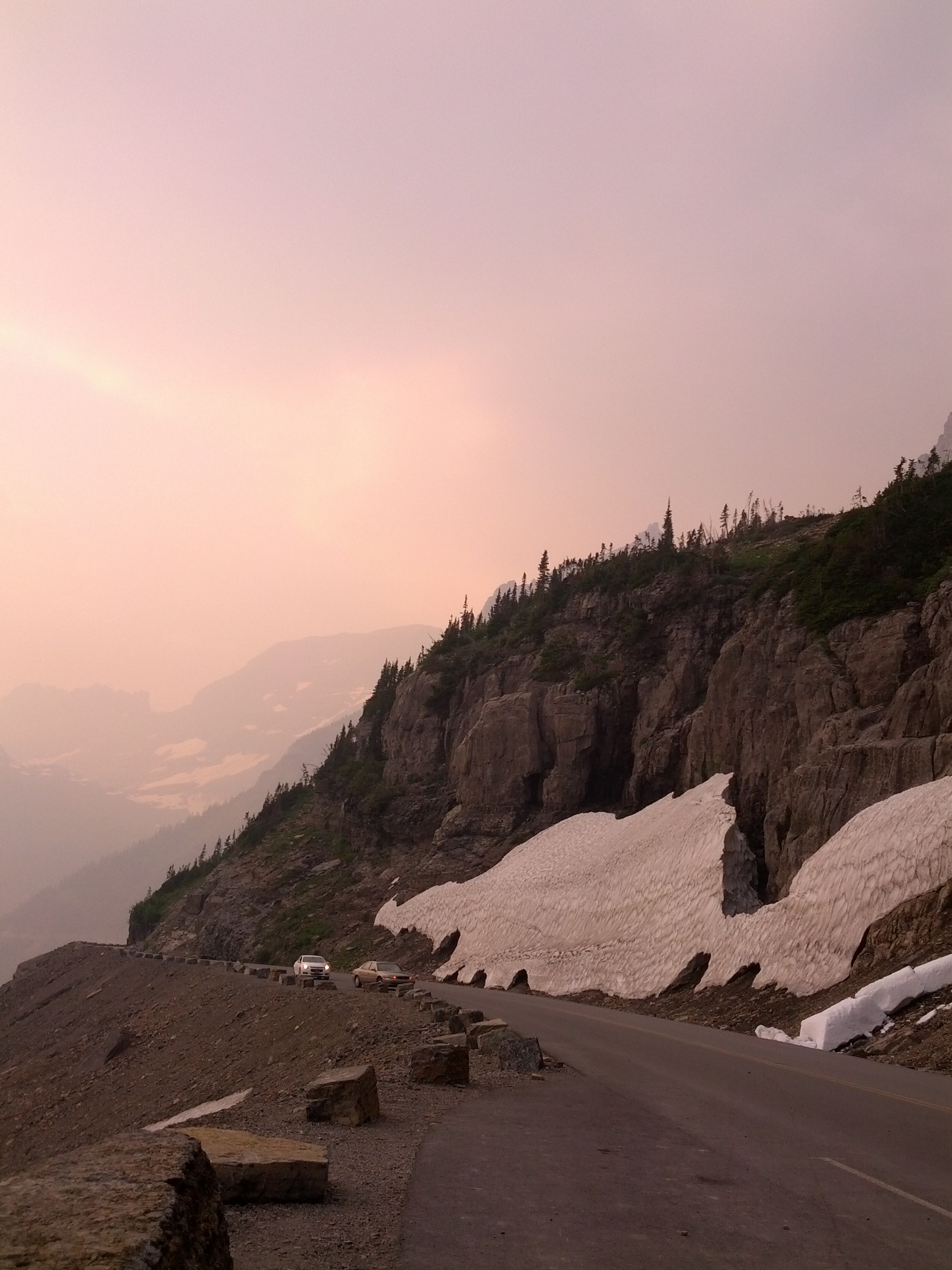 The road itself was not without its adventures, though, despite the smoke.  Making our way past the dripping Weeping Wall was fun, as well as the twists around Big Bend and some of the smaller bends.  The road got narrow, and there was enough snow and ice to keep things interesting. We did have lunch at Lake McDonald Lodge like I planned, but it was so late it was really more like an early dinner.
We decided to splurge and eat in Russell's Fireside Dining Room, although in retrospect, I think I would have been happier just buying sandwiches from the deli mart and sitting by the shore to eat and watch the birds.  We walked up to the lake and identified answers to the virtual geocache there, marveling at the pink and gray rocks in the water. We stopped at a few viewpoints along the way, taking pictures to also claim those finds, and then took a short walk along the Trail of the Cedars.
The forest there was interesting enough to deserve its own post, so look for the pictures in the next entry.
A parting picture: