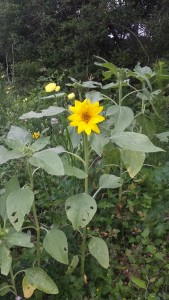 A generation or so ago, mothers were recommended to stay in for a "period of confinement" after their babies were born.  Well, I don't deal well with captivity.  My forays into the world were initially limited to the immediate neighborhood, then surrounding neighborhoods, but by four weeks into this "period of confinement", I was ready to explore further away from home. This is how, four weeks and some change after birth, Sebastian and I went out for our first foray into the wilderness.
In this case, it was a bit of urban wilderness on the west side of Tomball, a 99 acre park called Kleb Woods.  I sacrificed the last two hours of sleep that baby and I usually get after the older kids leave the house for school to drive about forty minutes away to this park.  Despite being a few minutes late, I managed to join up with a small group of dedicated bird enthusiasts participating in the weekly Wednesday bird walk.
I do not regret the lack of sleep, for I learned a lot in the few hours I spent out there.  Sure, the mosquitos were bad, but I had a net that went around the car seat portion of our super duper off-road stroller to keep them off the baby, and a can of Off! for me.  I think he was a little more protected than I was, because there were no bites on him afterwards, but my shoulders did have several (despite the spray and a shirt).  A small section of the trail had a thick coat of mud, and the others in the group mentioned that my stroller might not be able to hack it.  I just smiled and told them that we had the best stroller on the market for that kind of terrain, and in fact the BOB Revolution did handle that mud like a champ, not even slowing down the slightest.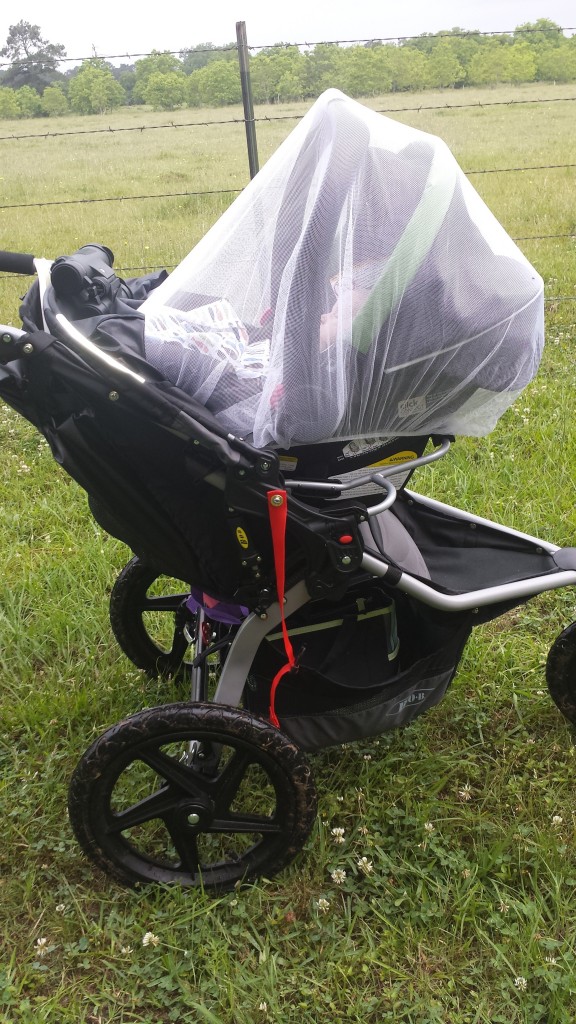 That morning, I learned so much from listening to and observing the other birders as much as the birds we found.  While I was with the group, I recorded seventeen species of birds in my journal that were new for my list this year, mostly in the warbler family.  One of the ladies in the group, who seemed very skilled despite only birding for a year and a half (I think that is what she said), was able to pinpoint the various calls of different species and point them out for me, then describe what set them apart from other similar species.  It was watching how they found the birds visually and getting a feel for it myself that was most helpful to me.  I will find just a few birds on walks myself because I hadn't gotten a feel for how to really watch, wait and find them like these people were doing.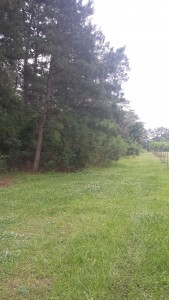 We spent some time on this particular stretch of trail, which reminded me of a time out in this park with my other children.  I had taken them out to this park when my second child was about the same age as Sebastian was now, but the day had been hotter and I was a little less prepared, and I had gotten concerned that the children were overheating.  I  remember rapidly pushing the stroller back to the car with a sense of urgency, and making a promise to myself that I would not put my kids in that kind of a situation again, where I pushed us past reasonable limits for my own personal desires.  This day, one of the ladies commented that she wished she was Sebastian, being pushed around and protected by a mosquito net like that.  There was no risky element of natural danger at this time.  When Sebastian woke up and began indicating he was hungry, I asked a mother of home schooled children who had joined our group about the nature center in the park.  She told me how nice it was on the inside, and indicated it might be a good place to feed him (which is what I was steering the conversation towards).
Sebastian and I split from the group and spent some time checking out the nature center before I slipped into the education room to feed him.  Afterwards, I thought I might rejoin the group or perhaps find a few geocaches, but shortly after putting him back in the stroller and walking down the path, Sebastian told me, in his way, that he was still hungry and that stop had not been enough.  I found myself sitting on a bench on the side porch of the center, feeding him again, guarding his precious little noggin from mosquitos, and watching ruby throated hummingbirds chase each other away from the feeders outside.
We ended up running out of time, and then running down the trail, as the skies opened up right as I was leaving the center.  I haven't bought a rain cover for this stroller yet, and despite a cover that comes up on the stroller itself and one on the car seat that is attached via an adapter, there is about a two inch gap to the outside world that opens up right where he sits.  I covered the gap with my stroller blanket and hoped he was not getting wet.  By the time we covered the third of a mile back to parking, I was soaked to the bone with a cool, refreshing rain, but luckily, he stayed completely dry.
That morning in the park brought my total for the year up to 92 species of birds seen, which was a good jump. The best moment of the morning was when we had all stopped for a while to watch some action in the bushes at the bend between the long open stretch in the photo above and the parking lot.  The other girls were identifying the birds we were seeing, but then I spied one that looked different.  "Oh, I see one with a black head and orange sides – which one is that?" I asked the lead girl.  "Oh, that is probably that Blackburnian Warbler we saw".  I insisted this bird looked different, and she responded that I was probably just seeing him from a different angle.  I was firm that it was not the same bird, and described it to her again, and she said, "Well, do you think it was an American Redstart?" and showed me a picture.  I was sure that was it, but could tell she did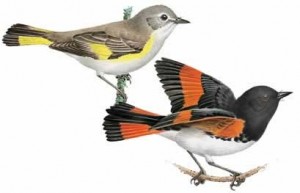 not believe me.  A couple minutes later, one of the other ladies said, "Oh, I see it, it IS the Redstart!"  Then everyone got a good look, and the lead girl turned to me and said, "Congratulations, you found your first warbler!" and seemed genuinely happy for me.
It's the little victories these days. I did feel like I gained a little confidence that morning.  However, I found a few birds later that I kind of wished she was still with me for, to confirm my identifications.  Mostly got from this walk is that I enjoyed the education I got from other people like this.  This was the first bird walk I had been on (where we actually found some birds).  After this, I found some information on a few more walks that I could go to over the next few weeks while I am home.  I am going to try to go back to this park for more walks.  I am thinking this will be a good outlet to feel a little more free from the stifling captivity of being a temporary stay at home mom, and I will get a good education to boot.