Close to the time my maternity leave from work was ending, I stumbled upon this group online that seemed congruent with my current lifestyle –  Hike It Baby.  The Houston branch is part of a national organization dreamed up by founder Shanti Hodges of Portland, Oregon in 2013.  There are branches in 100 different cities and two countries, less than two years after she put her idea into action.  The purpose of the group is to get families out into nature by offering hikes and urban walks, submitted and lead by local participants.  Although kids of any age are welcome,  primarily the group seems to attract parents of infants, babies and toddlers using various types of baby gear (carriers, strollers or wraps) to walk with their children through both forests and interesting urban environments.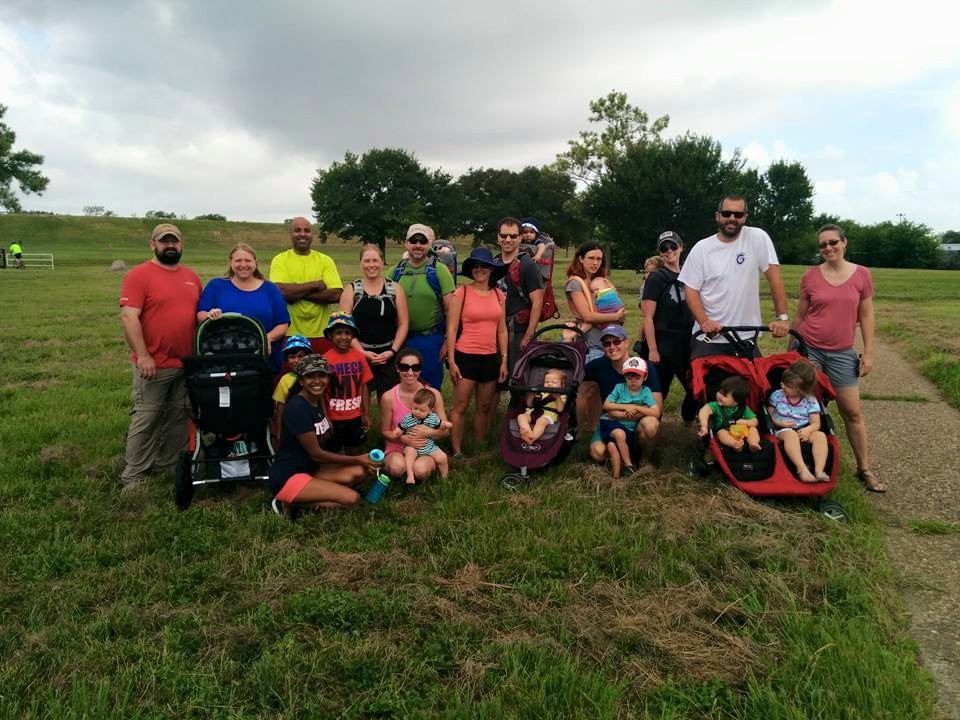 For me, this organization provides a social opportunity, a chance to meet and interact with other parents who already have something in common with me – the desire to introduce their children to the outdoors.  If you have read any of this blog before, you already know I am the "outdoorsy" type and that my kids and I spent a lot of time in nature.  I don't need another motivation, per se.  However, what I do need is a group of my peers; other parents of young ones to talk with.  Because I have this second family going on, most of my friends with kids have older kids, like my first set, but I want to find friends for Sebastian and other mothers to discuss baby milestones with.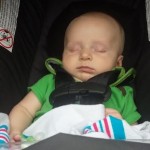 I also really needed to get out of the house during my leave and talk to some adults.  In the last two weeks of my leave, I participated in four Hike It Baby walks, and then I did another one in the evening when I started back at work (that just happened to be hosted at my favorite local place to take a walk – the Cinco Ranch Nature Trail).
I decided that since I enjoyed this so much, but that most of the walks were scheduled during the week when I was at work, that I would submit some of my own on the weekends to see if there were others for whom that time and day would work as well.  Plus, there were no hikes scheduled on National Get Outdoors Day (this past Saturday, June 13).
So I submitted my first hike through the online submission form, and I was excited when it finally posted.  I had invited my friend Misti, whom I met online through blogging, and it was a good opportunity to get our babies together (although Sebastian slept through their first meeting, naturally).  It was awesome to see her again, since we have only seen each other in person like once a year since we met (but always with intentions for more interactions, because we both really enjoy the outdoors).
Finally, it was the day of the hike, and I wondered if anyone would show up.  Besides Misti and her family, we had about seven or eight other families join us on the short hike on the Terry Hershey Hike and Bike that I had planned.  It was a bigger crowd than I expected!  It made me feel glad that I decided to plan a Saturday hike, and hopeful that this meant that the "Saturday, once a month" hike time that I had decided on would also work for other families, which meant I would have company (and someone to talk to).
Here are some shots from the trail: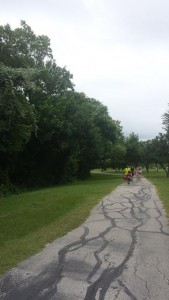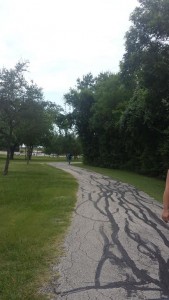 A night heron fishes for his lunch near the Highway 6 bridge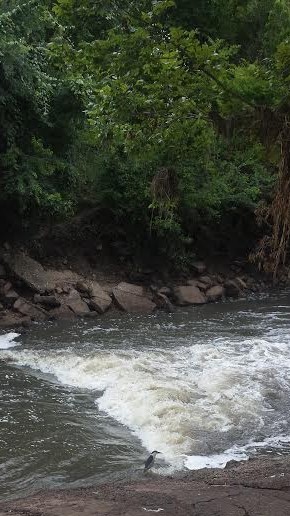 We basically just walked a mile from the Barker Reservoir towards Eldridge, then turned around and walked back again.  I had Jason come with me for support (and to find the geocaches along the way), and although he enjoyed talking to the other dads, his feeling is that he would have wanted a faster pace.  I had forgotten to tell him that you set the pace expectations on the online listing, and I had said that this one was casual and that kids could walk.  The next one I have organized, at Arthur Storey Park, I set the pace for "fast, adult-paced" walk with a stop for the kids to play at the end.
I have been a little obsessed with the idea of this group lately.  I think it is an awesome idea and I am glad there is someone out there like Shanti to dream it up, and like the branch leaders in each of the 100 cities to have the motivation to keep it going with her original vision intact.  I am looking forward to more opportunities to interact with other Houston families out on the trails and on walks through interesting places.  Be expecting more on this subject this coming year