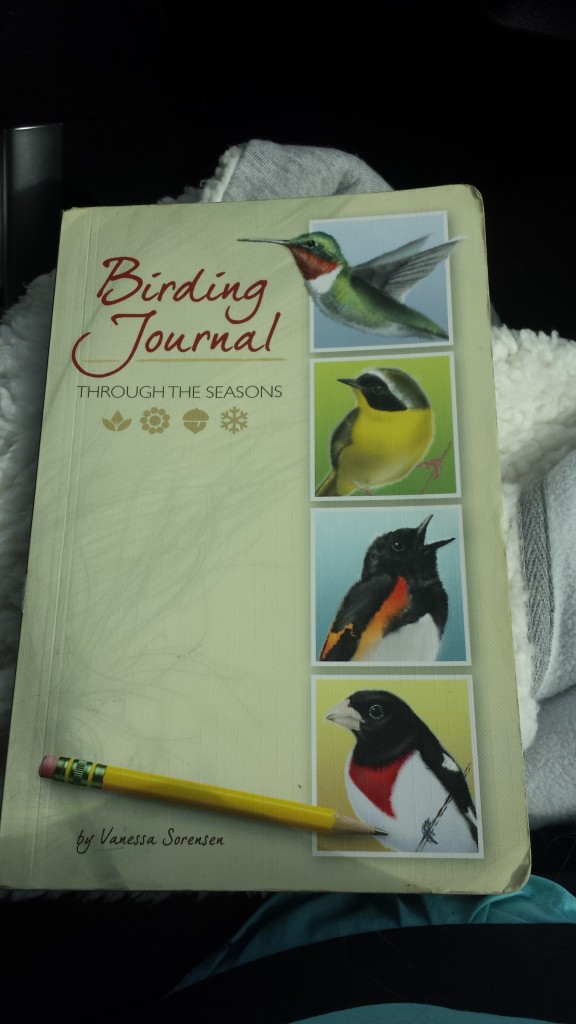 Last Christmas, my mom gave me this journal in the above photo, and it turned out to be my favorite item of the entire year.  I carried that with me during all my outdoor adventures and checked off all the birds I saw during the year on the master list in the back, as well as taking notes month to month.  Comparing that list to last year's, I see that I observed roughly the same amount of species this year as I did the year before: 132 in 2015, 134 in 2014.  This is intriguing to me because we did a lot less traveling this year than the previous year, but I also had gotten a lot better at identifying birds in my own area.   My mind is just still preoccupied with this subject.
There are a lot of blank pages still left in this journal, and hopefully I will be filling some more up this year.  My goal for 2016 is to find over two hundred, and plan some trips specifically for the purpose of birding. However, even if we don't travel much beyond Houston, there is so much to see within just a two hour radius of our town that I think I could still find that many.  I feel like I am already off to a good start on this goal, having identified 22 species over the past couple of days that I spent camping at Buescher State Park.
In this past year, the National Park's "Every Kid in a Park" campaign resulted in all fourth graders in America being granted an annual parks pass that is good until August 2016.  We printed ours out (since we have a fourth grader this year) and would love to be able to utilize it this year to experience some more parks.  However, the cost of raising a baby has been eating into our travel funds, so it remains to be seen whether a big road trip will be in our budget this year.  I am hoping we can at least get to Big Bend or Fort Davis this year, or perhaps to Oklahoma or North Carolina to visit family, but we'll have to see how things unfold.
My best friend Jen, who I just went camping with over the past two days, has an idea that she wants to go camping or at least hiking together like once a month over the next year, so that will provide some impetus for outdoor exploring, as well as my continued interest in being involved with Hike It Baby.  Jen and I both have this dream that we will be backpackers and complete a thru hike one day, so we want to increase our hiking stamina and try an overnight hike this year to see how we like it.  I also basically want to increase my physical fitness and overall health this year.
Another goal I have for 2016 is finally getting to 4000 geocache finds.  I've been saying this for a couple of years now, but I am very close (162 finds away) now.  However, we have really slowed down on geocaching.  I used to average about 500 finds a year, and last year I only found 171.  We did find three this weekend, and they were the kind I like (ammo cans in the woods) and so that did make me feel excited about finding more.  I have gotten burned out on urban hides, especially some in my area, and that kind of killed the urge for me.  If we are camping, hiking, and exploring parks, though, then I hope to combine geocaching with all that.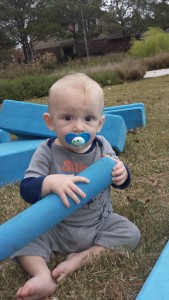 This year, Sebastian is going to learn how to swim (as much as a baby can learn), and Kaleb thinks he wants to try new sports, so there are some new frontiers there worth exploring as well.  Now that Sebastian is a little more mobile, I am looking forward to discovering new parks with him, the way I used to with my older boys.  We already discovered that a new one by our house is much more interesting than I anticipated, and I am excited by the idea of hosting his birthday party there.  If there are Hike It Baby hikes scheduled on the weekends in new parks, that will be even more reason to explore a new park.  Besides parks, there are other indoor areas around town that I haven't shown my kids, or perhaps just not in such a long time that they might have forgotten them, so some exploring of Houston landmarks in general is still on our radar.
Basically, we're not going to stop discovering the world in 2016, so stay tuned for more adventures!