I've realized that I have gotten to a certain age in my life where all my idols are Master Naturalists.  This is why I felt lucky that we were in the presence of a couple of them on a nature hike last Saturday in South Shore Park.  We were actually at the park for a geocaching camp-out, but we were enticed by the sign at the park headquarters advertising the hike starting at 10 am at the Swift Trailhead.  We found another geocaching family there, as well as a girl scout leader who had a handful of girls with her.
The dozen or so of us adventurers set down the path with Louise (I think?) and another Naturalist, perhaps one in training.  We stopped every few feet for our guide to point out plants, to investigate scat, to identify butterflies and so on over the course of a couple of hours and a couple of miles.  I learned so much during the walk, but mostly I learned, or was reminded of, what it felt to be completely absorbed in a place and moment.  During this hike, I felt so entirely happy, so sure that this was EXACTLY what I wanted to be doing at this time.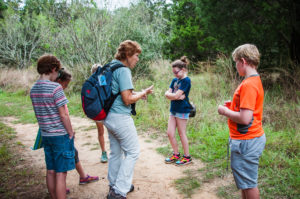 One of the aspects of the hike that made me the happiest was seeing my middle son get so excited by nature.  He usually whines about having to go on hikes with us, and acts bored or disinterested in learning about what I can point out around him.  I am not sure if it was because there was a boy his age in the group, a pack of girls, or if it was something in the way our guide was speaking to the group, but he got hooked.  He was particularly excited about identifying mushrooms.  Louise handed each of the kids a different pocket guide. He had the mushroom one, the girls had birds, butterflies and flowers, and they were all using the pictures to identify their particular specialty.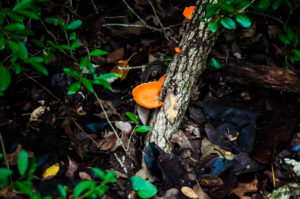 I really enjoy these kind of guided hikes because they combine education, outdoors, and relationships with other people.  I love mental stimulation, and I love the feel of the forest around me.  I love seeing not just my kids but other kids get excited about nature.  Also, we were geocaching.  We found a couple along the trail, and some of the cute little critter waypoints for a night hike that was set up for the geocaching event.  We also saw some cool nature scenes, like this lichen on a log: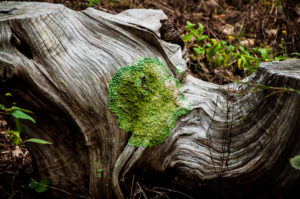 Along the walk, I learned more about the Master Naturalist program, because I think if those kind of people appeal to me, perhaps I could join their ranks one day.  What I learned about it is that it requires 40 hours of classroom instruction on your specific geographic area, where you will learn all about the flora, fauna, natural history, geology etc.  After that, you have to commit to 8 hours of additional training in the field and then 40 hours a year of volunteer hours educating the public in various capacities and programs of your choice.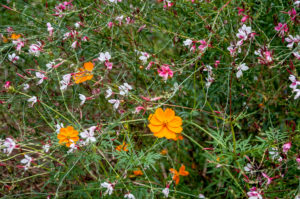 I think I will do that someday, but I will have to wait until my children are older or grown.  That probably explains why most Master Naturalists that I have met are either retired, or close to it.  They are probably more likely to be grandparents than parents.  I do worry that time is short, and it is not a guarantee that I will make it to retirement age or even to an age where I might have leisure time that does not involve children.  That is what I get for stretching my reproductive years over such a long span.  I have one getting close to leaving the nest and one who is just settling into it.
At one point, Jason went ahead of us on the trail, because Sebastian was being very antsy in the backpack with all the starting and stopping.  He was looking at his phone and not at the trail, and just barely caught this particular little elusive devil of a snake out of the corner of his eye.  He barely had time to get a picture of it before it disappeared into the brush: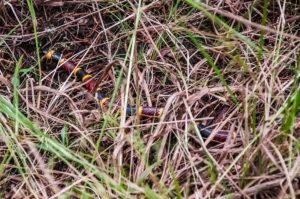 I really enjoyed the other mothers who were on the trail.  The girl scout leader was extremely knowledgeable, and the geocaching mom had some interesting life experiences to tell.  Eventually I started talking to this geocaching mom, who was from Round Rock, and she and I made a plan for me to come speak to her homeschool core class on career explorations about the kind of work that I do.  I have been wanting to do outreach talks, and this might be the start, or perhaps one of a few I do next year.  It happened to be that she and her son were staying in the cabin right next to us.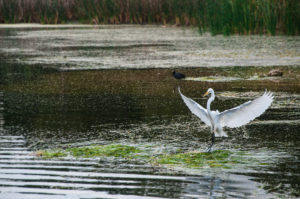 I did enjoy the camp-out as well.  It seems like this is the first year that my middle son has actually had fun and made new friends at one of these geocaching event weekends, and maybe it is because the vision of the Lone Star Roundup has finally become manifest.  We have been attending this event each year since it started in 2011 as a fall alternative to the Texas Challenge that is held in the spring, to offer a chance for Texas cachers to get together just for fellowship and perhaps without some of the regional animosity that has developed over the years due to the intensity of the Challenge.  It was a fun park to host it at, too.  The butterfly garden in front of Osprey Hall is just amazing.  We just love Bastrop, and I do like this little park. All in all, it was a good experience.