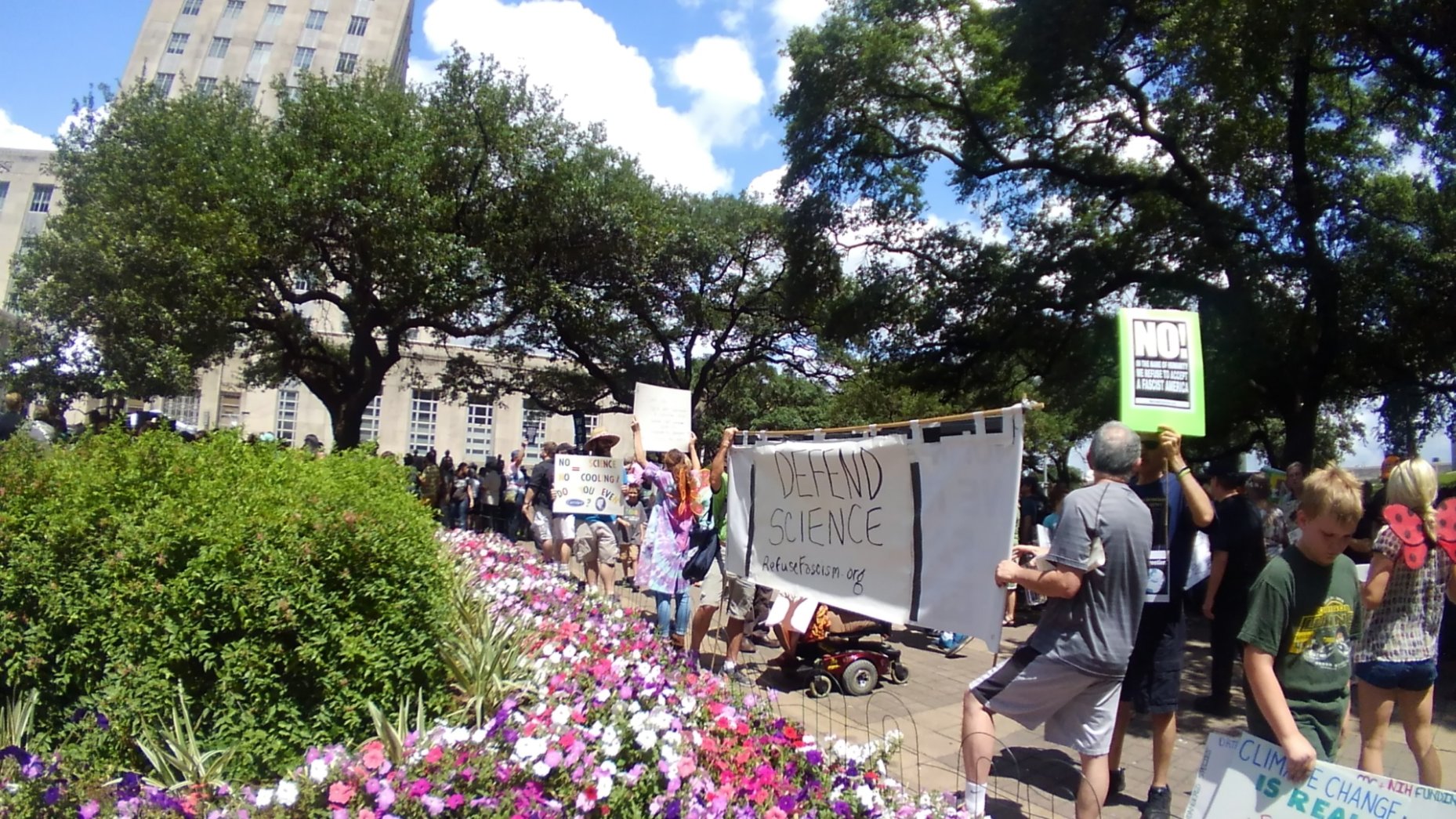 My ten year old son stands in the right hand corner of this photo, trying to hold our signs up while I take the photo.  By this time, he is hot, tired and ready to go.  He wasn't interested in finding a place to sit or stand to listen to the pro-science speeches after the march.  He mostly was just interested in twisting my arm to buy him a milkshake at this point.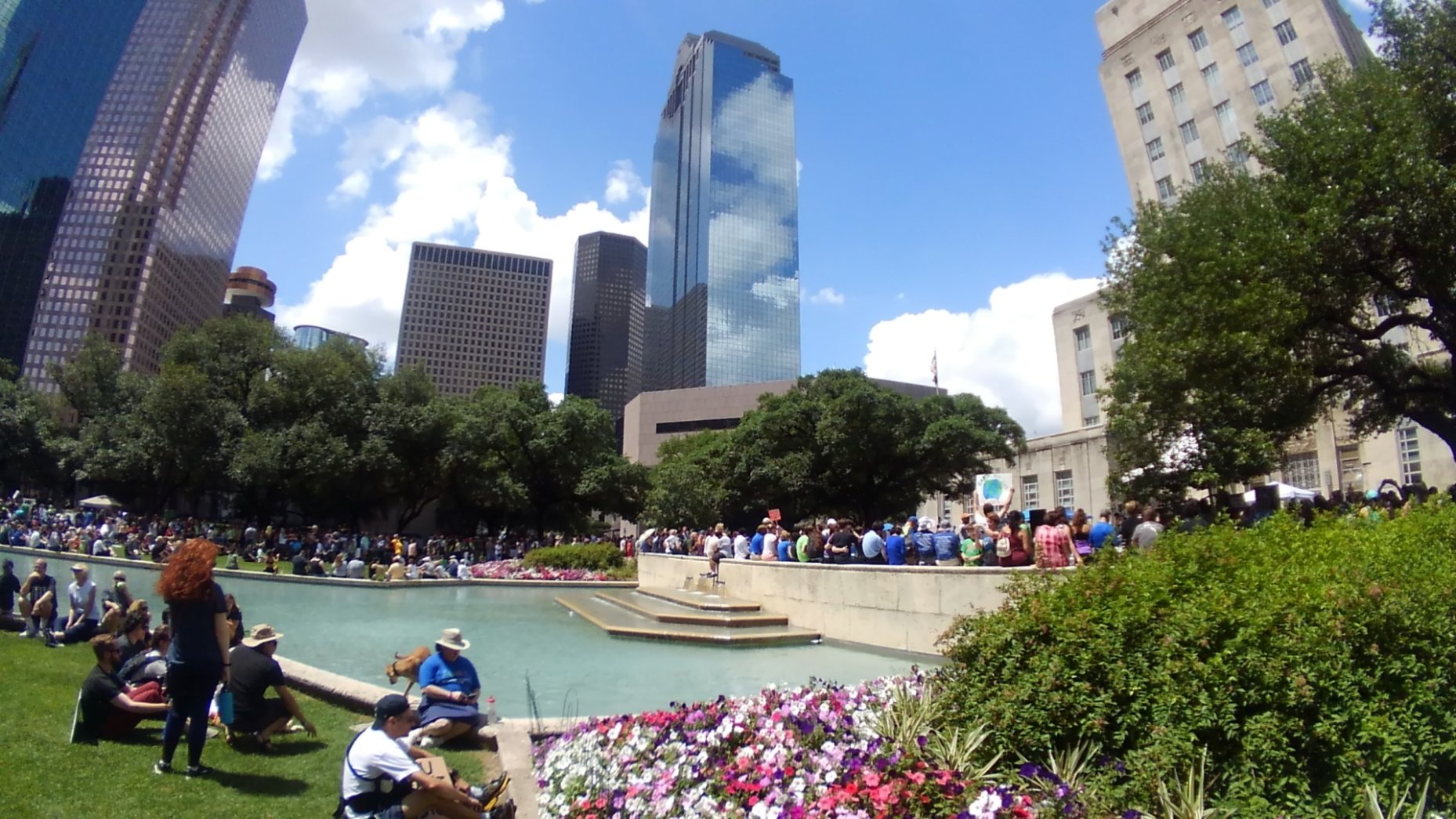 I keep thinking about him and how he might have processed last Saturday's event.  Sometimes he doesn't think past his immediate concerns, and maybe years from now, he will only remember being slightly put-out and mildly uncomfortable.  I hope he will take away more, though.
For me, the moment that is standing out in my memory is an older activist lady with a megaphone getting the crowd pointed in the right direction and giving them a cheer to hang on to: "This is what/democracy looks like!"  I am not sure how much change the March will actually effect, but it did feel like civic responsibility to take a stand for something I believe in.  I was bothered by so many things in the past 100 days or so, but I think the part that bothered me the most lately is the threat of budget cuts to NIH, CDC, NSF programs, cuts so extreme that ongoing research will be stopped.  I was voting with my feet this day.
And I wasn't the only one.  That is the part that is also sticking with me: the feeling of being part of something bigger.  I sometimes like to take small pride in being an original, eccentric, unusual type of human being.  Call it "marching ot the beat of a different drum" or just kinda of crazy, but I don't want to be like everyone else.  One of my personal pet peeves is being "put in a box", because I'm not sure my edges are so defined.  This day, though, I felt pride in being like so many others, and a sense of the comfort of the hive mind.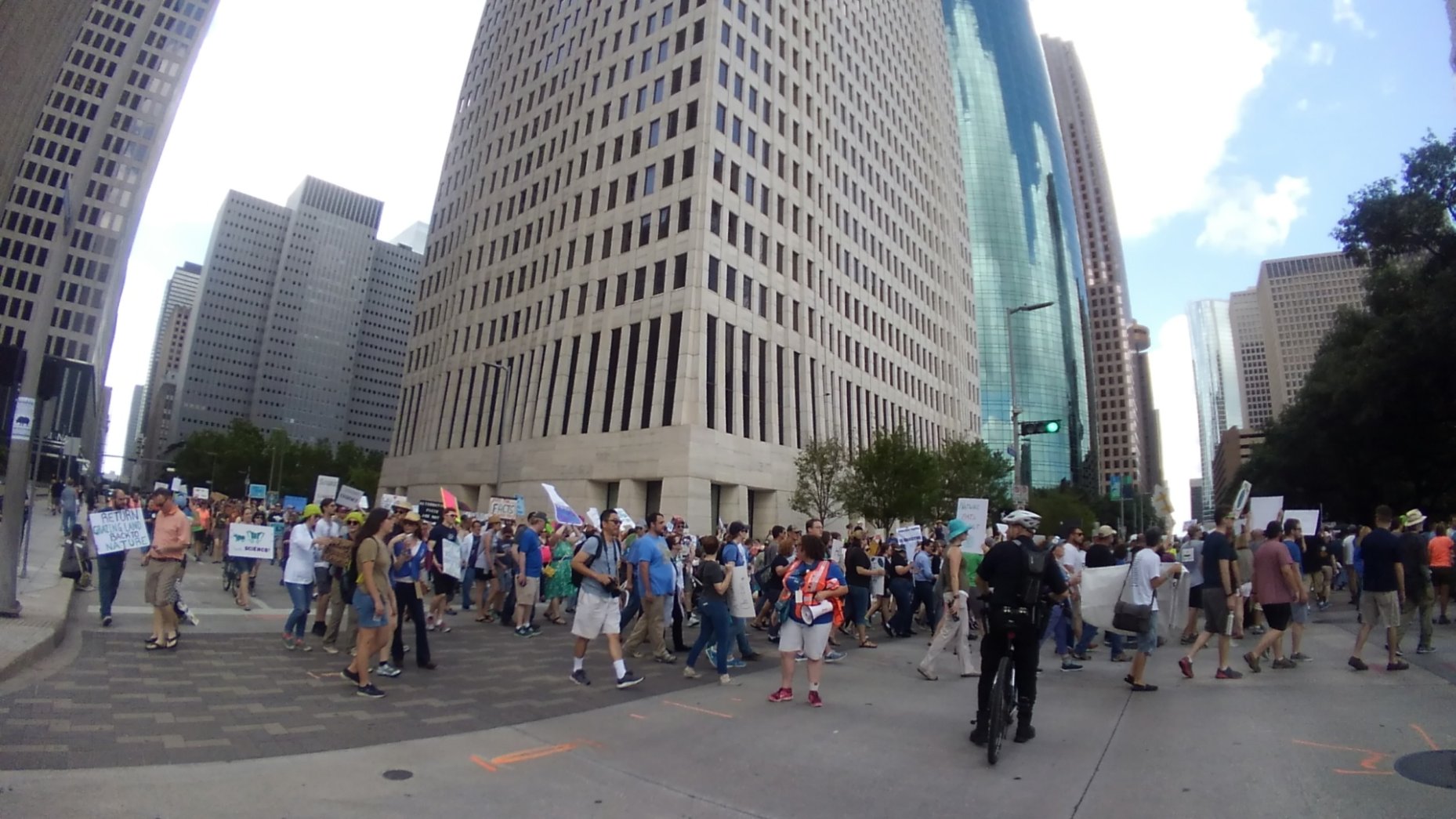 And there were just so many others.  I occasionally would prod my son and tell him to look behind us.  The people, they just kept coming and coming.  I have never seen such an orderly group of so many people moving in unison to a common mission.  When my son and I first arrived at Sam Houston Park, about an hour before the March started, we were trying to guess how many people were there.  At first we guessed about 500, and then about 800, and then over a thousand, but by the time the March started, there were thousands.  I have seen an estimate of ten to fifteen thousand.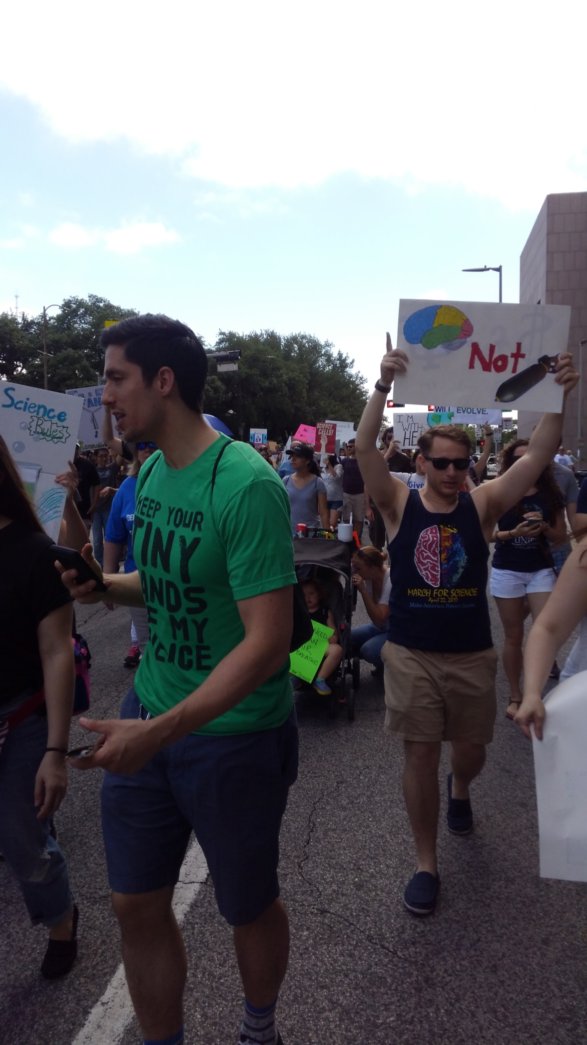 Most of them carried signs, and some occasionally chanted, but for the most part, they were very quiet.  I had met up with ladies from one of the groups I belong to and we marched together.  One of them commented, "this is the quietest march I have ever seen".  Occasionally a call of "Science, Not Silence!" would go up for a bit, but then die down after a few refrains.  "This is what democracy looks like!" started back up a few times.  But mostly we just marched, and when people left, they took their signs with them.
I didn't see any trash (as the other side likes to report about) and absolutely no drama.  The weather was nice and the people I met were just friendly, if a little bit quiet.  And of course the signs were the most interesting part.  That is what I spent most of my time trying to take pictures of.
My signs would probably fit in just as well next weekend for the Circle of Resistance Climate Change March, but I don't think I have it in me to march downtown two weekends in a row.  I have some preparations to make for a week out of town for work.  However, I will continue my resistance by making phone calls and sending letters to my representatives letting them know how I feel about the issues that are on my mind, and I am really enjoying meeting new people in my community who feel the way I do and are showing me the way to be more civic-minded and politically involved.