Okay, so back with the continued adventures of a road trip out west. In our story, it is now July 15, and our intrepid explorers have left the Salt Lake City area, sans kids (they were now with their dad for a few weeks) and half a day behind. The plan, my friends, was to reach Pocatello, Idaho by lunch time. We were supposed to have plenty of time to stop by a wilderness area southwest of the city, make a quick find on this grandfather cache, maybe spend a couple of hours exploring Craters of the Moon National Monument, have Taco Time for lunch (again), then drive towards Missoula and find a place to camp for the night. Well, I didn't regret spending so much time at the Potters Pond area, but there is always a trade off.
In this case, the time we spent dawdling around in Utah's National Forests meant time we didn't have when we finally got to Pocatello. So, we never actually made it to these places here. We didn't take these pictures. These pictures are taken by people who actually FOUND Southern Idaho's First cache. Not like us.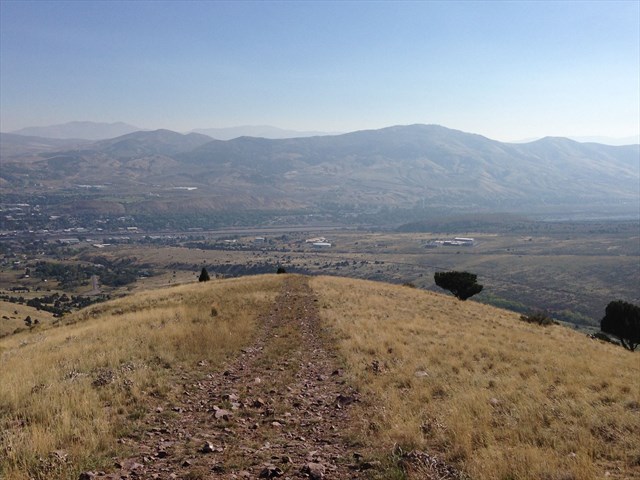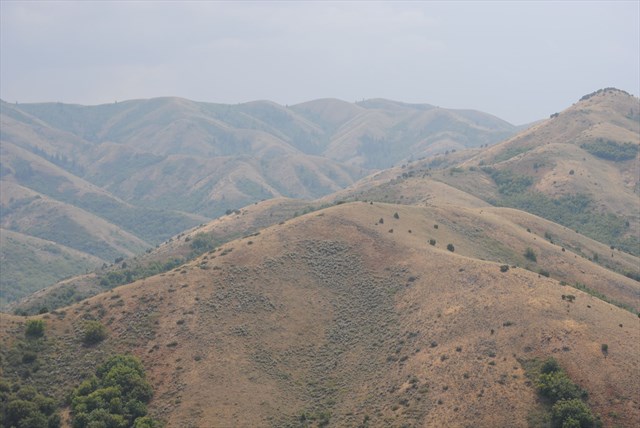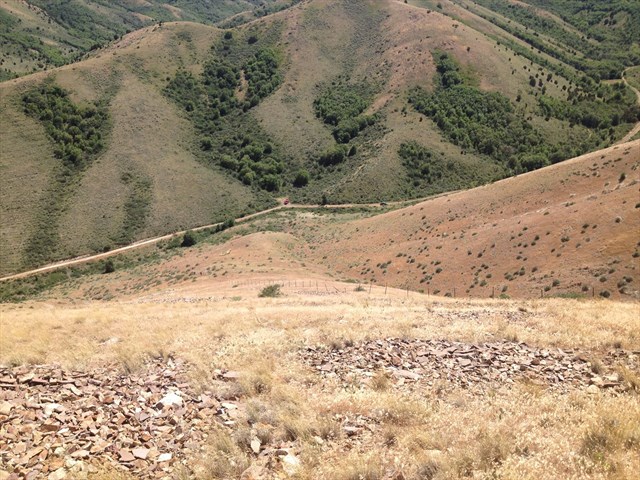 This was our experience; we pulled up at Pocatello, finally, around seven at night. The cache description, as it is on many of these very old geocaches, does not really describe what kind of experience the hider is going to have, or give any particularly helpful directions. This is the entirety of the cache description (for those who didn't click on the above link):
My GPS reported 13.2ft accuracy after 10 minutes of averaging.
Southern Idaho's FIRST! This is an easy stash with an awesome view of Pocatello, Idaho and it's surrounding mountains. There are several roads leading to the stash, I drove to within 100ft in my Jeep. Any decent 4×4 could almost drive right to it. Have fun.
So, given that, I was under the impression that this was like a park and grab. After all, we have a pretty decent all terrain vehicle. There were a couple of things I didn't account for, though, that did not work in our favor: the cache was actually located within the boundary of a park, which had a gate with a sign on it that said the gates are locked at "dusk". What time is that, exactly? We had about half an hour, maybe an hour tops until the sun went down, and although we had all our camping supplies with us, we didn't particularly want to spend the night locked in the park. Also, the "roads" weren't entirely clear, particularly which one of the rocky, rugged trail-type "roads" the CO meant that took you straight up to the cache. We tried a couple of approaches.
The last approach MIGHT have been the right one, but it was quite a ride just to get about halfway up, and then suddenly the rough road looked like it went straight up, too steep for me. Jason and I had a bit of a disagreement over whether or not to go further, because he felt certain he could drive the Subaru UP there, but I was too scared to make that drive. I finally just got out of the car. If he was going to try that, I was NOT going to go with him…I would walk, instead (there are times he is more risky than I am…like when it comes to off-roading etc). But it was still like a mile to the cache, if I am remembering right. There was no way we had time to walk up there and back in time to get out of the gates before dusk.
So we had to surrender the attempt. It was so disappointing. Now it was almost dark, and with a sigh of defeat, we chose to camp at the closest camping area in town: the neighborhood KOA. I also found this campsite to be disappointing and depressing. It had little redeeming beauty; just gravel roads, loud RVs, and scanty grassy areas to set up tents in the middle of the suburban landscape. I made a pasta dinner over our camp stove while Jason set up camp. I thought that in the morning, we would have gotten some insight on the road in and feel inspired to try again, but when the sun came up, Jason didn't feel like it, and it was probably just as well, because we needed to make up some time. The one redemption of this stop was that we saw both the sunset and the sunrise at this camp, and in the morning as I was cooking breakfast, I noticed that in the tree right above us, a mother robin was bringing her three little chicks breakfast. I saw their yawning little beaks reaching for her, too cute.
We packed up and headed out before the office was even open that morning, headed northwest towards Missoula, Lolo Creek, the Sawtooths, and Orofino, Idaho – day of vacation highlights. This is where we will pick up again when I next have time to put it all down.