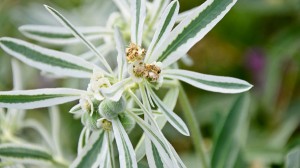 So what is this?
We first encountered this plant while we were hiking through the Armand Bayou Nature Center, finding answers for an Earthcache out there.  I was fascinated with the unique color of the leaves and the soft, rounded seed capsules beneath them.  (Actually, I think I remarked that to me, they bore a resemblance to monkey nuts, but that is just the demented primatologist in me).  In this picture, you can also see a worm moving along the petals, which also intrigued me that day.
This first encounter back in September, we took pictures in hope that we can use them to identify it later.  Only, I couldn't figure out how best to do that.  A few weeks later, we were at an outdoors expo at Discovery Green, and I talked to a TPWD employee about their recommendations on free online field guides to identify plants.  The lady referred me to the Lady Bird Johnson Wildflower Center's online field guide, which is awesome.  However, it is somewhat difficult to use when you want to do what I was trying to do, which was match the picture up with another one that had a name attached to it.
Another month or two later, we were out for a lunchtime walk at the Shadow Creek Ranch Nature Park, and I thought I saw a picture of the plant etched into an interpretative sign.  I couldn't be sure though, because there was no color on the sign and the etching was not a perfect replication.  Also, I meant to remember the name of the plant on the sign that resembled it and look it up later, but I forgot the name I had seen.
Around Christmastime, we were flipping through field guides of plants at bookstores and couldn't figure out what book would be best to buy to find information like this.  Then, last night, we were at Katy Budget Books and found a pamphlet with color pictures called "Texas Trees and Wildflowers".  I told him, "this is just what I need!", then went on to browse the other nature books.  Then he pointed to a picture on the pamphlet and said, "There it is".
Snow-on-the-Prairie.  Euphorbia bicolor.
Mystery solved.