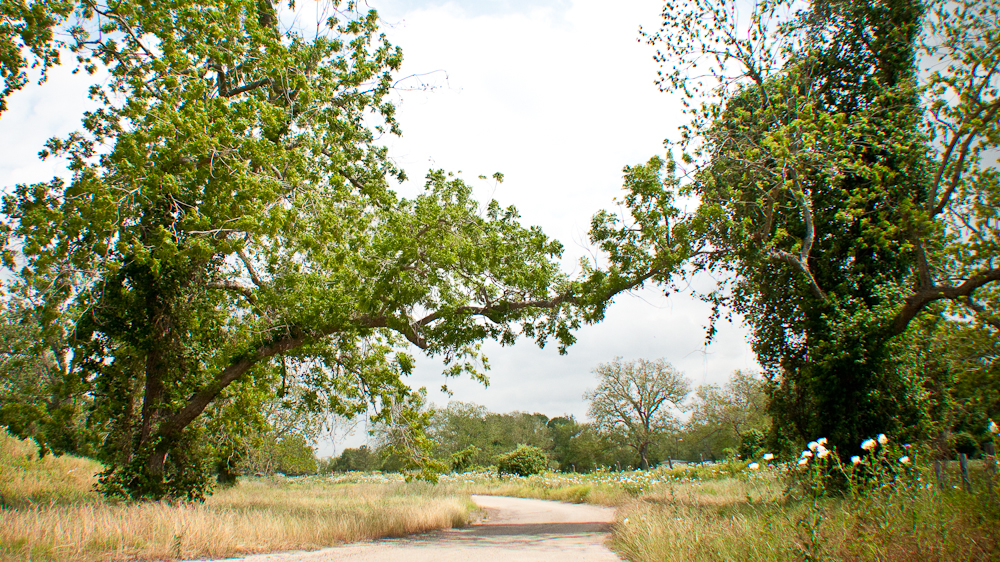 This is the view looking out of the entrance to a Texas Parks and Wildlife Canoe Launch area in Columbus, Texas.
During the struggle for Texas Independence, it is said that the army of Santa Anna camped on one side of the Colorado River here, while Sam Houston's army camped on the other.  They crossed paths nearby in a place now called Beason's Crossing, and later met up at San Jacinto to end the battle to the benefit of Texans.
The Columbus Paddling Trail starts here, and weaves for 6.5 miles around a bend in the river, ending at Beason's Park (where the above Crossing was, but which is now a shady place to have a picnic and recreate).  You can rent yaks and canoes from Howell Canoe Livery, located across the Colorado from this TPWD canoe launch, which you will find along 71 Business in Columbus, just across the North Bridge.
Here is more information about the paddling trail:
http://www.tpwd.state.tx.us/fishboat/boat/paddlingtrails/inland/columbus/
We had, of course, stopped here for a geocache find.  But now that we know what is here, we might bring the canoe out, or rent some yaks, or hide some caches along this route.  The bonus for us, besides learning some about Texas history and paddling trails, was seeing sensational wildflowers here.
Here are some photos Jason took: