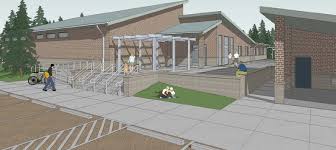 Yesterday, we were out checking out some places we plan on utilizing to prepare for this year's Texas Challenge, and we decided on a whim to stop on at the new Nature Center off Riley Fuzzel Road in Spring.  This Center is part of the Spring Creek Greenway system, a project managed by the Bayou Land Conservancy.  The Spring Creek Greenway will eventually connect thirty three miles, encompassing 12,000 acres, offering protection for this valuable riparian habitat along the edges of Spring Creek.  This will make it the largest continuous forested urban corridor in the U.S.  The Greenway is 75% complete, and will eventually connect Burroughs Park in Tomball to Jesse Jones Park near Kingwood.  The map here suggests it will actually then curve north and go all the way to what looks like New Caney (this discrepancy is the difference between what area will be part of the parks managed by the precincts, and what will be protected preserve land set aside by the Bayou Land Conservancy).
This particular Nature Center that we went to is about halfway, I would say, along that route.  The $2.2 million facility was built with funds obtained from the sale of a community center and a grant from Texas Parks and Wildlife.  Inside the Center, a volunteer told us about the literature that was available in the front part, which included what we came in here looking for – a map of the trail system.  Then she told us about the exhibits they had in the Discovery Center, and my youngest child managed to get in on a short tour/education being given to some other children by another volunteer about the snakes being housed there.  They told us that there had just been an Angler Education course, and there were still some animal exhibits on ice that they could show the kids, so we all ended up outside marveling over a small shark and sting ray.  Another volunteer held them up and showed us some of the interesting features, then let the children touch them.  Also, they had a bin of squid, shrimp, oysters, and other small aquatic creatures that the kids could touch.
After this, we took a short walk around the lake off to the side of the Nature Center.  We looked for birds to identify and for a couple of geocaches.  If we had time, we could have spent all day out here doing that, but we were on a limited time frame.  Looking out on the lake initially, we spied a Great White Heron and Snowy Egret hanging out.  A man we ran into at the park at the other end of the lake told us they had been hanging out there together for a couple of months.  He also said that a bald eagle has been spotted flying over the lake.  He sure seemed to know a lot about the day to day life here in this little corner of the park.  I think he was a grandfather who lived nearby and took his grand kids to play here regularly, as he was with some little ones who played with ours as we looked for a nearby geocache.
On the way back to the parking lot, we saw a lot of bird activity.  I thought we were seeing a new bird for us, until we looked it up later and realized what we were seeing was the female Eastern Bluebird.  We also saw males.  I saw two woodpeckers flying about trees together that I am fairly certain were ladderbacks.  We also saw Yellow Rumped Warblers and what I think was a mix of Savannah and Chipping Sparrows.  Kill Deer peeped as they flew across the lake in a trio.  I am sure there were many new birds to us, but we aren't that good at this yet.
I did identify some species near my house this week, most notably the European Starling.  The grackels are out in FULL force, and I noticed when looking at them that the Boat Tailed and Great Tailed are mixed in with the Common.  Rock pigeons fly up under the overpass at 99 and the Westpark, as well as other places in town.  So with the Ladder-backed Woodpeckers, that brings the year total now to 42.
My younger son and I were most impressed with the Nature Center, although I think the others enjoyed it too.  There is so much to see here, and I want to host a geocaching event here to experience it.   I am considering hosting events at all the parks that are completed throughout the Greenway system on a rotating basis this next couple of years, so that my caching friends can go out and experience these places too (many of them already have, but not all of them have seen all the locations).  This makes me feel excited about the future.  I can't wait to find more caches and more birds!
For more information on the center, see here:http://www.springcreekgreenway.org/naturecenter.htm