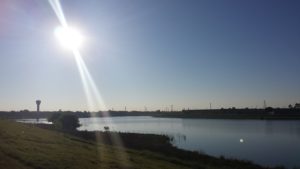 Every morning during the week, I turn my car east on Westpark Tollway and join all the cars heading out of Katy. There is a time, usually coming over the hill past 1093,  that I hit a slowdown of this congested spot of tollway and find myself sitting still in bumper to bumper gridlock that carries me all the way to the Beltway.  Inevitably, I will look over to my left and see the sunflowers dancing on the grassy hill that marks the beginning of Archbishop Joseph A. Fiorenza Park.  The flowers seem to be beckoning me to come play.
If you are watching close, like I usually am (because there is nothing else to do), you will see the hillside disappear and a lake appear.  You might see the silvery flash of fish jumping in this lake and feel the delight of this in your heart.  Your eyes might be drawn to the two small islands, and perhaps you will wonder what those birds are that are clustered in a small flock on the islands.  You might contemplate what they are working on in the space between the highway and the lake (developing a new trail that will work itself around this side of the lake).  Perhaps, if you are like me, you might find yourself wishing that instead of going to work, you were actually on your way to that park instead, to see those things up close, to stop this rat race and just slow down a bit and soak up every bit of nature that place has to offer.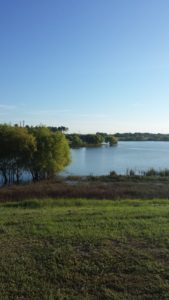 When I found myself high on vacation days and needed to make a plan to use them or lose them, I decided that I was going to take a few days here and there to just give in to that feeling and go explore this park.  After all, there was a regular monthly bird walk that was scheduled here that I have been wanting to attend since my maternity leave last year (when I first discovered this information).  I felt very left out when I would get the email blasts with the list and pictures of the birds they saw.  I was especially excited when I saw that the group (led by a Houston Audubon employee, Mary Ann) was spotting Bald Eagles out there.  I wanted to see the Bald Eagle(s) for myself.
So today was one of those days.  It was perfect weather to join a group of (primarily older) adults on a walk about the park, marveling at each species representative.  I was the only one without a special fancy camera.  Next time (next month), I am going to bring Jason's camera with me.  We did get to see the Bald Eagle.  Sometimes there has been up to five seen, but this one seems to be a permanent resident.  This is the only shot I got of her, with my cell phone: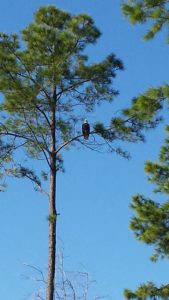 After the group dispersed, I took a walk around the smaller section of this park a little further south to identify a vireo that I had seen while in the park a few weeks back with my kids playing Pokemon.  I had not thought to bring my binoculars that day.  I was delighted to note that it was a species of vireo I had not seen before (Blue-Headed), and after tallying up the species of the day, noted that my birding list for actually-seen birds this year is at a total of 130 species.
I was hoping to make this a year of birding trips, but then had to put that goal aside to cater to my middle son's sports schedule in the spring, and then abandoned it completely in the heat of the summer.  However, I am only 5 species away from observing the most birds per year that I have recorded (in the few years I have been counting).  I am still 70 away from recording 200 for the year, which is one of my hobby goals, so I might have to plot a strategy for that in the next few months.  I also had set a hobby goal of getting 4000 geocache finds before my 41st birthday, and I completed that.  We have also been discovering a lot of parks in and around our area, which was one of my goals.
I recently reflected on the goals I had of planning a backpacking trip, in order to determine how serious I was about my dreams of hiking the AT or PCT one day.  I had to really question if my ideas of backpacking were actual goals, or just pipe dreams.  I am really not a fan of pipe dreams, to tell you the truth.  My best friend Jen said something this year about how I was "extremely goal-oriented", and I hadn't really thought about it like that before, but when I tried that label on, I found that it fit.  It irks me when people discuss their dreams as if they are things that will never really happen, because I feel like we create our own reality.  If you want to do a thing, you should make a plan to do that thing.  Work towards it in steps in you have to, but get it done.
I wanted to go spend some days at this park and see the eagle that lives there, so I made it happen.  I wanted to be an animal behaviorist, and I made it happen.  My job has given me the confidence to create plans and the persistence to see them through.  However, I still haven't shed that baby weight, or even looked to see what kind of supplies we have for backpacking and planned a trip.  I suppose that today, doing a thing I wanted to do, made me consider more carefully how I was going to do the other things I say I want to do.  We will see how that plays out in the coming months.