I have neglected this poor blog, and if you are a regular reader, bless your heart and I am sorry.  I was consumed with wedding planning, as I tried to put together a wedding in less than three months with a very bare-bones budget.  It's over, and it was a success, and now I can focus on other things.
We haven't been doing much exploration of the great outdoors and the wilderness, because we were focusing on home and family.  There were two adventures we had in the past couple of months: going to Corpus for a weekend to see my brother, and driving out to La Grange to buy some mead for the wedding.  We went geocaching along the way in La Grange and I made a new friend: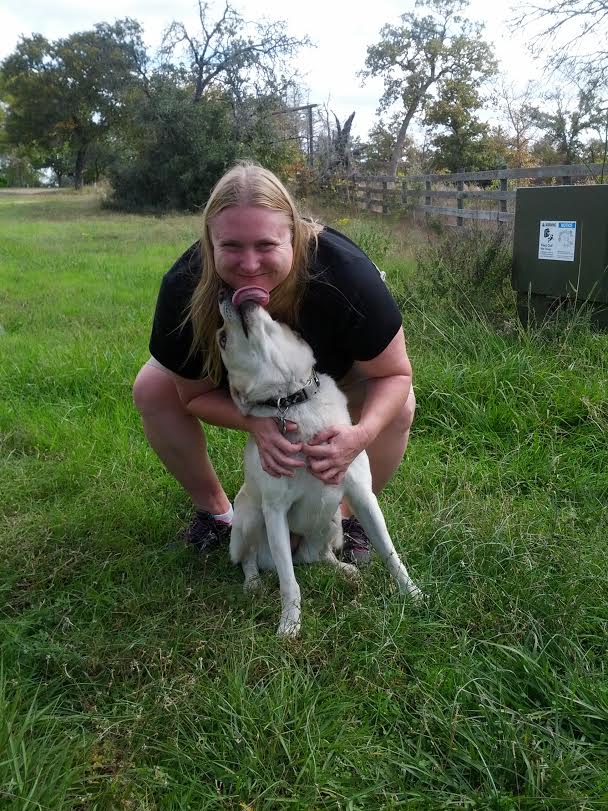 This year, I am hopeful we will have more adventures, and that I can share with you some of the fun and interesting things we do.
Of course our plans for the New Year's include getting in better shape, like most people.  We really need to work on that.  We need to get in good shape to be better parents for the kids we have here, and for those we might want to have together.  These are some of our other plans:
1) Discover Houston – from a kid's point of view.  We made a list of the places that make Houston unique, and set dates to take the kids to the ones we haven't already taken them too.
2) Hiking:  I have also set some dates and made some plans for that.  I want us to get backpacking equipment rather than car camping equipment, so we can do long distance hiking.  I would LIKE to do the Lone Star Trail this year and make some preparations to do pieces of the AT in following years.  We don't have specific plans for more that a weekend hike on the Lone Star Trail, though
3) Geocaching: there are two people I would really like to catch up to and pass, because I am competitive like that.  They are about 300-500 caches ahead of me.  I usually find around 500 caches a year, but we have really slowed down on geocaching this year.  I want to get back up there, so I have also set aside dates to work on caching series.  I am also working on solving the puzzle caches in my area and would like to find those, and widen out the distance to our nearest unfound cache to about three miles from our house.  There are still ten pages of caches that are within three miles of us right now!
4) Explore Glacier National Park: this is the vacation I am planning for us this year.  I also think we could take the opportunity to drive through Utah and try to get that Potters Pond cache that we were unable to get the last time we were out there.  More grandfather caches!  More western adventures!
5) Run a 5K with my oldest son – as part of my road to recovery, and something that he and I can do together.
6) Re-invest in my faith – get involved with the youth group again (now that I have that marriage certificate), and also spend some quiet time with God every day, and teach my sons to do the same.
I also want to investigate wineries, invest more in my friendships, replace my bike and go riding more often, and set up a regular revolving housework schedule that we can all stick to.  What are your plans for the new year?