Today we went hiking at W.G. Jones Forest Recreation Area.  This park is located off 1488, just east of I-45, north of the The Woodlands, Texas.  It offers 1722 acres of multi-use trails for hiking, biking, or horseback riding.
Today we were on foot, with our GPS in hand, looking for geocaches.  In the past year, about fifty new caches have been hidden out this way, mostly in this series of caches hidden by LogDawgs named for presidents.  We found five of these today, and a couple of others in the park that were not part of the series, one of which has been on my "radar" for a long time.
This last one I mention, "Woodpeckers Retreat", was a tough one to get to, but not a tough one to find.  It required about 350 ft of "bushwacking" – the term for going off the trail and having to force your own way through to an area past overgrowth.  On our way back to the trail after finding this cache, J was a little ahead of me and I was trying to keep an eye on his moving figure in the woods ahead of me when something large and brown flew past me.  I watched it briefly, then caught up with him, where he was standing with his binoculars out, trying to get a good look.  We didn't get a picture, and it is hard to say for sure because we never got a good look at its face, but I think at this point (after wasting an hour or more googling owls tonight) that it was an Eastern Screech Owl.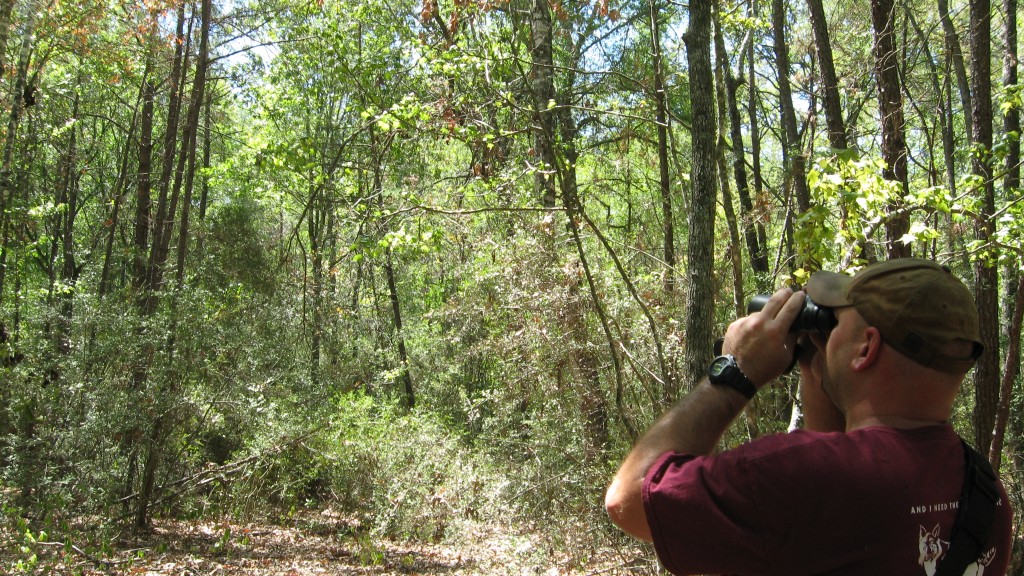 This weekend, the weather in Texas finally turned from the scorching hot drought conditions to something akin to fall, with cooler temps and a nice good wind, brought in from Tropical Storm Lee.  Unfortunately, when you combine the drought conditions with a strong wind, you get wildfires.  And Texas has gone wildfire-crazy this weekend.  We are ON FIRE down here!  The eastern side of the state has been hit hard.  The past two days, firefighters have been battling blazes in Bastrop, where a 16 mile long fire is sweeping in a southernly direction from the state parks down.  Little fires have been cropping up in Magnolia, just east of where we were today, and there was a controlled burn going on north of us, in the Lake Conroe area.  This forest we were in today, in fact, had several controlled burns recently.  We saw the evidence of that.  Mostly, though, we felt the evidence of all these fires, past and current.  The air was warm and a little hard to breathe in, feeling heavy in our chests.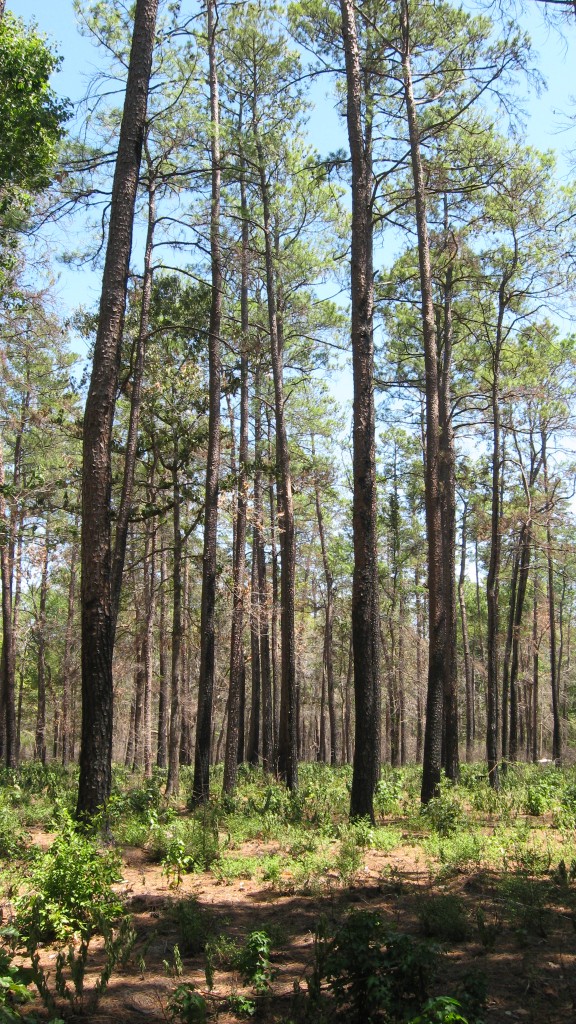 Today we were getting our "nature therapy". I've been reading this book, Last Child in the Woods, about the importance of nature in the lives of children, and in all of humanity, really.  I spent a little time discussing that book today, and the restorative effects of a walk in the woods.  I am preaching to the choir, though; my partner here is the one who states on his Facebook page that "Nature is my Church".  I thought about that a little, today, too; how when I go to church, I feel like my soul is wiped clean, but when I spend time in nature, it is like my mind is wiped clean.  Maybe that is what he means – that feeling – or maybe it is the feeling of awe at the complexity of God's creations.
Today, the wind was spectacular.  It was whipping the tops of the trees around, creating this glorious, relaxing music that needs no musical accompaniment or vocal melody.  When I was looking at our mystery bird through the binoculars, I was watching it whip this big tree around in the background, green leaves flying in a complicated dance.  I never can record it to share it with others, but here is a picture of the scenery, so imagine for yourself the sound, feel, and sight of the wind making these trees dance.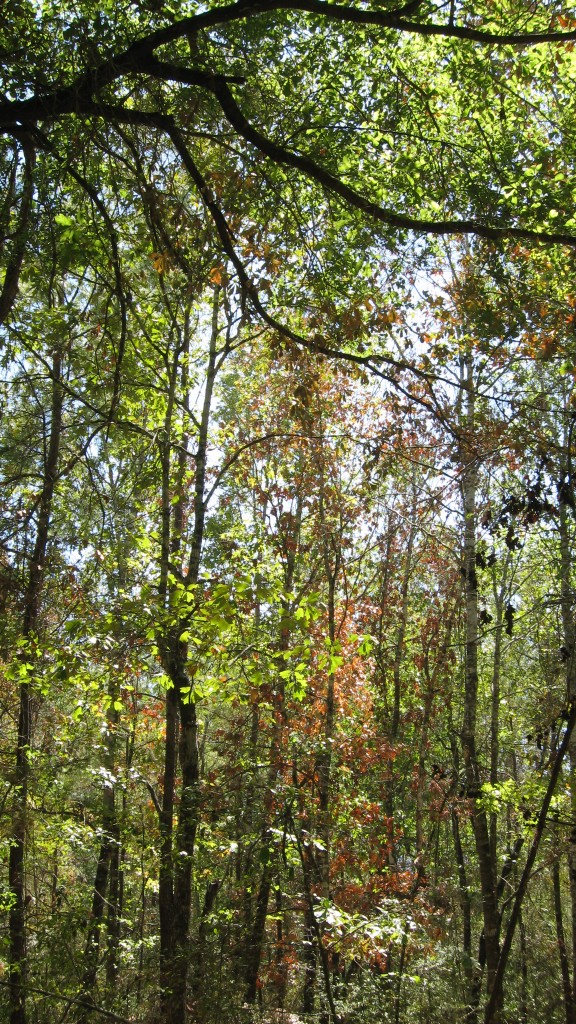 Yay for the smell and feel of fall in the air.  Boo for wildfires and drought.  The pond at the front of the park, where I usually see people fishing, is all dried up and cracked.  But the weather is turning crisper, and hopefully we will see some rain down here soon, and camping season is coming right around the corner, and I am very excited for the chance to go on long hikes, bike rides, caching adventures, and camp out weekends with my wonderful partner and young sons.